Incorporating school appropriate songs into the classroom can create an enjoyable and relaxed learning environment. As a teacher, I find playing music, especially on Fridays, to be a delightful way to celebrate the end of the school week. This practice allows students to engage with the music while completing their worksheets and provides an opportunity for them to stand up and move to the rhythm. It's a fun and interactive way to learn, and my students eagerly anticipate these musical moments.
By seeing how successful playing music in my classroom has been, I wanted to take the time to encourage teachers across the world to adopt a similar technique in their classrooms. I think our students deserve time to unwind and let loose every once in a while. Therefore, I have decided to share some of the school-appropriate songs for students that I have found. It can be difficult to find songs that do not have cursing or inappropriate words in them, so my goal is to help others out by sharing some of the songs that are on my classroom playlist.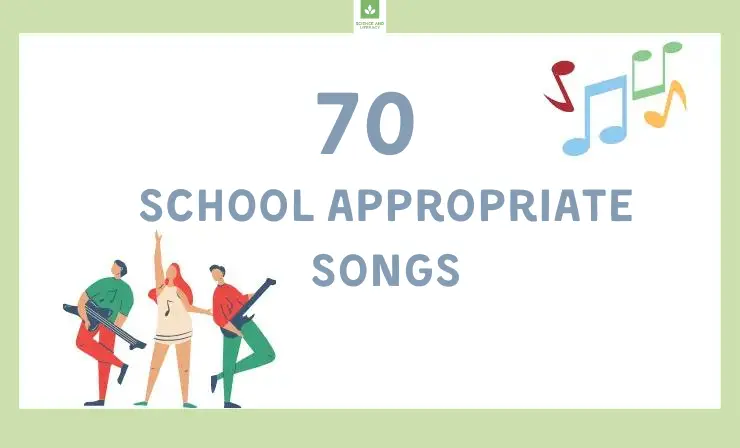 After reading this article, you will officially know:
70 School Appropriate Songs
In this section, I will make a list of school appropriate songs that I think should be on every teacher and educator's playlist around the globe. These songs are a lot of fun, have great beats, and will help motivate your students while also giving them time to move around. If you click on each song, you will be redirected to a video where you can hear the actual song and lyrics. Give them a listen before moving them to your playlist to make sure that they are what you are looking for.
Keep in mind when looking at this list that these are not your usual nursery rhyme songs. Nursery rhyme songs are great for younger students, but every child enjoys listening to music that has beat and is sung by real artists. Give it a try; I guarantee you will not regret it!
1. Three Little Birds by Bob Marley & The Wailers
The source of Marley's inspiration for the lyrics of "Three Little Birds" remains disputed. They are partly inspired by birds that Marley was fond of that used to fly and sit next to his home.
2. Better When I'm Dancin' by Meghan Trainor
The song is about confidence and releasing your insecurities on the dance floor, and has been described as a "classic confidence-boosting tune".
3. Cha Cha Slide by DJ Casper
DJ Casper originally wrote "The Cha-Cha Slide" as a step aerobics routine for his nephew, who was working at the time as a personal trainer at a fitness club. Perry wrote and recorded his performance of the original version of the song, titled "Casper Slide Part 1" in January 1998.
The song was inspired by the Chicago stepping movement.
4. Born This Way by Lady Gaga
The music of Born This Way stems from the synth-pop and dance-pop styles of her previous material while incorporating different forms of instrumentation from that on her previous releases, such as electronic rock and techno.
5. I Wanna Dance with Somebody by Whitney Houston
"I Wanna Dance with Somebody (Who Loves Me)" is a song recorded by American singer Whitney Houston for her second studio album. It was released as the lead single from the album.
6. Can't Stop the Feeling by Justin Timberlake
"Can't Stop the Feeling!" is a song by American singer Justin Timberlake. It was released on May 6, 2016, for it to be the lead single for the soundtrack to the film Trolls, for which Timberlake voiced the character "Branch".
7. Don't Stop Believin' by Journey
"Don't Stop Believin'" is a song by American rock band Journey.
8. Counting Stars by One Republic
"Counting Stars" is a folk pop and pop rock song with a disco beat.
9. Jump by Van Halen
It is Van Halen's most successful single, reaching number 1 on the US Billboard Hot 100.
10. Permission to Dance by BTS
"Permission to Dance" is a song by South Korean boy band BTS. It was released through Big Hit Music and Sony Music on July 9, 2021, as a stand-alone single.
11. Happy by Pharrell Williams
"Happy" was the most successful song of 2014, with 13.9 million units (sales plus equivalent streams) worldwide.
12. Shut Up and Dance by Walk the Moon
The song is based on an experience lead singer Nicholas Petricca had at a Los Angeles nightclub. His girlfriend invited him to dance, inspiring the title. Petricca envisioned the song as an anthem for letting go of frustration and having fun.
13. Respect by Aretha Franklin
"Respect" is a song written and originally recorded by American soul singer Otis Redding. It was released in 1965 as a single from his third album Otis Blue/Otis Redding Sings Soul and became a crossover hit for Redding.
13. Don't Stop Me Now by Queen
"Don't Stop Me Now" is a song by the British rock band Queen featured on their 1978 album Jazz that was released as a single in 1979. Written by lead singer Freddie Mercury.
14. Kick, Push by Lupe Fiasco
"Kick, Push" is the first single released from Lupe Fiasco's debut album, Lupe Fiasco's Food & Liquor. It was written by Lupe Fiasco and Soundtrakk, who also produced the song. It describes a love story between a male and a female misfit skateboarders.
15. Old Town Road by Lil Nas X and Billy Ray Cyrus
"Old Town Road" is the debut single of American rapper Lil Nas X, first released independently in December 2018. After gaining popularity, the single was re-released by Columbia Records . Lil Nas X also recorded a remix with Billy Ray Cyrus.
16. Breakaway by Kelly Clarkson
Lyrically, the song is about growing up and moving on in life.
"It describes how I got into the business, verbatim. I did grow up in a small town, I wanted to get out, I felt like there was something… not better for me, but something different for me. I didn't feel like I fit in at school. Whether you are a DJ, or if you work with computers, or if you're a teacher, everyone has that point where they feel, 'I'm bored and this isn't what I wanted to do with my life"- Kelly Clarkson.
17. Mean by Taylor Swift
In an interview with E! News, Swift said that "Mean" is a response to people who criticize whatever she does. She said, "there's constructive criticism, there's professional criticism, and then there's just being mean. And there's a line that you cross when you just start to attack everything about a person."
18. Firework by Katy Perry
It is a dance-pop self-empowerment anthem with inspirational lyrics.
19. Fight Song by Rachel Platten
"Fight Song" is a song recorded by American singer and songwriter Rachel Platten, released on February 19, 2015. The song peaked at number six on the Billboard Hot 100.
20. Count on Me by Bruno Mars
"Count On Me" is a song by American singer-songwriter Bruno Mars from his debut studio album, Doo-Wops & Hooligans . It was released as a radio single in Australia and served as the overall sixth single from Doo-Wops & Hooligans.
21. Fireflies by Owl City
Adam Young wrote "Fireflies" after being inspired by a camping trip he took up to a "totally rustic and kind of remote lake in northern Minnesota".
He emulated the experience of seeing a meteor shower that gave him "a cool idea of shooting stars being fireflies".
22. I Like to Move It by Will I Am
"I Like to Move It" is a song by American solo project Reel 2 Real , featuring ragga vocals by Trinidad and Tobago rapper The Mad Stuntman.
23. Ok Ok by Hoko
"Ok Ok" is a vibrant and catchy song that encapsulates a message of perseverance and self-assurance. Its upbeat rhythm and memorable lyrics make it a great choice for energizing and inspiring listeners.
24. The Sound of Sunshine by Michael Franti and Spearhead
The inspiration for the title 'The Sound Of Sunshine' came from when Franti was on tour in 2009 and ruptured his appendix.
Pete Lewis: "Because the doctors weren't sure what was wrong with me, seven days actually passed before they were able to diagnose it was my appendix – by which time I'd just completely fallen over and was DYING! So, after they eventually did the surgery on me, while I did feel a huge amount of gratitude to be alive, at the same time every moment of the day I was CRYING! Like someone would walk in the room who I hadn't seen for a while, and I'd just look at them and CRY! And when they'd go 'What are you crying about?', I'd be like 'I don't KNOW! I'm just really glad to be here, to be alive and to SEE you!'… It was like I was seeing everything with new EYES. Every day I'd go to the window to see if the sun was shining – and if it WAS, I'd have this feeling of OPTIMISM! Like 'WOW! I'm gonna beat this infection and I'm gonna get BETTER!'… And so for this album I wanted to put that feeling into words and into MUSIC."
25. Brand New Day by Lindsey Ray and Tim Myers
This uplifting track features the harmonious blend of Lindsey Ray's clear vocals and Tim Myers' musical craftsmanship. Its optimistic lyrics about fresh starts and new beginnings are perfect for instilling a sense of hope and enthusiasm.
26. Colors by Black Pumas
The titular colors are once again meant to allude to life's diversity in general.
27. Heat Waves by Glass Animals
"Heat Waves" "is about loss and longing, and ultimately realising you are unable to save something.
28. Pompeii by Bastille
"Pompeii" is a song by British pop rock band Bastille. It is the fourth single from their debut studio album Bad Blood. "Pompeii" became the band's breakthrough hit.
29. Safe and Sound by Capital Cities
"Safe and Sound" is a song by American indie pop duo Capital Cities, written and produced by band members Ryan Merchant and Sebu Simonian.
30. ME! by Taylor Swift and Brendon Urie
"With a pop song, we have an ability to get a melody stuck in people's heads, and I just want it to be one that makes them feel better about themselves, not worse."- Taylor Swift.
31. Be OK by Ingrid Michaelson
"Be OK" is the first single from Ingrid Michaelson's third studio album, Be OK. The song was used in the films The House Bunny and The Decoy Bride.
32. Levitating by Dua Lipa and Da Baby
"Levitating" is a song by English singer Dua Lipa from her second studio album, Future Nostalgia . The song was written by Lipa, Clarence Coffee Jr., Sarah Hudson, and Koz.
33. My Universe by Coldplay and BTS
"My Universe" is an English and Korean song by British rock band Coldplay and South Korean pop group BTS.
34. Meant to Be by Bebe Rexha and Florida Georgia Line
"Meant to Be" is a song recorded by American singer Bebe Rexha featuring American country music duo Florida Georgia Line.
35. Africa by Toto
The initial idea and lyrics for the song came from David Paich. In 2015, Paich explained that the song is about a man's love of a continent, Africa, rather than just a personal romance. He based the lyrics on a late night documentary with depictions of African plight and suffering.
36. Save Your Tears by The Weekend and Ariana Grande
"Save Your Tears" is a song by Canadian singer-songwriter the Weeknd from his fourth studio album. Globally "Save Your Tears" peaked at number one in 18 countries, while going top 10 in 33 others.
37. A-Punk by Vampire Weekend
"A-Punk" is a single by indie rock band Vampire Weekend, released on February 28, 2008 as the second single from their 2008 self-titled debut album. The band made their network television debut by performing "A-Punk" on the Late Show with David Letterman.
38. Something Just Like This by The Chainsmokers and Coldplay
"Something Just Like This" is a song by American electronic music duo The Chainsmokers and British rock band Coldplay.
39. This is What You Came for by Calvin Harris and Rihanna
"This Is What You Came For" is a song by Scottish DJ Calvin Harris and Barbadian singer Rihanna. The single debuted at number two on the UK Singles Chart. It peaked at number three on the US Billboard Hot 100.
40. Life is a Highway by Tom Cochrane
"Life Is a Highway" is a song by Canadian musician Tom Cochrane from his second studio album, Mad Mad World. The song became a number-one hit in Cochrane's native Canada in late 1991.
41. Riptide by Vance Joy
"Riptide" is a song by Australian singer-songwriter Vance Joy. In an interview, Joy said the title of the song came from a motel of the same name he used to go to with his family when he was a child.
42. Try Everything by Shakira
"Try Everything" is a song recorded by Colombian singer Shakira for the 2016 Walt Disney Animation Studios film Zootopia, and written by Sia, Tor Hermansen, and Mikkel Eriksen.
43. Some Nights by Fun
"Some Nights" is a song by American indie pop band Fun. "I'm always thinking about, 'Who am I and why did I do something like that?' And I think then it harkens back to my family, and I have such a strong tie to them and it's always therapeutic to sing about them." Ruess came up with the song and album title while on tour in Scotland; he wrote the song based on the title. Lyrically, the song is about "just being someone different on any given night."
44. Everybody Wants to Rule the World by Tears for Fears
"Everybody Wants to Rule the World" is a song by English pop rock band Tears for Fears. It was written by Roland Orzabal, Ian Stanley, and Chris Hughes.
45. The River of Dreams by Billy Joel
River of Dreams is the twelfth studio album by American singer-songwriter Billy Joel.
46. Canned Heat by Jamiroquai
"Canned Heat" is the second single from British funk and acid jazz band Jamiroquai's fourth studio album, Synkronized.
47. Treat People with Kindness by Harry Styles
"Treat People with Kindness" is a song by British singer and songwriter Harry Styles, recorded for his second album Fine Line.
48. Free Fallin' by Tom Petty
"Free Fallin'" is the opening track from American musician Tom Petty's debut solo album, Full Moon Fever. The song was written by Petty and his writing partner for the album, Jeff Lynne.
49. What Do I Know? By Ed Sheeran
"What Do I Know?" is a song by English singer-songwriter Ed Sheeran.
50. September by Earth, Wind, and Fire
"September" is a song by the American band Earth, Wind & Fire released as a single in 1978 on ARC/Columbia Records.
51. Feel It Still by Portugal. The Man
"Feel It Still" is a song by American rock band Portugal. The Man. The song became the band's first to top.
52. MMMBop by Hanson
"MMMBop" is a song written and performed by the American pop rock band Hanson.
53. Good Feeling by Flo Rida
"Good Feeling" is a song by American rapper Flo Rida from his 2012 EP of the same name, also appearing on his fourth studio album, Wild Ones.
54. Cheap Thrills by Sia and Sean Paul
"Cheap Thrills" is a song by Australian singer and songwriter Sia from her seventh studio album, This Is Acting.
55. Miss You Much by Janet Jackson
"Miss You Much" is a song by American singer Janet Jackson.