Online schooling has established a lasting presence even as physical schools resume full operations. The effectiveness of this approach has been notable among various student demographics, particularly younger learners. Notably, higher education institutions have embraced this method for an extended period. The students' array of devices encompasses smartphones, laptops, desktops, and tablets.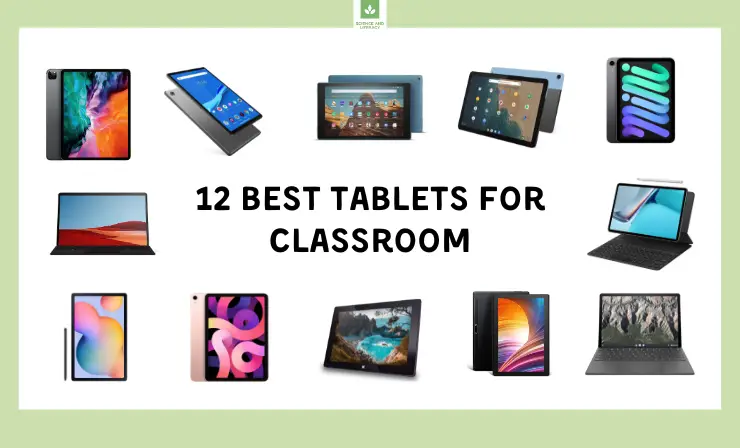 Each of these devices carries distinct advantages and disadvantages. From my perspective, tablets offer the most conducive environment for focused learning, particularly among elementary school students. The selection of an appropriate tablet holds the potential to yield significant outcomes. Furthermore, they present a more economical option compared to a majority of laptops, desktops, and even traditional textbooks.
Many educators are enthusiastic about integrating these devices into their classrooms:
OMG GUYS! I was selected by @microsoft to #EmpowerPossibility in my classroom! I was given 11 @surface Go tablets, each with a keyboard, stylus and mouse! My kids are so excited to start working on them tomorrow! pic.twitter.com/Jdf2w0FQFc

— James Gill (@jagill) November 27, 2018
Upon reviewing this article, you will gain comprehensive insights into:
How to Choose a Tablet for Classroom
Selecting an appropriate tablet for classroom use involves several crucial considerations. These factors encompass the device's specifications, features, and compatibility with educational needs. Below are essential aspects to contemplate when choosing a tablet for classroom integration:
8 Key Aspects to Take into Account When Selecting a Tablet

| | |
| --- | --- |
| Aspect | Details |
| | Evaluate the tablet's operating system (OS) to ensure it aligns with the educational apps and software used in the classroom. Popular choices include iOS, Android, and Windows, each with its ecosystem of applications. |
| 2. Performance | Prioritize tablets with sufficient processing power to handle educational apps, multimedia content, and multitasking without experiencing slowdowns. A robust processor and ample RAM contribute to smoother performance. |
| 3. Screen Size and Quality | Opt for a screen size that balances portability and visibility. A clear and high-resolution display enhances the viewing experience, making it easier for students to engage with content. |
| | Consider devices designed with durability in mind. Robust construction and protective features, such as reinforced corners and scratch-resistant screens, can prolong the tablet's lifespan, especially in a classroom setting. |
| | Choose a tablet with extended battery life to ensure it lasts throughout a school day without needing frequent recharging. |
| | Devices with stylus or pen support offer a more interactive and versatile learning experience, enabling students to take notes, draw, and annotate directly on the screen. |
| | Check for connectivity features like Wi-Fi, Bluetooth, and USB ports. These enable seamless communication, data sharing, and compatibility with peripherals such as keyboards and projectors. |
| | Set a budget that aligns with your institution's financial resources. While cost-effective options are available, it's essential to balance affordability with functionality and durability. |
Prior to unveiling my curated selection, I'd like to draw your attention to the three models that have captured my utmost admiration.
Editors' Choice
For those seeking concise recommendations tailored to their specific needs rather than delving into lengthy articles, here are my swift suggestions:
Apple iPad Air — for the majority of students, elevating their creative endeavors and facilitating efficient note-taking. Buy it on Apple and Amazon
Apple iPad Pro — for educators who extensively utilize their tablet, excelling in content creation and multitasking. Buy it on Apple and

Amazon
So, the models I've chosen are:
12 Best Tablets for Classroom

| Photo | Product Description | Website |
| --- | --- | --- |
| | Best Overall | Amazon |
| | Best for Using On-The-Go | Amazon |
| | Best for students on creative courses | Amazon |
| | Most Lightweight | Amazon |
| | Best Convertible | Amazon |
| | Best Budget Buy | Amazon |
| | Best For Kids | Amazon |
| | Best for students who don't need the full range of apps | Amazon |
| | Ultra Slim | Amazon |
| | Most User-Friendly | Amazon |
| | Best cheap 2-in-1 tablet | Amazon |
| | High-spec budget student tablet | Amazon |
1. Apple iPad Air – Best Overall
Buying options:
The Apple iPad serves as the archetype against which other devices are measured. The comparisons are often drawn in relation to the Apple iPad. Available in various models that exhibit substantial price disparities, the Apple iPad Air stands out as a slim, lightweight, and robust tablet. Notably, it is now equipped with Apple's proprietary M1 chip, a substantial upgrade from its predecessor. This augmentation in processing power renders the new iPad Air proficient in executing a diverse range of tasks, including resource-intensive applications like Procreate and advanced video editing software. Its competitive pricing, relative to the iPad Pro, positions the iPad Air as an optimal tablet choice for students.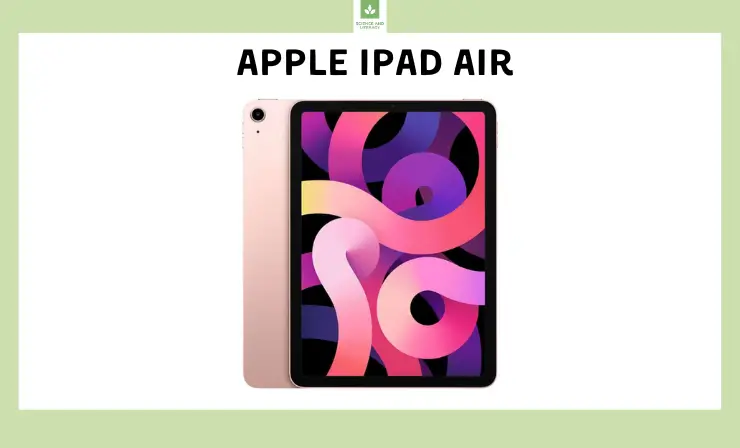 Pros:
Notable power within its compact structure and classification, ensuring capable performance.
Presents a favorable value proposition, delivering advanced features at a competitive price point.
Utilizes the most advanced software selections, enhancing productivity and creativity.
Enables wireless printing compatibility with a majority of printers, streamlining document handling.
Accommodates SIM card integration, allowing phone capabilities for added versatility.
Cons:
Separate acquisition required for the keyboard and Apple Pencil, increasing initial investment.
Fragile screen glass prone to breakage, making it less suitable for accident-prone younger users.
Limited battery lifespan and extended charging time, necessitating frequent recharging.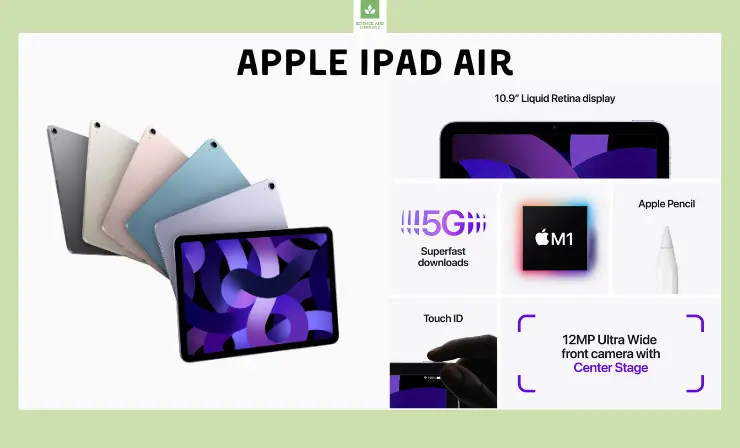 Use it for:
Enhancing creative tasks and note-taking with Pencil (2nd generation) compatibility.
Smooth multitasking and powerful app performance powered by the A14 Bionic chip.
Explore the Apple iPad Air through a comprehensive video review:
Good choice for high school and college students seeking to transition their note-taking and academic tasks into digital formats. Its refined features are well-suited for the majority of students who may already possess alternative devices for leisure pursuits such as gaming and media engagement.
2. Apple iPad Mini – Best for Using On-The-Go
Buying options:
For educators prioritizing portability and ease of one-handed transport, the iPad Mini presents a viable solution. Additionally, it proves advantageous for those seeking a tablet compatible with cellular data connectivity. It's worth noting that Wi-Fi connectivity remains an available option for the iPad Mini.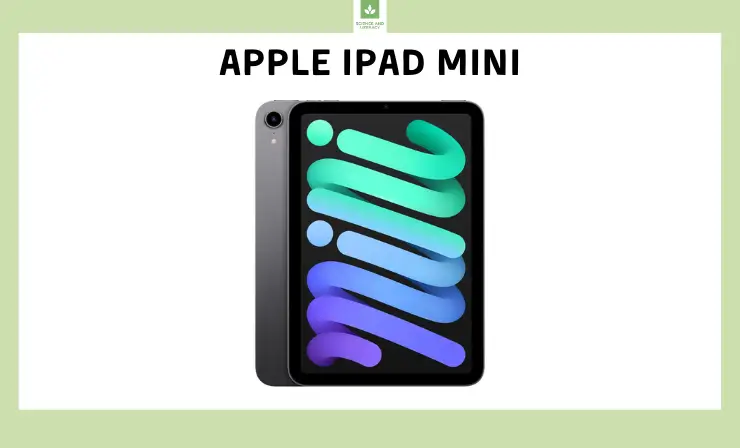 Sporting a 7.9-inch display, the iPad Mini boasts a more compact and lightweight profile compared to its counterparts. This renders it one of the most diminutive tablet selections tailored for instructional use. The presence of stereo speakers and a fingerprint sensor for Touch ID, facilitating device access control, further enhance its utility.
Parallel to the standard iPad, the Mini offers an estimated 10-hour battery life, supplemented by both front and rear cameras. Distinctions exist within the camera specifications. While the rear camera remains at 8MP, the front-facing counterpart elevates to a 7MP HD configuration, in contrast to the 2MP configuration in the standard iPad. The inclusion of an A12 Bionic chip within the processor complements the hardware ensemble of the iPad Mini.
Pros:
Remarkable portability, making it effortless to carry in various educational settings or when on the move, ensuring convenience for educators.
Compatibility with Apple Pencil 2, facilitating precise note-taking, creative activities, and interactive teaching approaches that leverage digital tools.
Excellent camera capabilities, offering educators the means to capture high-quality images and videos for instructional purposes, enhancing visual content.
Strong performance for its size, underpinning the efficient execution of diverse teaching applications, ensuring seamless experiences for both educators and students.
High-quality display with True Tone technology, delivering vibrant visuals and color accuracy, which proves advantageous when displaying educational content and materials to students.
Cons:
Absence of a 3.5mm jack, which may necessitate the use of alternative audio peripherals, potentially introducing additional components into the classroom setup.
Limited multitasking capabilities compared to larger iPads, restricting the scope of concurrent activities and applications, potentially impacting workflow efficiency.
Less suitable for extended periods of productivity work due to its size, potentially requiring educators to switch to larger devices for resource-intensive tasks, which might disrupt workflow continuity.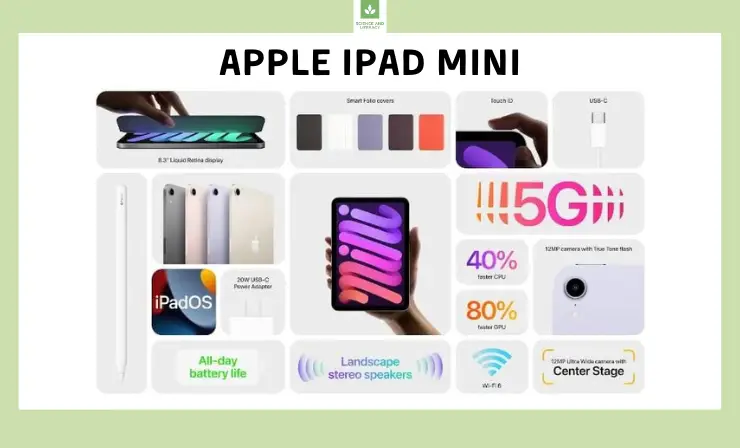 Use it for:

Convenient portability and ease of handling, especially for younger students.
Fast performance and responsiveness powered by the A15 Bionic chip.
Delve into the features of the iPad Mini with an insightful video review:
Good choice for educators seeking a lightweight and easily portable device that can be comfortably held with a single hand.
3. Apple iPad Pro – Best for Students on Creative Courses
Buying options:
The Apple iPad Pro emerges as an exceptionally advanced tablet choice tailored to educators, especially those who extensively employ their gadgets for diverse tasks encompassing projects and grading. Distinguished by its expansive 12.9-inch screen featuring a Liquid Retina display that extends seamlessly from edge to edge, the iPad Pro exhibits an extra dimension of performance. Anchoring its capabilities is the A12Z Bionic chip, augmented with a Neural Engine, rendering it the epitome of cutting-edge processing power.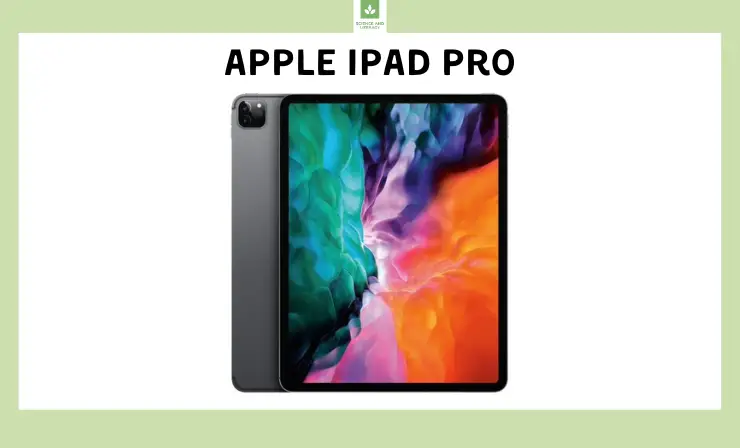 Distinct from the stereo speaker setup, the iPad Pro integrates four speakers and five studio-grade microphones. Notably, the 10-hour battery longevity prevalent among all iPad models remains consistent. Connectivity options include Wi-Fi and the provision to connect via cellular data plans. The iPad Pro diverges from reliance solely on fingerprint recognition, as it is equipped with Face ID, ensuring robust authentication and seamless integration with Apple Pay.
The camera prowess of the iPad Pro is nothing short of remarkable. A 12 MP rear camera is complemented by a front-facing 7MP camera, featuring the True Depth attribute. Boasting storage capacities of up to 1TB, concerns about storage constraints are effectively alleviated. Pairing the iPad Pro with an Apple Pencil and a Smart Keyboard equips educators with the essential tools to maintain electronic records within their classrooms. The iPad Pro stands as a remarkable solution for educators who position their tablet as their principal electronic companion within the instructional landscape.
Pros:
Exceptionally potent specifications that enable high-performance tasks.

Display boasts a striking Liquid Retina XDR technology, delivering exceptional visual quality.

Versatile compatibility with accessories like the Apple Pencil and Magic Keyboard, expanding usability.
Cons:
Holds the distinction of being the most expensive iPad model.

The premium pricing might deter budget-conscious consumers.

Due to its advanced capabilities, may have functionalities that are underutilized by casual users.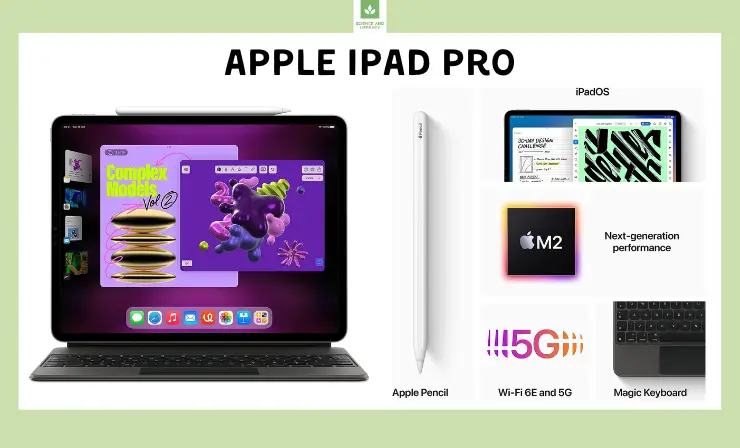 Use it for:
Optimal content creation, multitasking, and detailed visual tasks with its large 12.9-inch Retina display.
Boosting performance and efficiency with the M1 chip.
Get an in-depth look at the iPad Pro 12.9 with this video review:
Good choice for individuals who employ their tablet comprehensively, spanning tasks from project management to grading assessments.
4. Samsung Galaxy Tab S6 Lite – Most Lightweight
Buying options:
The Galaxy Tab S6 Lite stands as a compact and lightweight device notable for its crystalline image rendering and exceptional auditory performance. It affords educators the means to offer students an exemplary visual encounter during video presentations, oral language instruction, or auditory engagements. Comprising a metallic external framework, this tablet attains a robustness that fortifies its resilience, even in instances of accidental falls, an attribute particularly relevant in settings involving younger students.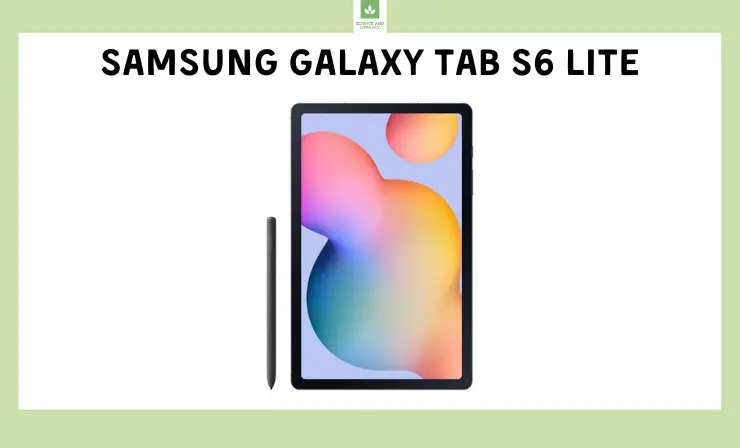 Pros:
Equipped with an international plug-in connection, making it suitable for travelers.

User-friendly pen functionality for seamless note-taking.

Enhanced audio experience attributed to Dolby Atmos speakers.
Cons:
Relatively higher cost, possibly posing a challenge for certain parents.

Supplementary keyboard incurs an extra expense, although some vendors offer discounted bundle pricing.

Incorporation of a low-tech, sluggish, and inconsistent fingerprint scanner.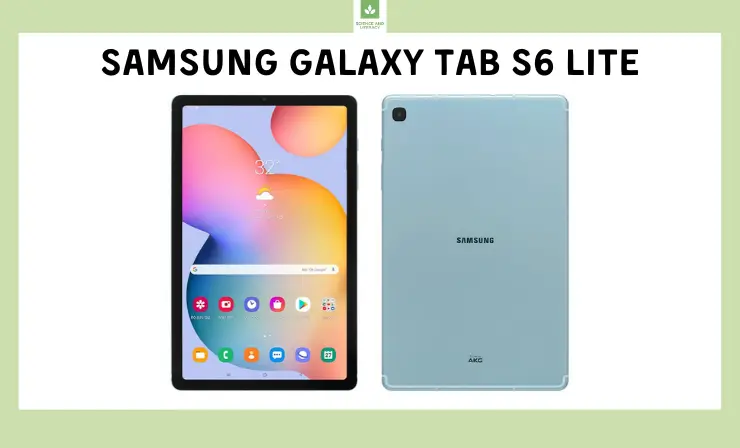 Use it for:
Precise note-taking and drawing using the included S Pen.
Enjoying portability without compromising functionality due to its slim design.
Discover the Samsung Galaxy Tab S6 Lite in action with a detailed video review:
Good choice for young learners at the elementary school level, particularly those in the initial stages of literacy development. The device encompasses commendable sound quality and a lightweight design that facilitates easy manipulation by small hands.
5. Microsoft Surface Pro – Best Convertible
Buying options:
The Microsoft Surface Pro represents a laptop that seamlessly transforms into a tablet, presenting a pivotal feature that engenders versatility across various classroom settings. This attribute holds particular value, as the device adeptly adapts to being positioned on a desk, employed during lessons, or even when utilized in a more relaxed setting like a sofa.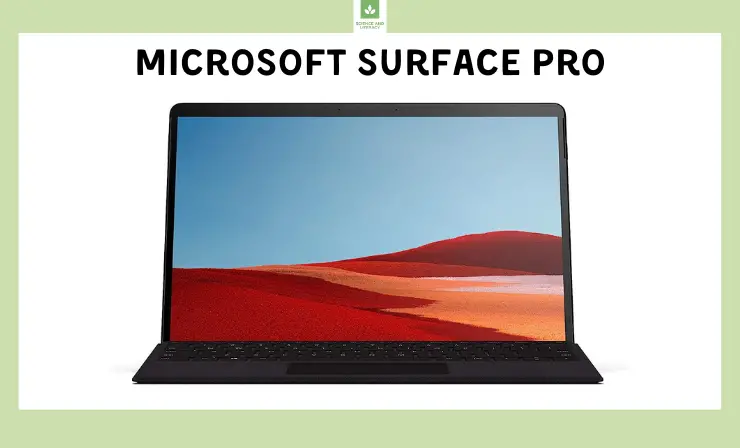 Notably, for younger learners, the tablet form factor resonates as the more convenient option, allowing them to effortlessly carry it along. The device asserts an all-day battery claim; however, user feedback often underscores a divergence from this assertion, with battery longevity reportedly diminishing within approximately five hours of usage. Additionally, users have encountered instances where the touchscreen becomes unresponsive while the keyboard functionality remains unaffected. These nuances warrant consideration when evaluating the device's suitability for educational contexts.
Pros:
Bears the certified Climate Pledge Friendly label, reflecting environmental consciousness.

Seamlessly transforms between laptop and tablet modes, facilitated by a versatile cover that permits stable desk positioning.

Exhibits robust construction, rendering it resilient to incidental scratches or damage during transportation.
Cons:
Commands a comparatively higher price point, potentially harboring functionalities that surpass the requirements of an elementary school setting.

Lacks inclusion of the Surface pen.

The incremental improvements over its predecessor may not justify the supplementary expense.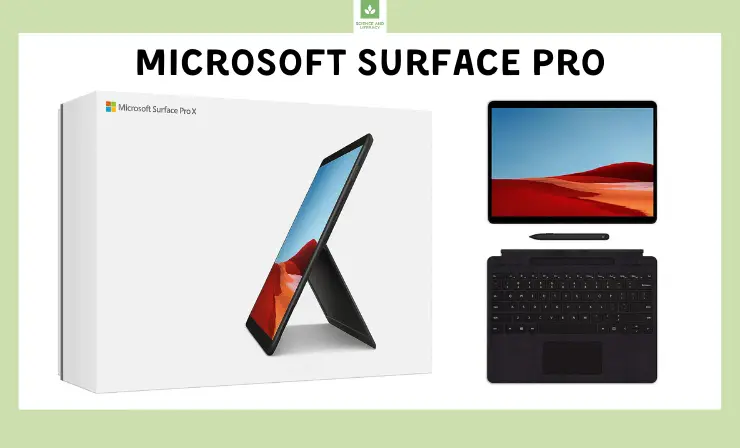 Use it for:
Combining tablet flexibility with laptop productivity.
Transforming into a full-fledged laptop with the detachable keyboard for versatile tasks.
Uncover the Microsoft Surface Pro's capabilities in a thorough video review:
Good choice for higher education contexts, catering to the preferences of high school and college students due to its integration of laptop functionalities. Nevertheless, it's prudent to acknowledge that certain attributes do not represent the latest technological advancements. Consequently, while the device might endure for a considerable duration, its susceptibility to becoming outdated at an accelerated pace necessitates consideration.
6. Amazon Fire HD – Best Budget Buy
Buying options:
Presenting an economically accessible solution, the Amazon Fire HD encompasses the essential requisites for a comprehensive online learning journey tailored for elementary education. Its vibrant color palette holds particular appeal for young learners, thus elevating its suitability. The Amazon Fire HD asserts itself as the preferred tablet for young students engaged in online classes, particularly commendable for activities such as book reading or audiobook consumption, effectively catering to the preferences of the youthful audience.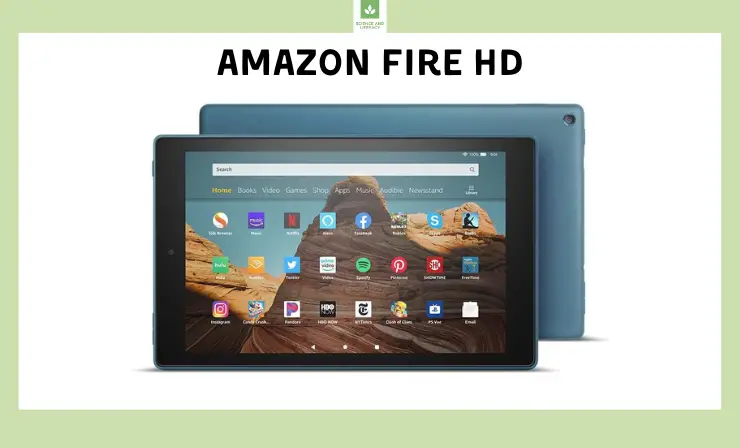 A recurring concern surfaces in relation to the limited connectivity of Amazon devices solely with Amazon applications. This exclusive compatibility can prompt consideration of whether the available Amazon applications meet the intended educational objectives. It might necessitate an informed assessment of the available applications, potentially prompting communication with students' parents to determine whether the existing Amazon applications suffice, or whether an adjustment to access the Google Play store is imperative to align with pedagogical goals.
Pros:
Incorporates a fully laminated display, safeguarding the screen from smudges and protecting it from potential mishaps caused by small, slippery hands.

Seamless interaction with Alexa, boasting commendable voice activation responsiveness and prompt query resolution.

Particularly appealing for families with Amazon Prime memberships, extending unlimited access to a plethora of content, encompassing Prime Videos, music, reading materials, and audiobooks.
Cons:
Exhibits a slightly elevated weight compared to its counterparts on this roster, potentially posing challenges for the youngest users.

Lacks seamless compatibility with Google services; however, the installation of the Google Play Store can facilitate access to an array of Google apps.

Durability poses a concern, likely contributing to its lower price point; the tablet's performance may slow down after approximately a year, accompanied by accelerated battery drainage.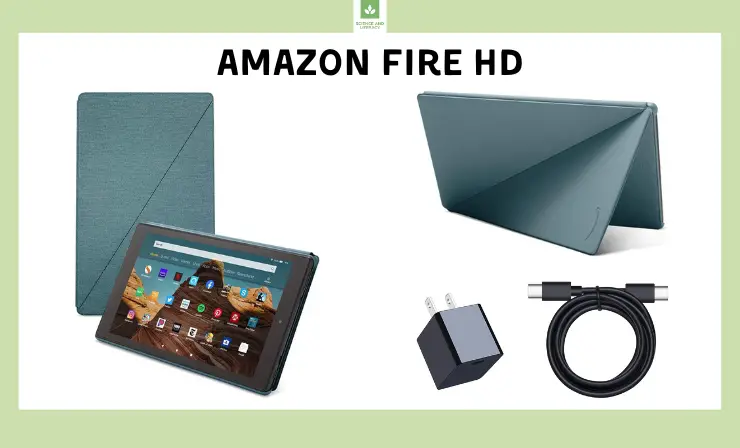 Use it for:
Budget-friendly media consumption, e-books, and light browsing.
Seamless integration with the Amazon ecosystem.
Experience the Amazon Fire HD firsthand in a comprehensive video review:
Good choice for elementary school students, primarily attributable to its vivid display and highly responsive touchscreen. Moreover, the cost-effectiveness of this option resonates positively with parents. It is particularly adept when utilized in conjunction with pre-installed or directly downloaded applications. However, the transfer of content from other devices to this tablet may prove vexatious, warranting consideration.
7. Lenovo Tab M10 Plus – Best for Kids
Buying options:
Incorporating Kid's Mode, the Tab M10 Plus introduces a parental control system that empowers parents to manage accessible content. This mode also encompasses specialized eye protection measures, serving as a preventive measure against eye strain. Moreover, the tablet is equipped to provide alerts when the child adopts uncomfortable sitting or lying positions in potentially unstable surroundings, thereby advocating for appropriate posture. Additionally, the feature allows parents to allocate a specific duration for viewing activities, offering a structured approach to screen time. This proves particularly beneficial for addressing instances where limiting screen engagement becomes challenging and promoting alternative activities, such as outdoor play or other pursuits, is desired.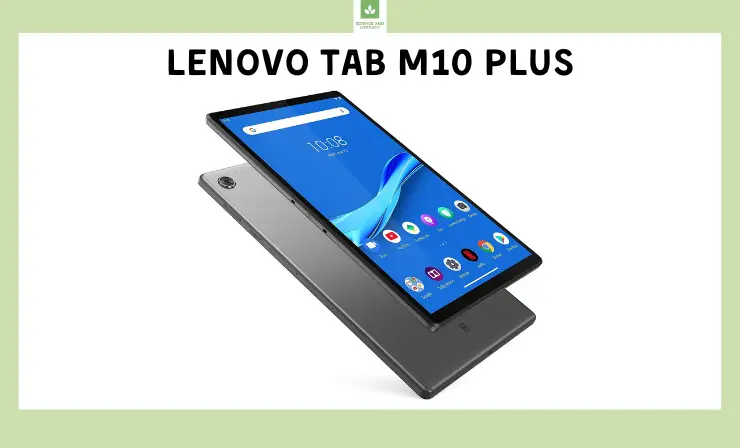 Incorporating parental control functionalities and advocating for proper posture represents merely a subset of the reasons that underscore the Tab M10 Plus by Lenovo as a prime contender for the best tablet catering to kids' online classes.
Pros:
Immersive audio quality delivered through two side speakers featuring Dolby Atmos audio technology.

Encompasses a screen that seamlessly encompasses the entire front of the device, optimizing display space.

Competitive specifications relative to its price point, enhancing its value proposition.
Cons:
Occasional screen lag of three to four seconds following swipes for certain applications; supplementary guidance for mitigating this delay can be found in the accompanying video.

Sound quality is commendable, but volume levels even at their highest setting tend to be relatively low.

Inconsistent Wi-Fi connectivity characterized by sporadic shutdowns and restarts, posing challenges for live classes; young children might be ill-equipped to address such disruptions.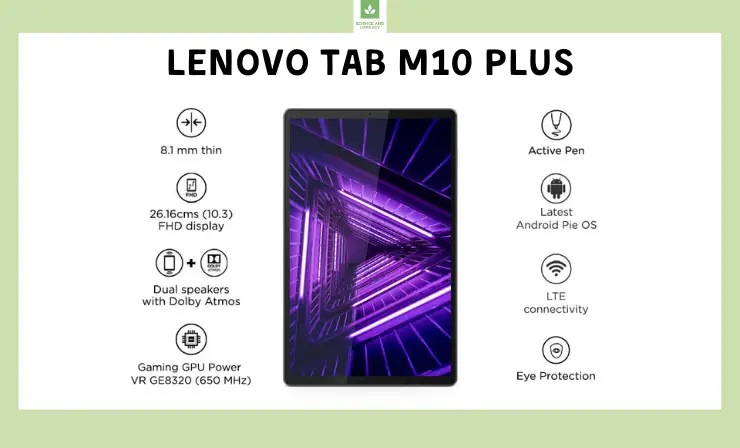 Use it for:
Ensuring child-friendly content with family mode.
Enhanced audio for media consumption and video calls through dual speakers.
See the Lenovo Tab M10 Plus in action with an informative video review:
Good choice for elementary school students, primarily attributed to the incorporation of Kids Mode, ensuring access to child-friendly content and mitigating concerns of unsolicited pop-ups. Moreover, its affordability stands as a compelling feature, resonating positively with parents seeking budget-friendly options.
8. Lenovo IdeaPad Duet Chromebook 10.1 – Best for Students Who Don't Need the Full Range of Apps
Buying options:
While a Chromebook might not immediately secure the top spot when deliberating on the best tablet options for students, it presents an array of considerations that warrant attention. Opting for a Chromebook introduces several merits to the equation. By adopting Google Chrome as its operating system, you embrace both speed and user-friendliness, further bolstered by Google's inherent security measures, cloud storage capabilities, and an assortment of free integrated applications. Within this realm, the Lenovo IdeaPad Duet Chromebook 10.1 emerges as a noteworthy contender. Its favorable pricing aside, this tablet proves exquisitely suited for tasks spanning research, writing, organizational endeavors, and equally adept for facilitating video conferencing engagements.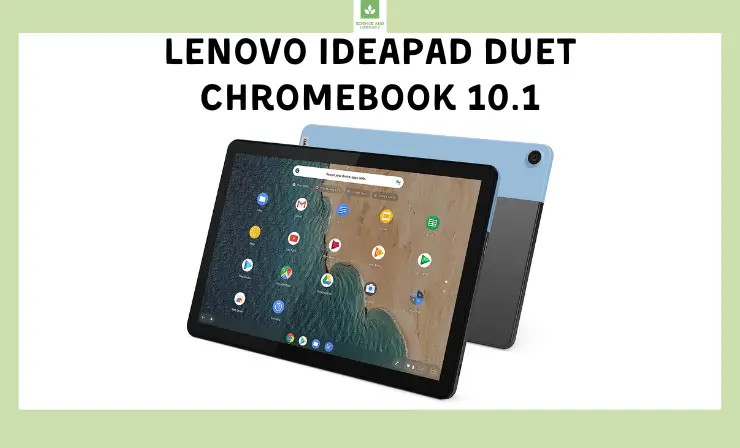 However, it's essential to acknowledge the inherent limitations of a Chrome OS-powered tablet. It inherently lacks the robustness characterizing Apple or Windows counterparts, thereby falling short in handling desktop-grade or resource-intensive software. Despite this constraint, the Lenovo IdeaPad Duet Chromebook 10.1 competently accomplishes a majority of tasks. Notably, many desktop applications boast mobile iterations that seamlessly replicate their utility, often at a significantly reduced cost.
The design of the Lenovo Duet tablet is notably well-executed. While slightly bulkier compared to Apple's sleek designs, this distinction translates to enhanced durability. The inclusion of a bundled keyboard and stand as part of the package further accentuates the value proposition of this budget-conscious tablet.
Pros:
Impressive battery longevity spanning up to 13 hours, facilitating prolonged usage without frequent recharging.

Inclusive provision of a stand and keyboard, augmenting versatility and convenience.

Sleek and compact design, enhancing portability and user-friendliness.
Cons:
Limited processing power, rendering it less suitable for resource-intensive tasks or applications.

Absence of advanced features that would cater to high-demanding computational needs.

Potential constraint in accommodating intricate software or multitasking requirements.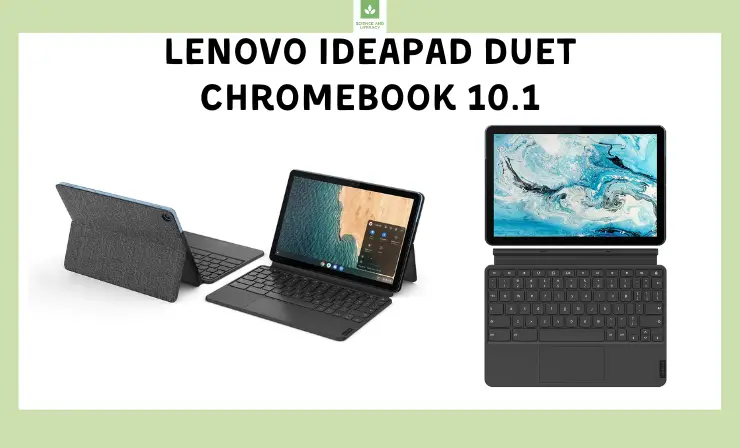 Use it for:
Blending tablet convenience with Chromebook productivity.
Versatile usage with or without the detachable keyboard.
Get a closer look at the Lenovo IdeaPad Duet Chromebook 10.1 in this video review:
Good choice for students with more streamlined app requirements, negating the necessity for a comprehensive app ecosystem.
9. Windows Fusion 5 – Ultra Slim
Buying options:
Introducing the latest iteration in the series of Windows Tablet PCs, this device emerges as a contemporary representation of technological advancement. Central to its appeal is the incorporation of the comprehensive Windows 10 package, an attribute that significantly enhances its user-friendliness across a spectrum of activities encompassing browsing, video consumption, spreadsheet management, and gaming pursuits. Noteworthy for its ultra-slim design characterized by pronounced bezels, this tablet strategically caters to the preferences of younger students. The enlarged bezels contribute to a more secure grip, addressing ergonomic considerations.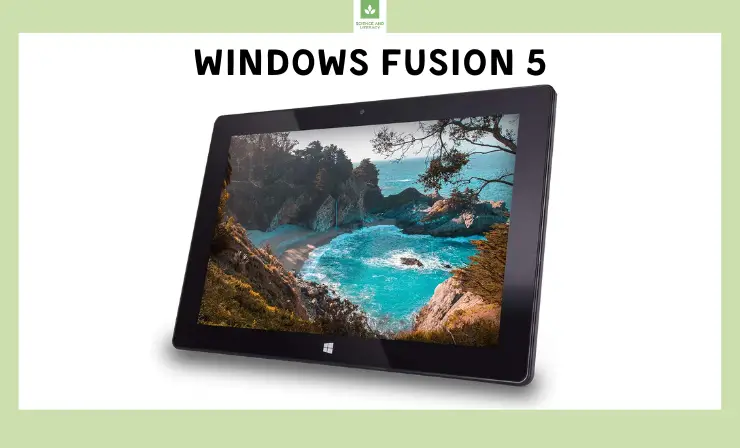 The amalgamation of these distinctive features equips the device to function as a hybrid, seamlessly bridging the functionality of a laptop with the inherent convenience of a tablet. This convergence renders it an appealing choice for educators and students alike, especially those who seek a versatile tool for both productive tasks and leisurely engagement.
Pros:
Equipped with a full-size USB 3.0 port, enhancing connectivity options.

Facilitates easy transition from Windows 10 apps mode to allow installations from external sources.

Features a functional headphone jack, catering to audio-related needs.
Cons:
Exhibits difficulty in waking up from sleep mode, necessitating occasional restarts for reactivation.

Relatively slower performance when accessing files or browsing the web, identified as a predominant user grievance.

Recharging process is sluggish, compounded by the device heating up during extended usage sessions.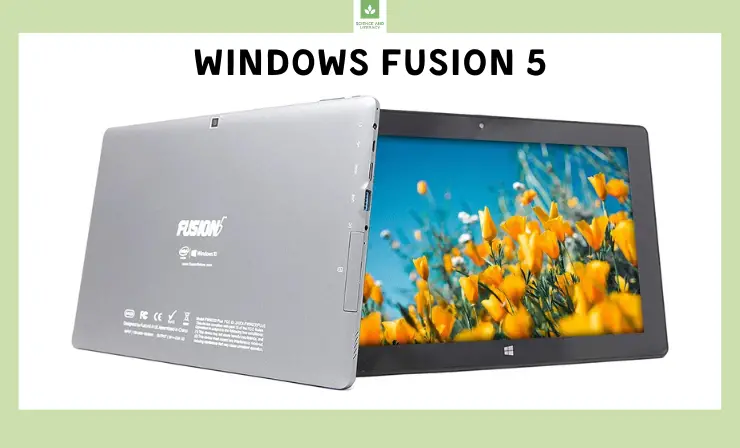 Use it for:
Completing desktop-like tasks with Windows compatibility.
Flexibility in usage, with or without an optional keyboard.
Watch a detailed video review to learn more about the Windows Fusion 5:
Good choice for younger students whose requirements don't entail rapid internet browsing or swift downloads. Positioned at a moderate price point, it presents an array of features and applications, ensuring optimal value for the investment. However, it's pertinent to note that this device might not be the most ideal choice if a high-quality camera is a crucial requisite for your educational context.
10. Dragon Touch Max 10 – Most User-Friendly
Buying options:
The device in question exudes a high degree of user-friendliness, positioning it as an accessible tool within the technological landscape. The seamless integration with Google services is a pivotal feature, affording users access to their photo cache, Google Play, and Google Docs, thereby expanding its functional scope. Of noteworthy significance is its pertinence to high school and college students, rendering the Dragon Touch Max 10 a suitable companion for their academic pursuits. Reinforcing its resilience is an aluminum alloy construction that imparts durability, ensuring its survival even in instances of accidental drops. The display experience receives a marked enhancement through the incorporation of an upgraded Quantum LED dot enhancement film, resulting in vibrant and captivating color reproduction.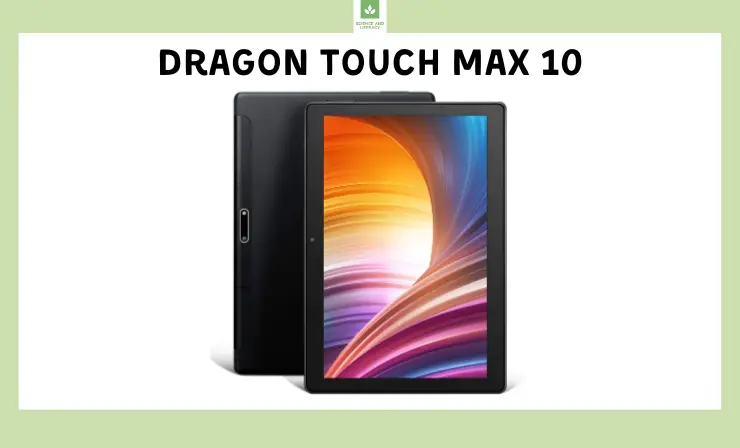 As a consequence, the Max 10 emerges as a prime contender for the mantle of the best tablet for Google Classroom engagements. The amalgamation of its robust features and seamless integration with Google services positions it as a reliable device, instilling a sense of dependability in its usage scenarios.
Pros:
Incorporates dual SIM card ports, providing phone functionality when needed.
Compatible with basic styluses, enhancing versatility for note-taking.
Boasts a rapid and highly responsive touchscreen display for smooth interaction.
Cons:
Occupies a relatively heavier weight in comparison to other tablets on this compilation, which could be cumbersome for preschoolers and kindergarteners to handle comfortably.

The bundled charger tends to overheat rapidly, necessitating careful handling.

Some users opine that the 10-hour battery life might fall short for prolonged activities like watching movies and reading books; however, it's deemed sufficient for three to five hours of online schooling.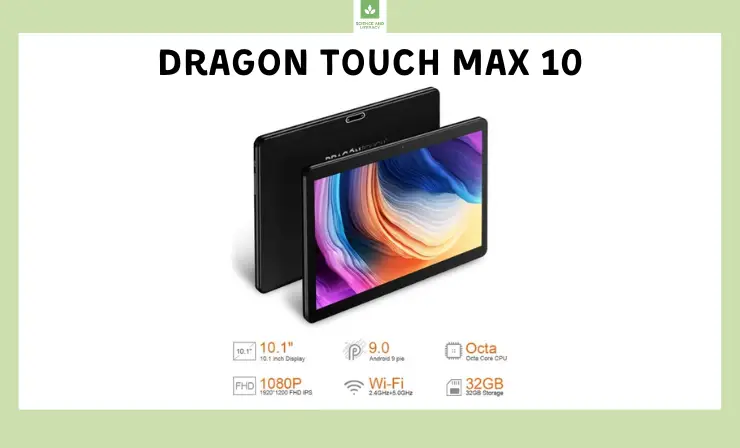 Use it for:
Cost-effective media consumption and casual tasks.
Enhanced viewing experience with its wide-angle display.
Explore the features of the Dragon Touch Max 10 in this video review:
Good choice for younger students, offering a balance between affordability and feature-rich functionality. Its user-friendly attributes render it a recommendable choice for parents seeking a suitable tablet for their children's educational needs.
11. HP Chromebook x2 11 – Best Cheap 2-in-1 Tablet
Buying options:
The HP Chromebook x2 11 stands as a compact and intelligent Chromebook that seamlessly marries the advantages of two distinct realms. Functioning as a tablet, it adeptly accommodates tasks such as note-taking, web browsing, video streaming, and digital artistic expression. Yet, its transformative ability to evolve into a competent laptop configuration for writing and productivity tasks is particularly noteworthy when its meticulously designed keyboard is affixed. It fluidly transitions between tablet and laptop orientations, functioning with equal efficacy in either mode. The 2K QLED screen contributes to an immersive visual experience, seamlessly aligning with cloud-centric functionalities that underscore its suitability for both gaming and video streaming. Notably, students who hold an Xbox Game Pass account will discern utility in leveraging this device for recreational purposes amid their academic commitments.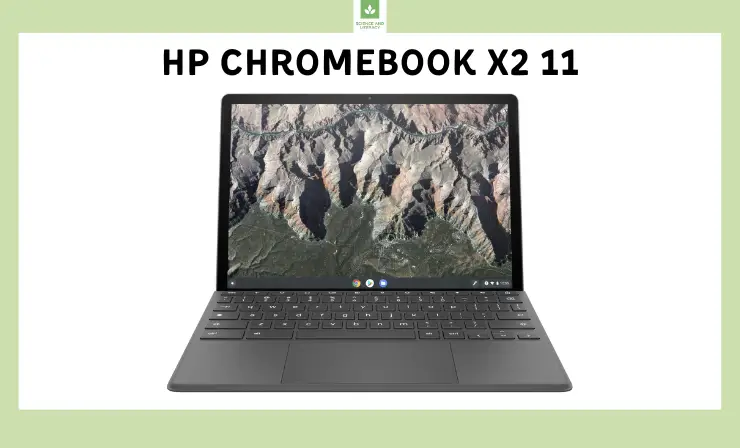 Undoubtedly, the Chrome OS foundation defines its operational landscape, implying the adoption of apps primarily from the Google Play Store, in contrast to the comprehensive software suite offered by Microsoft's comparable Surface Go. However, the inherent capabilities of Google's proprietary applications such as Sheets and Docs serve as exceptional alternatives to conventional productivity software like Word and Excel. Notably, the cloud-centric framework ensures seamless data synchronization, underscoring the convenience of accessing work materials from any location with an active internet connection.
Pros:
Showcases a vivid 1440p QHD display, contributing to a high-quality visual experience.

Bundled with an S Pen stylus, enhancing the tablet's versatility and utility.

Inclusive provision of a keyboard and stand, bolstering functionality and adaptability.
Cons:
Incompatible with full Adobe software, potentially limiting its suitability for users reliant on Adobe's comprehensive suite of applications.

Restricted access to certain resource-intensive or specialized software applications, hindering its capacity for professional-grade tasks.

Possesses limited processing power in comparison to dedicated laptops, constraining its potential for high-demanding computational tasks.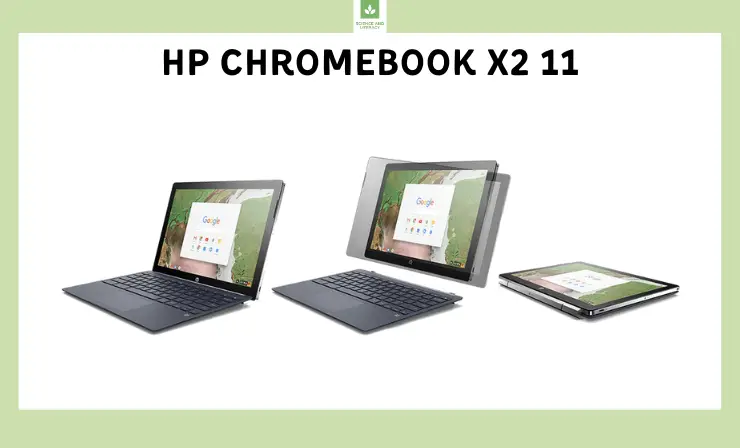 Use it for:
Unleashing creativity with the included S Pen stylus.
Seamless transition between tablet and laptop modes for various tasks.
Witness the capabilities of the HP Chromebook x2 11 in a comprehensive video review:
Good choice for diverse student cohorts, the HP Chromebook x2 11 strikes a harmonious balance between affordability and versatility. Its user-friendly design caters to both younger learners and those in more advanced academic stages, making it a valuable asset for classrooms seeking adaptable devices. 
12. Huawei Matepad 11 – High-Spec Budget Student Tablet
Buying options:
The Huawei MatePad 11 emerges as a tablet of elevated specifications, meriting a comparison with the Apple iPad. Characterized by its lightweight construct, the tablet incorporates a captivating 120Hz display, notable for its vibrancy—an exceptional trait within the parameters of both size and budget considerations. This display configuration, coupled with the presence of an exceptional stylus, renders the Huawei MatePad 11 an enticing choice for endeavors pertaining to digital artistry.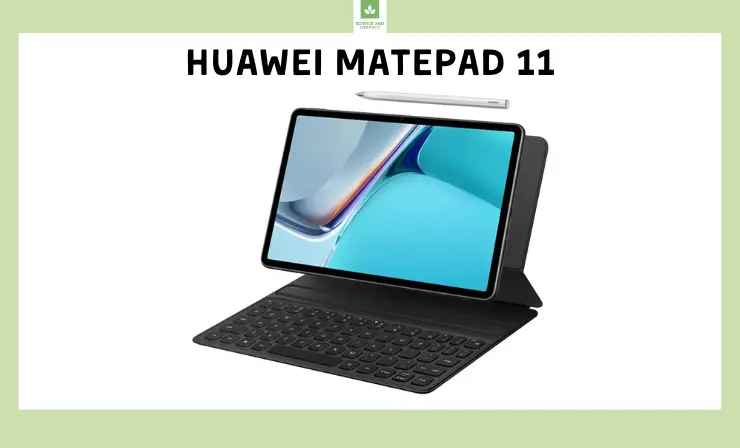 The Huawei MatePad 11 exudes an encompassing sense of quality that commands admiration. In essence, it presents itself as a viable alternative to offerings by both Apple and Android, notably accentuated by the availability of a 256GB variant. However, a pertinent caveat warrants consideration: the Chinese origin of Huawei as a company translates to the exclusion of Google Store accessibility. Despite this constraint, Huawei proffers proprietary iterations of essential applications requisite for everyday tasks, encompassing word processing, PDF reading, and document management analogous to Excel. This attribute extends the potential utility of the device for users seeking a blend of work and recreational functionalities. Should the absence of certain applications prove manageable and the need for an all-encompassing tablet accommodating both professional commitments and leisure pursuits exist, the Huawei MatePad 11 emerges as a sound choice.
Pros:
Exceptional display quality contributes to a superior visual experience.

Compatibility with laptops, facilitating versatile usage scenarios.

Stylus performance is highly impressive, enhancing usability and creativity.
Cons:
Absence of Google apps and store limits access to a comprehensive range of applications.

Tethered to Huawei apps, potentially constraining the breadth of available software options.

Limited ecosystem integration due to restricted app availability.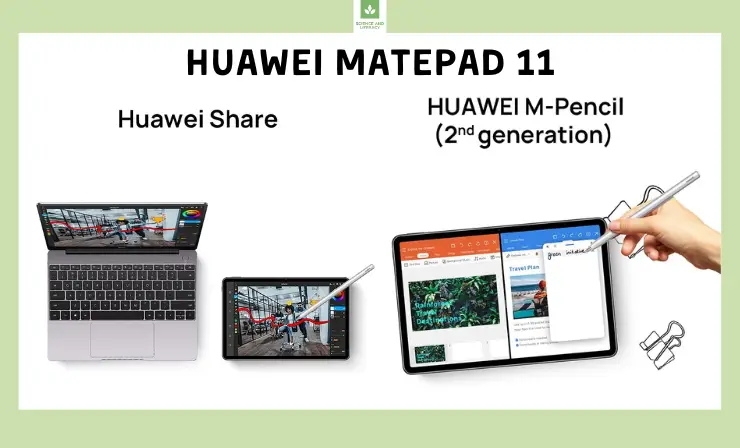 Use it for:
Seamless device interaction with HarmonyOS.
Fluid performance for various applications with the M6 chip.
Enhance your understanding of the Huawei Matepad 11 with our video review:
Good choice for a wide range of students, the Huawei MatePad 11 offers a balanced blend of affordability and versatility. Suited for different age groups, it caters to classrooms in need of adaptable technology. Its cost-effectiveness and user-friendly design make it valuable for parents and educators aiming to enrich students' learning journeys.
How Tablet Utilization Elevates the Learning Experience
Tablets play a crucial role in enhancing learning experiences. They create a relaxed environment that improves memory retention during various educational activities. By providing students with personal gadgets in comfortable settings, distractions are minimized, leading to increased focus, especially when used with headphones. The World Journal of Education highlights how teaching methodologies are adapting to technological advancements, with tablets becoming pivotal tools. Reliable power supply, internet connectivity, and user proficiency in digital learning continue to improve.
Distance learning, once a staple of universities, has become essential even for preschoolers, emphasizing the significance of quality online class tablets. These devices, designed for ease of use, foster comfort and engagement, particularly in wireless learning environments with Wi-Fi access. These devices also empower education in remote areas. The Journal for Learning Development showcases their role in providing equitable learning opportunities, even without a constant internet connection, thanks to wireless links to the Aptus local server.
The outcome is evident in increased interest and performance, with post-tablet assessments consistently yielding higher scores. In summary, tablets enrich learning by creating conducive environments, adapting to evolving methodologies, and bridging educational gaps.
How Other Teachers Use Tablets
The methodology employed in the execution of your virtual instructional sessions is markedly contingent on the chosen platform. Presented here are several prevalent functionalities that pedagogues commonly employ when facilitating primary-level education:
1. Chat
Although the messaging aspect can occasionally prove vexing, its constructive application is noteworthy. During instances when a scholar or yourself engages in exposition, recitation, or elucidation of a lesson, queries promptly arise. Leveraging the messaging functionality permits them to articulate inquiries sans disruption to the discourse or the necessity of unmuting.
2. Screen Sharing
An extensively observed trait across educational gadgets and corporate conferencing, visual content sharing assumes prominence. Learners are endowed with the capacity to observe your discourse while simultaneously perceiving a page, image, or real-time feed displayed on the alternate fraction of their screens. This proves advantageous for language instruction and reading exercises, as pupils can trail alongside the audible reading. When showcasing videos, halting for explanatory interjections can be executed, thereby retaining the students' engagement without attrition.
3. Digital Note-Taking
Tablet-based note-taking offers students a streamlined method to meticulously arrange and readily access their notes. This approach not only optimizes the organization of academic materials but also contributes to a heightened efficiency in the subsequent phases of review and study. The ease of navigation and retrieval inherent to tablet-based note-taking lends itself to a more effective learning process, enabling students to revisit key concepts with agility and comprehensiveness. As a result, the integration of tablets for note-taking augments the overall academic workflow, culminating in a more productive and insightful approach to learning and revision.
Useful Resources
Conclusion
Amidst the challenges encountered in facilitating online education for elementary-level learners throughout the past year, notable positive outcomes have emerged, underscoring the endurance of this instructional approach. As schools transition towards reopening, a prevailing consensus suggests that specific facets of online learning will persist, contributing to a multifaceted instructional landscape.
To harness the full potential of this evolving paradigm, the provision of capable tablets becomes an indispensable consideration. In this context, the New Apple iPad Air occupies a prominent position as a preferred choice, as per my personal inclination. The aim here is to simplify the process of selecting suitable tablets for students, or alternatively, to aid educators in advising parents on appropriate tablet options.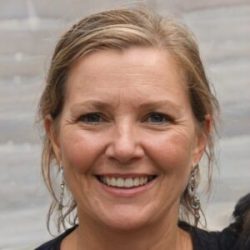 Latest posts by Simona Johnes
(see all)