When it comes to pursuing a college education with the aid of a scholarship, there are important procedures to address. Among these requirements, a sample recommendation letter for scholarship holds significant importance as it plays a pivotal role in assessing a student's eligibility. This influential document is written by someone familiar with the student's abilities and serves as a testament to their past achievements and future potential. It weaves a captivating narrative that showcases the student's exceptional qualities and makes a compelling case for why they deserve financial support to pursue their educational goals.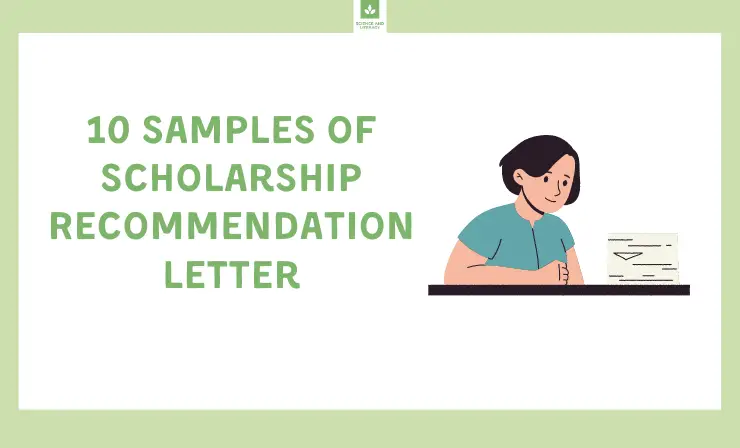 A scholarship recommendation letter is more than just a formality; it is a doorway that opens opportunities for promising individuals seeking financial aid. By carefully assessing the student's qualifications, accomplishments, and personal attributes, the recommender crafts a compelling narrative that showcases their strengths and potential. This letter is not only a reflection of the student's academic achievements but also a testament to their character, resilience, and dedication. It offers invaluable insights into their abilities and highlights the impact they can make within their chosen field of study.
In this article, we delve into the intricacies of writing a powerful scholarship recommendation letter. We will explore the key components, share tips for crafting an effective letter, and provide samples that demonstrates how to capture the essence of a student's journey in a compelling manner. By the end, you will have a clear understanding of the importance of a scholarship recommendation letter and how to create one that sets the stage for a deserving student to secure the financial assistance they need to pursue their educational dreams.
The Importance of a Scholarship Recommendation Letter
As a teacher or professor, you possess a unique opportunity to impact your students' lives beyond the classroom. Crafting a compelling recommendation letter for a student's scholarship application is a crucial task that can significantly contribute to their future success.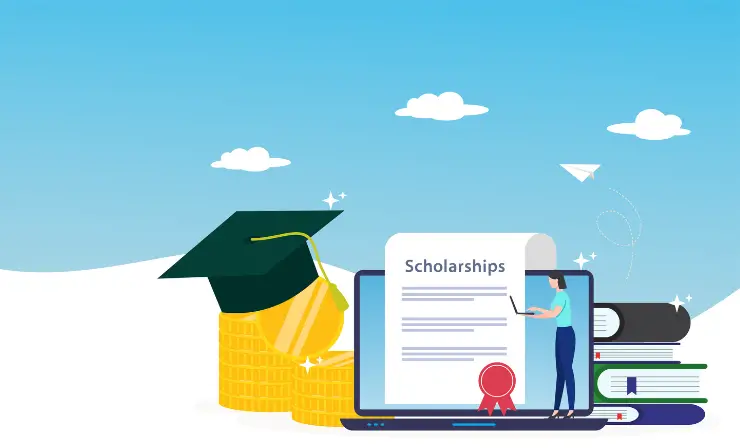 Let's explore the importance of recommendation letters and how they can bolster a student's scholarship prospects.
1. Serving as an Endorsement
A well-crafted recommendation letter serves as a powerful endorsement, showcasing your recognition of the student's exceptional personal and academic qualities. It goes beyond the confines of their resume, allowing them to emerge as multi-dimensional individuals to the discerning eyes of the scholarship committee. Your letter acts as a testament to their potential, expressing unwavering confidence in their ability to succeed in their chosen field.
2. Highlighting Positive Attributes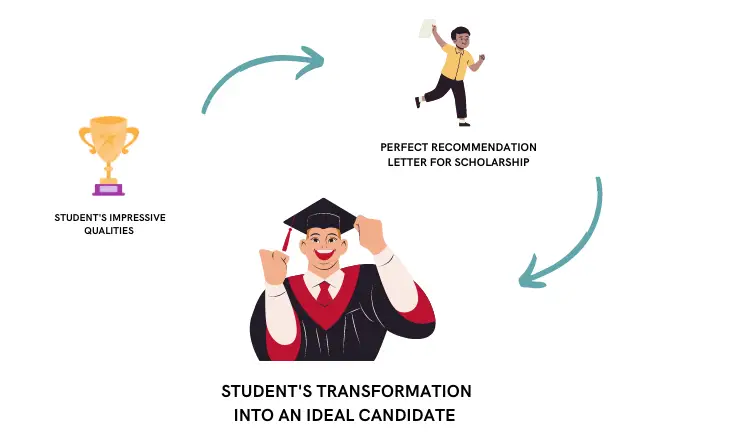 By illuminating the student's impressive qualities, your recommendation letter provides additional evidence of their worthiness and qualifications for the scholarship. Scholarships are often awarded to students with specific goals or commitments, such as those pursuing studies in math, engineering, science, literary studies, or computer science. Your letter plays a pivotal role in emphasizing the student's unique strengths, further bolstering their case as an ideal candidate.
3. Customization for Relevance
When writing the recommendation letter, it is essential to customize its content to align with the specific scholarship. Highlight how the student meets the scholarship's eligibility criteria and deserves the financial support based on merit or need. Your letter becomes particularly valuable when a student faces financial constraints, allowing you to discuss their ability to excel despite limited resources. By tailoring the letter to the scholarship's requirements, you enhance its relevance and impact.
4. Supporting the Application Narrative
The recommendation letter seamlessly integrates with the student's scholarship application, acting as a complementary piece that strengthens the overall narrative. It adds depth and nuance to their story, reinforcing why they deserve to receive the scholarship. To achieve an accurate and successful outcome, gather all the necessary information about the student and brainstorm ideas before commencing the letter. This meticulous approach ensures that the letter effectively complements the student's application.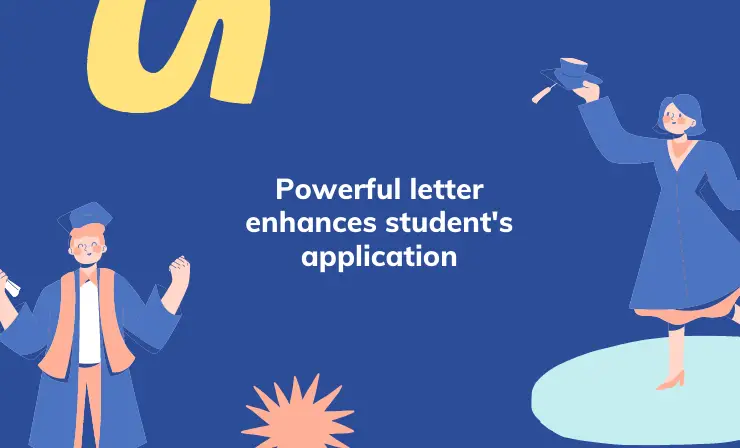 As a teacher or professor, your well-crafted recommendation letter holds the power to significantly elevate a student's chances of securing a scholarship. It serves as an endorsement, highlights their positive attributes, customizes the application to the scholarship's requirements, and adds a valuable dimension to their narrative. Remember, taking the time to gather comprehensive information and carefully craft the letter ensures that it authentically reflects the student's potential and merits. Embrace this opportunity to make a lasting impact on their educational journey.
Here are some tweets from teachers who have written scholarship recommendation letters. They express positive experiences and encourage others to confidently write recommendation letters:
Some good news: A past student I wrote a recommendation letter for got the scholarship he was applying for, and is going to be studying overseas in Taiwan for a few months over our summer period 😊

— Matt Mack (@matthras) May 8, 2023
One of my former student visited me today. Thanked me for filling out that university form and writing that recommendation letter for scholarship. Today she informed me that she will graduate top of her class in Accounting.
Sometimes it's the simple thing iyah

— Ruru Walsh (@champion_walsh) May 11, 2023
Components of a Scholarship Recommendation Letter
When writing a scholarship recommendation letter, it is important to include specific components to ensure its effectiveness. These components help create a comprehensive and persuasive letter that can positively influence the decision-making process.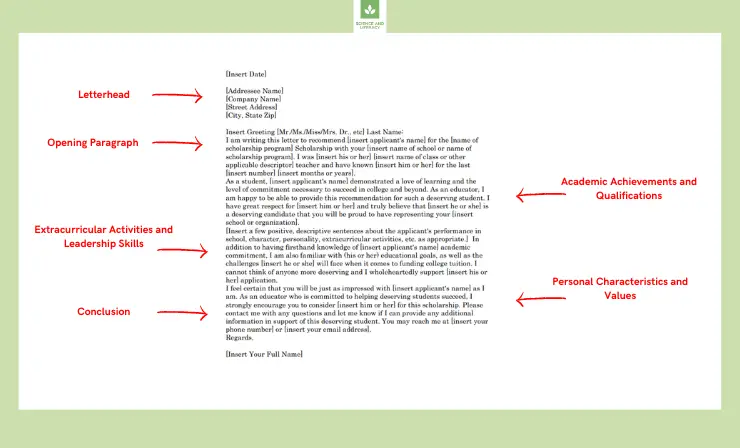 Let's delve deeper into the key elements of a scholarship recommendation letter:
1. Letterhead
The author should place the following details in the upper left corner of the page: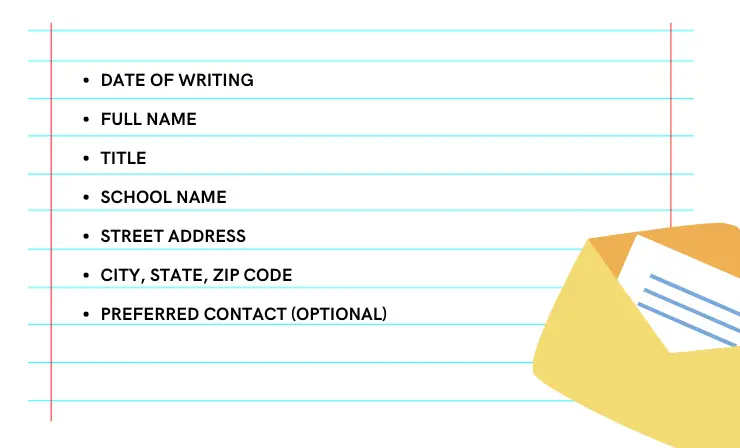 The selection of letterhead can differ based on the university you are corresponding with or your individual preferences.
2. Opening Paragraph
In the opening paragraph, introduce yourself as the recommender and establish your relationship with the student. Emphasize the duration of your acquaintance and the capacity in which you have interacted. Highlight your qualifications or experience that lends credibility to your recommendation.
3. Academic Achievements and Qualifications
Dedicate a section to highlight the student's academic accomplishments. Showcase their GPA, class rank, awards, honors, and noteworthy coursework. Illustrate their intellectual abilities, dedication to learning, and how they excel academically compared to their peers. Reinforce your statements with specific examples that demonstrate their academic prowess.
4. Extracurricular Activities and Leadership Skills
Discuss the student's active involvement in extracurricular activities, clubs, organizations, or community service. Focus on their leadership roles, responsibilities, and initiatives undertaken. Explain how their participation has fostered personal growth, nurtured teamwork, and contributed to community engagement. Bolster your claims by sharing concrete examples that showcase their commitment and the positive impact they have made.
5. Personal Characteristics and Values
Delve into the student's personal qualities, character traits, and values that make them an exceptional candidate for the scholarship. Highlight their work ethic, integrity, resilience, effective communication skills, and ability to overcome challenges. Support your assertions with anecdotes or instances that vividly illustrate these attributes, giving the selection committee a glimpse of the candidate's potential for success.
6. Conclusion
Summarize the main points discussed in the letter, reinforcing your recommendation for the student to receive the scholarship. Provide a concise recap of their academic achievements, extracurricular involvement, and personal qualities. Express your unwavering confidence in the student's ability to excel academically and contribute positively to the scholarship program. Consider offering your contact information as a resource if the selection committee requires additional clarification or further insight.
By incorporating these essential components into your scholarship recommendation letter, you create a comprehensive and compelling narrative that highlights the student's strengths, achievements, and unique qualities. Remember, your letter plays a vital role in influencing the decision-making process and ultimately shaping the student's educational journey.

The Dos and Don'ts of a Scholarship Letter of Recommendation
As an educator entrusted with writing a scholarship letter of recommendation, it is crucial to understand the best practices that can influence the admissions representatives' decision-making process. While utilizing a recommendation letter template is convenient, personalizing the content to meet specific needs is essential.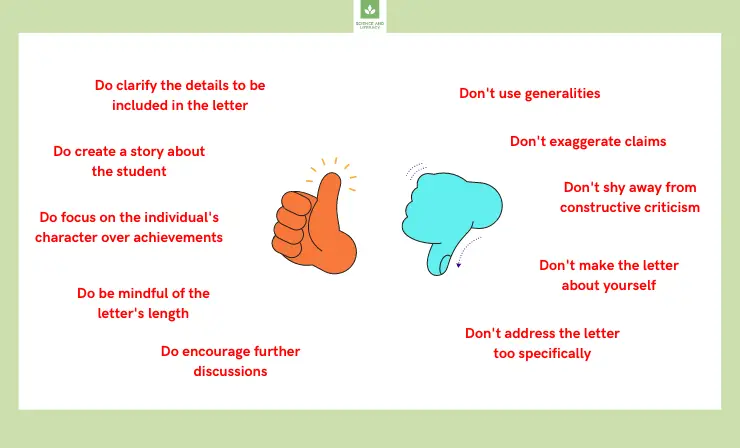 To ensure a seamless process and produce a remarkable student letter of recommendation for a scholarship, consider the following tips, which incorporate bursts of insights and engaging content.
Dos
Do clarify the details to be included in the letter. Before writing the letter, schedule a meeting with the student to discuss what should be covered. While their input should not dictate the letter's content, it helps to know about any additional information that can strengthen their application.
Do create a story about the student. Instead of relying solely on a list of adjectives, tell a compelling story that illustrates the applicant's positive qualities. Share a brief narrative that showcases a specific trait or situation, allowing the reader to visualize the student's character and accomplishments.
Do focus on the individual's character over achievements. While academic performance is significant, it is crucial to emphasize the student's personal attributes and values. Engage in a conversation with the student to understand their interests, aspirations, and dreams. This knowledge can strengthen your recommendation, as it showcases how the applicant would fit into the school's environment beyond their grades.
Do be mindful of the letter's length. Considering the volume of applications the admissions committee reviews, conciseness is key. A shorter, impactful letter stands a better chance of leaving a lasting impression. Aim for a one-page recommendation that effectively conveys your message.
Do encourage further discussions. Include your contact details at the end of the letter, inviting the recipient to reach out with any questions. Open communication demonstrates your willingness to provide additional information and supports the student's candidacy. Be prepared to back up the claims you made in the letter, as verification calls from the school are common.
Don'ts
Don't use generalities. Avoid vague or generic statements that fail to differentiate the student from others. Instead, provide evidence of the applicant's unique qualities and why they are a qualified candidate for the scholarship. Highlight what sets them apart and what they can contribute.
Don't exaggerate claims. Maintain honesty and integrity in your recommendation. Avoid making exaggerated statements that do not align with the student's actual abilities or achievements. Provide recommendations based on sound judgment and avoid setting unrealistic expectations.
Don't shy away from constructive criticism. While recommendations should focus on strengths, providing constructive criticism can demonstrate authenticity. Highlight areas for improvement, but frame them in a way that showcases the student's growth and development. This transparency adds depth to your recommendation.
Don't make the letter about yourself. While it's acceptable to provide an overview of your qualifications and experience, ensure that the letter remains focused on the student. Avoid overshadowing the applicant by excessively emphasizing your own accomplishments or credentials.
Don't address the letter too specifically. Considering the student may apply to multiple institutions, individually addressing each letter to different admissions officers may not be practical. Instead, use a recommendation letter template that can be personalized for each school's culture, ensuring efficiency and consistency.
By adhering to these dos and don'ts, you can write a compelling scholarship letter of recommendation that effectively represents the student and increases their chances of securing the scholarship they deserve. Embrace the burstiness of language, combining sentence variations and engaging content to capture the reader's attention while maintaining clarity and context.
In this informative video, you will gain valuable insights on the art of crafting outstanding letters of recommendation for educational institutions. Leading the way is esteemed academic expert Douglas Christiansen, who serves as the vice provost for enrollment and dean of admissions at Vanderbilt University. Prepare to receive expert guidance as you embark on your journey to master the art of composing impactful recommendation letters for any school.

2 Scholarship Recommendation Letter Templates
We have provided two templates for your convenience in writing a recommendation letter for a scholarship. These templates serve as helpful guides to ensure you include the necessary information and present a strong endorsement of the student's qualifications. Feel free to adapt these templates to suit your specific circumstances and personalize them to accurately reflect the student's achievements and potential.
Template 1
[Insert Date]
[Addressee Name]
[Company Name]
[Street Address]
[City, State Zip]
Insert Greeting [Mr./Ms./Miss/Mrs. Dr., etc] Last Name:
I am writing this letter to recommend [insert applicant's name] for the [name of scholarship program] Scholarship with your [insert name of school or name of scholarship program]. I was [insert his or her] [insert name of class or other applicable descriptor] teacher and have known [insert him or her] for the last [insert number] [insert months or years].
As a student, [insert applicant's name] demonstrated a love of learning and the level of commitment necessary to succeed in college and beyond. As an educator, I am happy to be able to provide this recommendation for such a deserving student. I have great respect for [insert him or her] and truly believe that [insert he or she] is a deserving candidate that you will be proud to have representing your [insert school or organization].
[Insert a few positive, descriptive sentences about the applicant's performance in school, character, personality, extracurricular activities, etc. as appropriate.] In addition to having firsthand knowledge of [insert applicant's name] academic commitment, I am also familiar with (his or her) educational goals, as well as the challenges [insert he or she] will face when it comes to funding college tuition. I cannot think of anyone more deserving and I wholeheartedly support [insert his or her] application.
I feel certain that you will be just as impressed with [insert applicant's name] as I am. As an educator who is committed to helping deserving students succeed, I strongly encourage you to consider [insert him or her] for this scholarship. Please contact me with any questions and let me know if I can provide any additional information in support of this deserving student. You may reach me at [insert your phone number] or [insert your email address].
Regards,
[Insert Your Full Name]
Template 2
[Insert Date]
[Addressee Name]
[Company Name]
[Street Address]
[City, State Zip]
Insert Greeting [Mr./Ms./Miss/Mrs./Dr., etc] Last Name:
Please accept this letter as a formal letter of recommendation in support of [insert applicant's name]'s application for the [name of scholarship] Scholarship program offered by your [insert name of school or name of scholarship program]. I have known [insert him or her] for last [insert number] [insert months or years] and can truthfully state that [insert he or she] is a deserving candidate that you will be proud to have as an example of your ideal scholarship winner.
[Insert a brief statement of how you know the applicant that will describe your relationship in a positive, professional light.] During the time that I have known [insert applicant's name], it has become apparent to me that [insert he or she] is an example of a good citizen who is committed to academics, as well as to growing in [insert his or her] professional life while also helping others.
I have a great deal of respect for [insert him or her] and am proud to be able to provide this letter of recommendation for the scholarship program you represent. Please let me know if you have any questions or if you would like to speak with me in more detail about why [insert applicant's name] deserves consideration for this award. Feel free to call me at [insert your phone number] or contact me via email at [insert your email address].
Regards,
[Insert Your Full Name]
By utilizing these templates, you can craft a compelling recommendation letter that increases the student's chances of securing the desired scholarship.
10 Samples of a Scholarship Recommendation Letter
Here we provide you with sample letters of recommendation for scholarships that can serve as valuable examples for your reference.
Sample 1
This sample is highly recommended as it comprehensively covers student's academic achievements.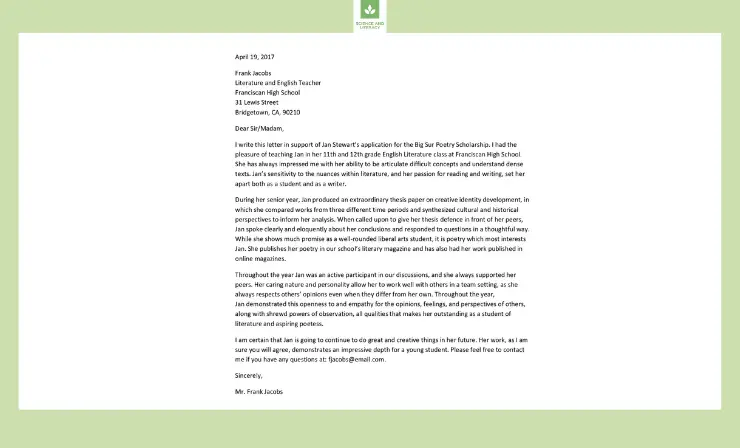 Sample 2
This sample demonstrates the student's remarkable growth in achievements and their ability to persevere in studying challenging subjects.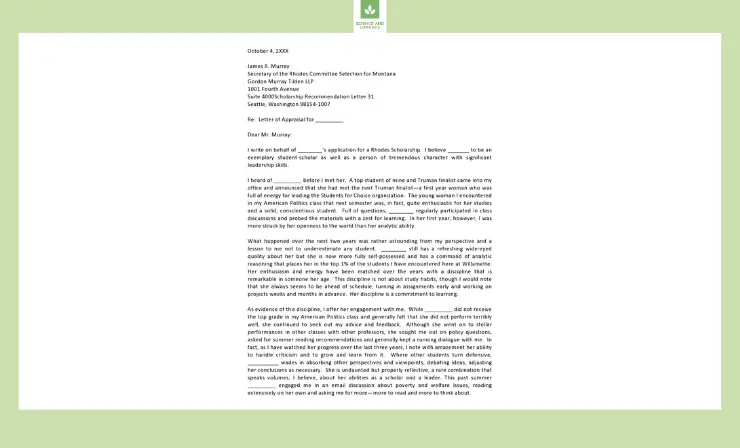 Sample 3
In this sample, the co-advisor highlights the international student's impressive achievements and provides in-depth details about her outstanding project.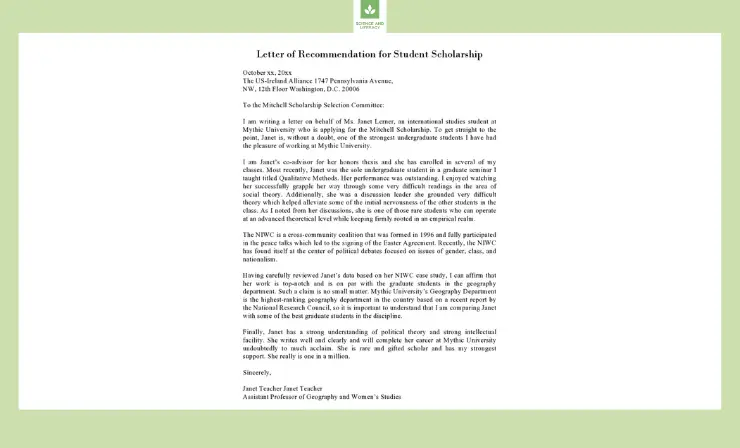 Sample 4
The fourth sample comprehensively covers not only the student's educational achievements but also highlights her valuable soft skills.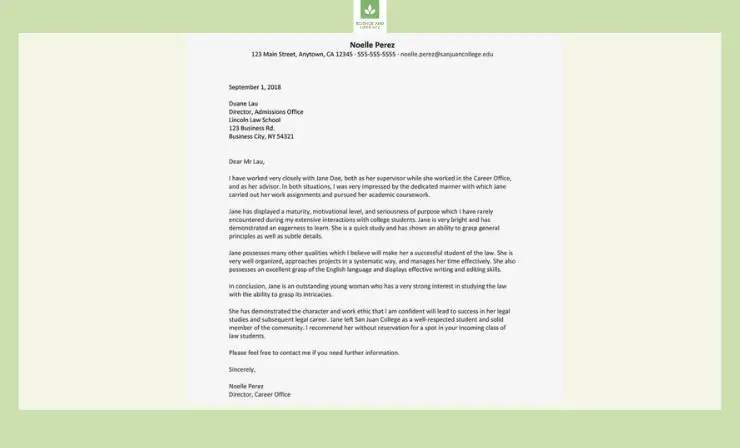 Sample 5
This sample showcases the student's proficiency in particular subjects and emphasizes their achievements. Additionally, it concludes with an offer to contact the author for further details on the student's accomplishments.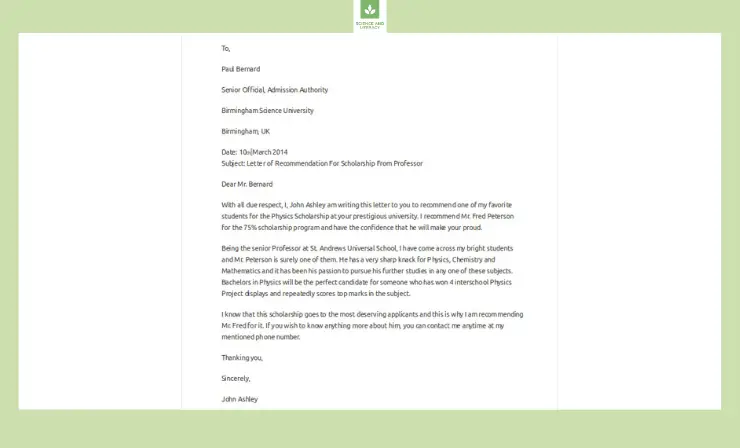 Sample 6
The sixth sample maintains objectivity, making it suitable for situations where limited information is available or the writer has a brief acquaintance with the student.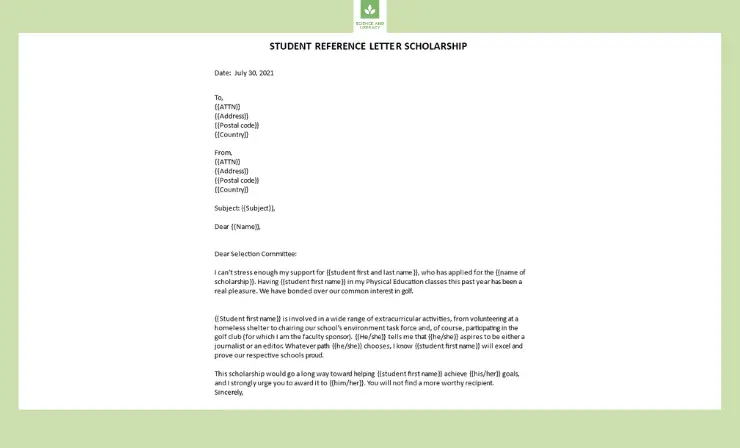 Sample 7
The seventh sample also remains objective while incorporating more positive and glowing sentences about the student.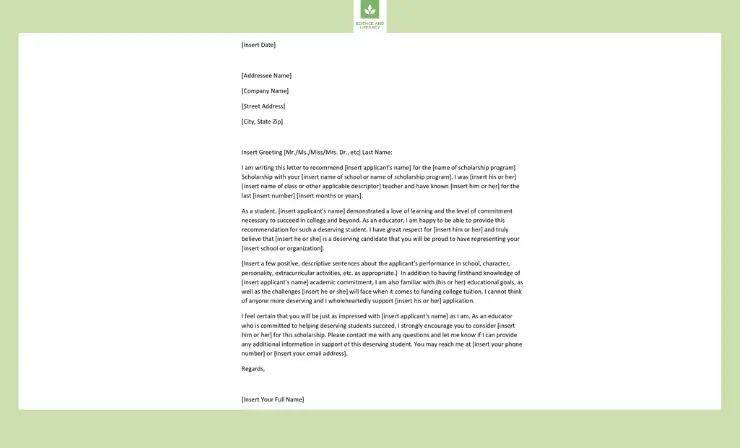 Sample 8
This sample currently lacks specific details about the student's achievements. However, it can be customized to meet your requirements and include more relevant information.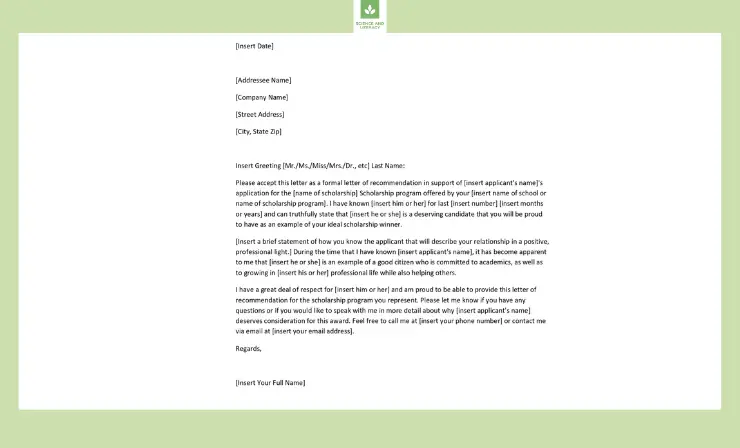 Sample 9
The following sample is a recommendation letter for a student with exceptional skills in marketing and communication. It highlights his strengths and talents in these areas.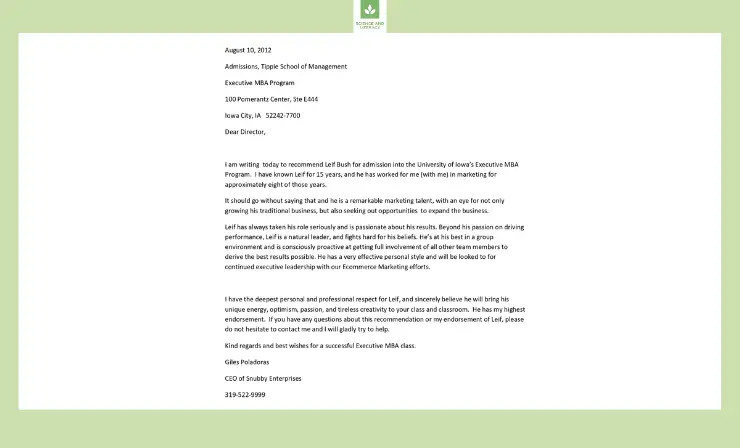 Sample 10
The final sample emphasizes the suitability of the students for the scholarship and provides compelling reasons for why they are the best candidates. It includes detailed examples of their notable achievements, showcasing their potential and qualifications for the scholarship.
Additional Resources
Conclusion
Crafting a powerful scholarship recommendation letter can greatly influence a student's chance of securing financial aid. By emphasizing their strengths and achievements while aligning with the scholarship's requirements, your letter provides valuable insights that support their application. Tailor it, provide examples, and maintain professionalism to shape their future and aid their educational aspirations.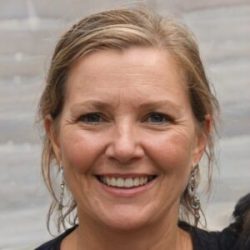 Latest posts by Simona Johnes
(see all)