As a teacher with several years of experience, I wanted to write about something that is not talked about much, which is a convenient way to manage your time and information used in the classroom. It is very difficult in the first few years of teaching to learn how to manage a large amount of information in your classroom. You not only are in charge of managing it, but you must also keep it organized. This may cause a lot of stress and overwhelming feelings, which could lead to burnout fast. We need great teachers to educate students, so we do not want that to happen.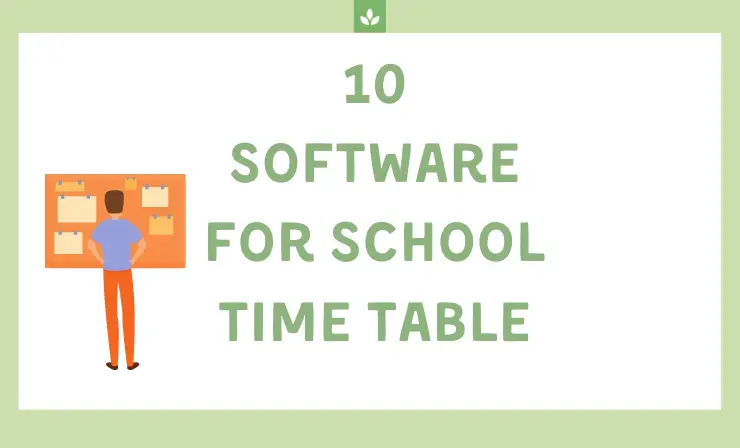 To help my new teacher colleagues around the world, I recommend doing research and finding the best software for school time table. These timetables are documents created by professionals that can show you how you can manage your student and school schedules, school resources, subjects, attendance, seating, and more.
Most of these timetables are found in a spreadsheet format and can be created quickly and easily using software. They are perfect for showing teachers, students, parents, and administrators what is occurring in the classroom at a certain time and date. From my experience, the different software that is available to create these school timetables for you are highly beneficial and will make your job a lot easier and more manageable in the long run.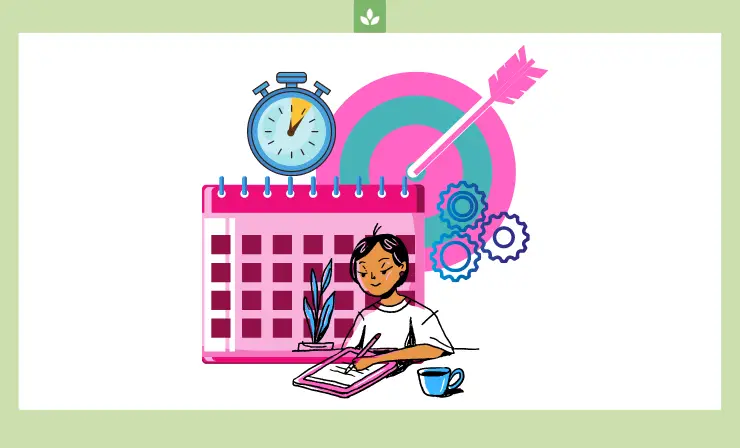 I researched and analyzed around 30 different software that is available and being used. While they are all good, I am confident that the 10 products mentioned in this article are the best. I believe that you will have no problem finding one or two that works great for you and your students.
After reading this article, you will officially know:
You can watch this video below. It contains a btief retelling of the article.
10 Software for School Time Table
With so many different software available, you must do your research to find the perfect one for you, your students, and your classroom. It may seem like a difficult task, but I am here to make it easier for you by telling you the best software used to create school timetables.
My List of 10 Software for Teachers to Make Worksheets
Platform
Why choose it
1. Tes Timetable →

Daily organization
Subject selection
Staffing
Duty roster
Student portal
Class list management
Automated schedules
Flexible working

2. Apptavi →

Home learning
Seating plans
Attendance
Scheduling
Achievements & Behavior
Slt Reporting
Parents Evenings
Online teaching & meetings

3. Skolaris →

Requires a 50-minute video showing how to operate Skolaris
Can be accessed anywhere on a computer with internet
Can work for students of all ages
Different types of scheduling and organization
Home learning
Attendance
Online teachings & meetings

4. Omniscol →

Web-based software for timetabling
Creates timetables for different settings
Attendance
Home learning
Online teachings & meetings

5. Prime Timetable →

Timetable generator
Data analysis
Statistics
Accessibility on any type of device
Available online and offline

6. SchoolBooking →

Room and resource timetables
Parent meetings and events
School leadership and management
Appointment system
Scheduling

7. TimeTabler →

Scheduling
Ease of use
Organization
Attendance
Staffing
Home learning
Seating charts

8. Edutimer →

Document management
Examination management
Time and attendance management
Absence management
Leave management
Leave and absence reporting
Scheduling
Organization
Seating plans

9. Teachmint →


Event management
Examination management
Inventory management
Financial management
Event calendar
Attendance management
Document management
Course management

10. Timelabs Professional →

Attendance management
Document management
Expense management
Expense tracking
Payroll management
Performance management
Below, I will provide detailed information about each software that I believe is worth mentioning. You will learn about the features, pros, cons, and who or what the particular software is best for.
Test Timetable is a timetable system created by professionals at Edval. It is based on an algorithm, and it can search through 30,000 different timetables in seconds. This means that even the most complex timetables can be developed.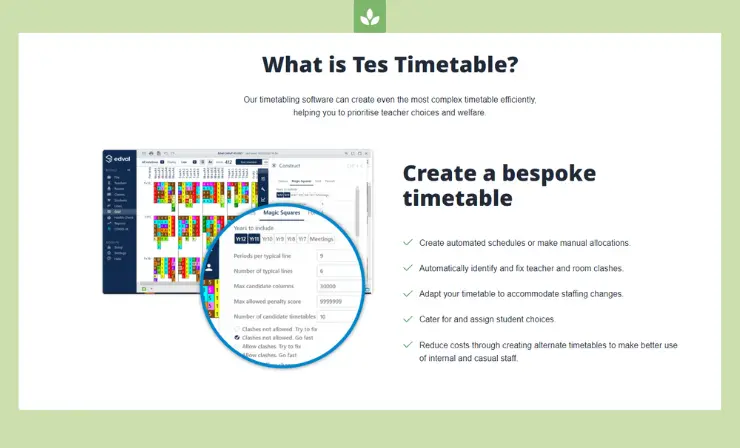 Pros:
Improves school processes and schedules
Saves the school money
Reduces the teacher's workload
Can create even the most difficult and complicated timetables
Cons:
May be a little hard for beginners
No free trial
Some users may find a few of the questions asked to be difficult
Best For: Tes Timetable is best for teachers looking for the perfect timetable for their classroom. Although it may be difficult for some beginners, you will get the hang of it after some time.
Apptavi is a great timetable software that focuses on minimizing repetitive work for teachers. An awesome feature of this software is that it is designed by teachers, for teachers!
Pros:
Designed by teachers which means it is up-to-date and has everything needed to create successful timetables
Reduces repetition
Improves school processes and schedules
Can save the school money
Free trial available
Cons:
May take a few days to set up most advanced versions
May seem expensive to some teachers
Best For: Apptavi is best for educators interested in creating different types of timetables. The basic versions can be generated in as little as 30 minutes, but more advanced versions may take a few days. If you can wait, Apptavi is worth it!
Skolaris is an excellent online timetable software that can create timetables of all sizes and shapes. It is easy to use and ensures that you are given the best solution for your classroom's needs.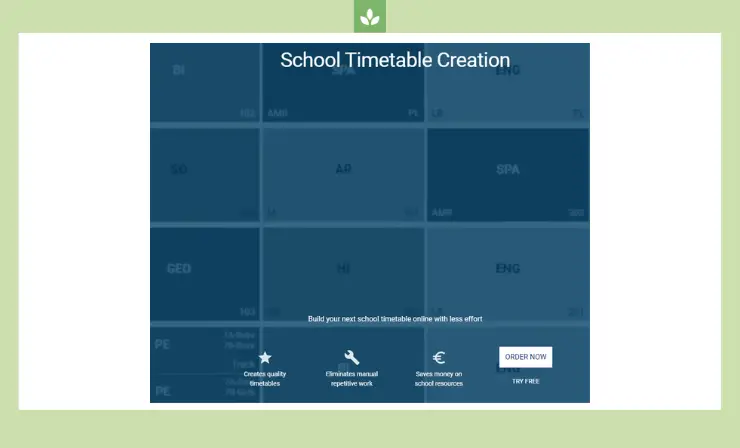 Pros:
Affordable
Easy to use
Comes with a video that teaches you how to use it
Cons:
Requires you to take time to watch a training video
No free trial
Best For: Skolaris is best for teachers interested in getting creative when it comes to timetables. This software can create any type of timetable in a creative way, as long as you are prepared to take the time to watch the training video.
Omniscol is an online timetable software that can create schedule plans for a variety of different settings. The interface is very easy to use, which will make your life a lot easier when creating timetables.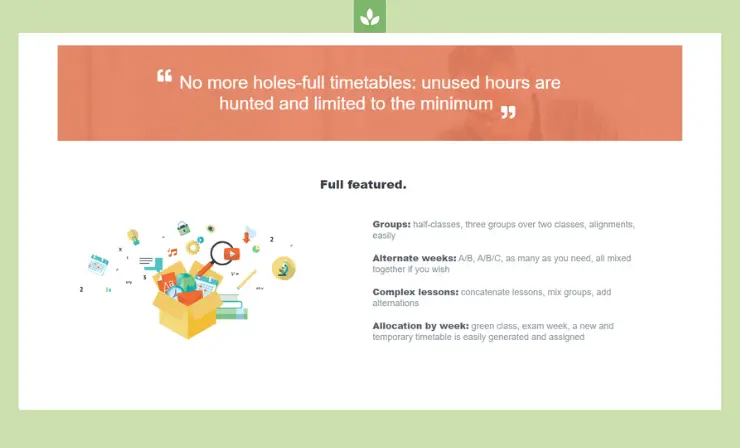 Pros:
Very easy to use
Free trial available
Can be used for K-12 schools, training centers, and higher education settings
Real time modification
Constraint management
Cons:
No block scheduling supported
May be considered expensive to some teachers
Best For: Omniscol is best for teachers, professors, or training experts who are in need of a wonderful timetable software. It is easy to use and can construct any type of timetable that you need other than block scheduling.
Prime Timetable is one of the best school scheduling software available. It can design automatic and manual timetables on any type of device. Due to its accessibility, it is currently used in over 100 different countries around the globe.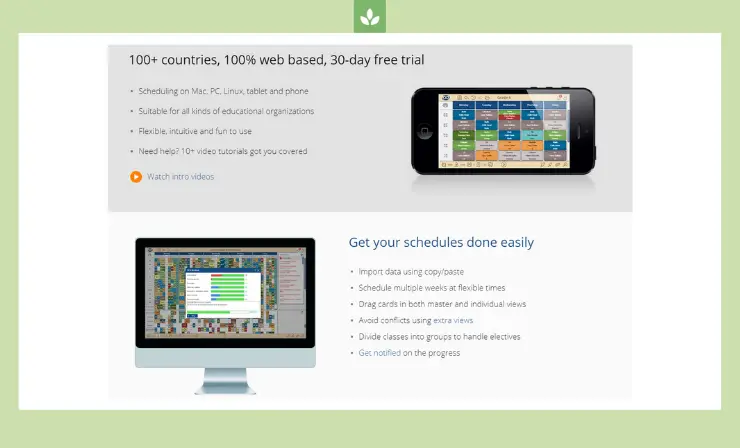 Pros:
Very popular and easy to use
Can be used online or offline
Can be used on any type of technological device
May be used to create timetables for any type of event or setting
Cons:
May be difficult for beginners
Requires you to watch a few videos before starting
May be considered expensive to some teachers
Best For: Prime Timetable is best for teachers who need to make timetables in a quick and easy manner. All you must do is log in to a computer, mobile device, or tablet, and everything is at your fingertips.
SchoolBooking is a great software used to manage rooms, resources, and classes. This software is one of the leading timetable creators used in schools. As a matter of fact, thousands of schedules are produced daily on SchoolBooking around the world.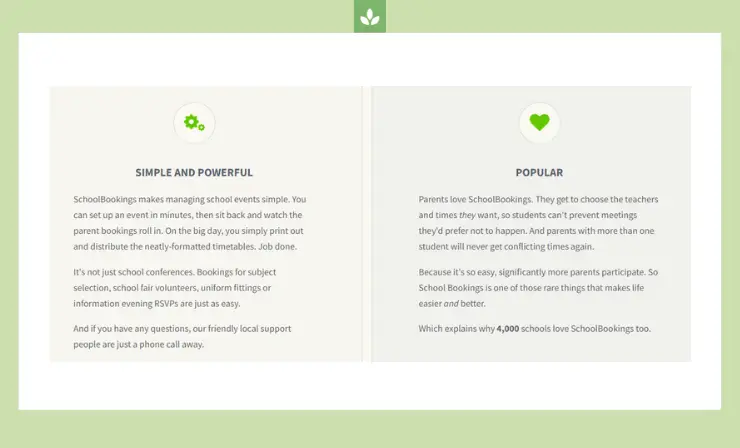 Pros:
Very popular and easy to use
Can be used for a variety of settings
Features are added often
Can be accessed on any device that has internet
Cons:
Expensive
Must have internet to use
Best For: SchoolBooking is best for educators looking for a software that makes it easy to organize and manage their classroom, resources, and time.
TimeTabler has been around for over four decades. In fact, it was the first timetable software to be used on a microcomputer. This speaks volume as it has been redefined several times to fit the needs of teachers today who are in need of managing their time and resources.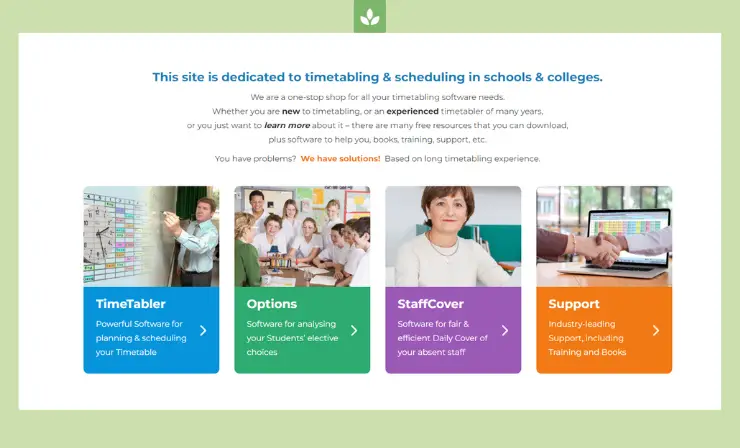 Pros:
Very knowledgeable experts behind the TimeTabler software
Very popular and easy to use
A lot of experience with timetabling
Cons:
Can only be accessed on a computer
May need training to fully comprehend the software
School must create account
Best For: TimeTabler is best for teachers and administrators who want to manage their classroom or school's time and resources. The people behind this software are very experienced, knowledgeable, and always willing to help.
Edutimer is one of the easiest timetable makers available. This software requires you to put in the data and requirements, and it will present the best timetable options that are available to you.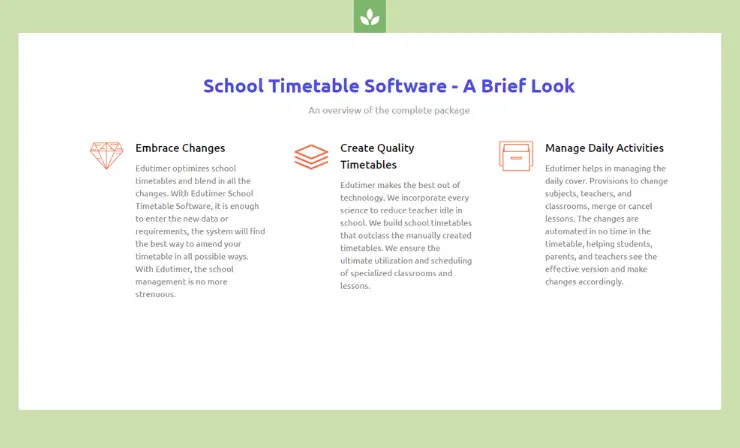 Pros:
Very easy to utilize
Turn around time is less than 48 hours
Does not require a lot of effort
Free trial available
Cons:
Expensive
Currently only available on the computer
Takes a couple days
Best For: Edutimer is best for teachers who are looking for a timetable software that does not require a lot of effort. All you must do is enter your data and information, and the perfect timetable will be curated for you!
Teachmint is an online software tool that creates digital timetables. The objective of this software is to help schools manage their time, energy, and resources efficiently.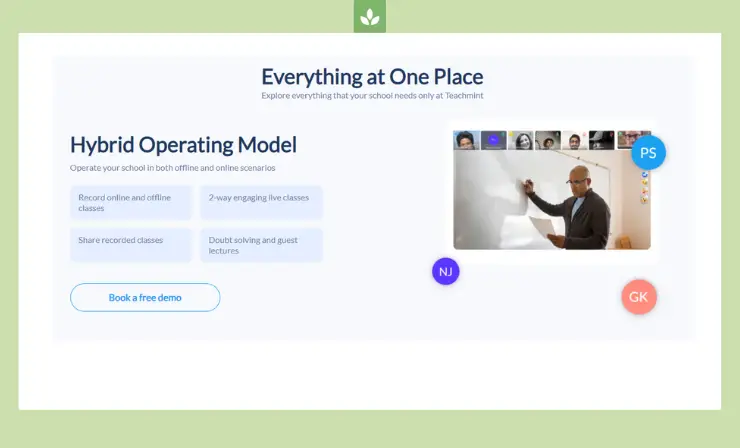 Pros:
Easy to use
Saves a lot of time
Very helpful
Free trial available
Available on computer and mobile devices
Cons:
The exam planner needs updates
Requires training to understand it
May seem expensive to some
Best For: Teachmint is best for teachers who need to access and create timetables quickly while in their office or on the go. When it comes to any type of classroom management you can think of, this software has you covered!
Timelabs Professional is a high-quality online system that is ready to make teachers' days run smoother. It manages attendance, leave, payroll, and so much more.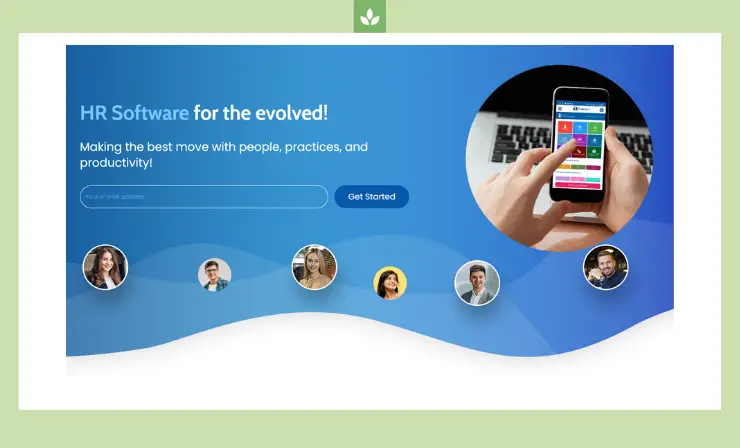 Pros:
Can be used in a variety of different settings
Affordable
Can be accessed on the computer as well as mobile devices
Easy and attractive interface
Cons:
May be difficult to learn how to use
Task management may need updated
Best For: Timelabs Professional is best for teachers and other professionals who need a tool to create timetables. This software will help you keep track of all the important parts of your classroom as well as help you manage and organize your daily, weekly, and yearly duties.
Developing a good study plan is extremely important when it comes to managing time and becoming an effective planner and educator in the classroom. With that being said, my suggestion is to watch the University of Groningen's YouTube video explaining their step-by-step method to making a plan for the upcoming week. This short video will change your workday in big ways!
Study plans and timetables are also great for students who need to see what they will be learning and participating in for the day. Keep in mind that some students may need more time than other students because everyone learns at their own pace. To help with this, you can consider buying a camera for recording lectures. These tools allow students to go back and re-listen to your lecture and go at their own speed. You can learn more about cameras for recording lectures in this article.
6 Tips on How to Make a Good Timetable for Students
According to Growwpedia, creating timetables for students is vital to their educational success. By making a timetable for your students to follow, they will be able to set aside enough time to achieve all their obligations as well as evaluate their progress over time.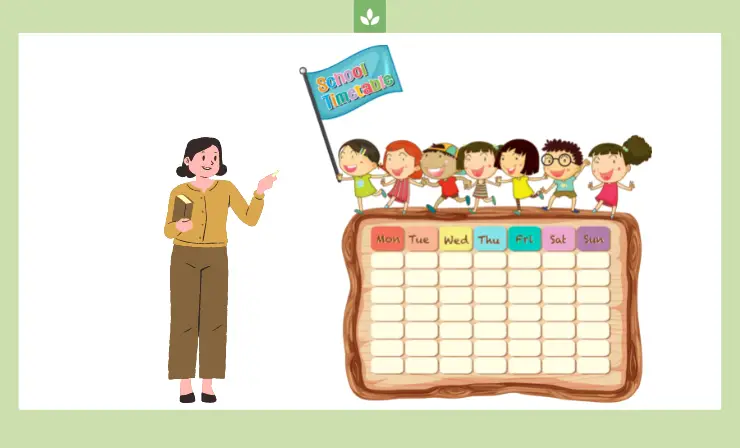 Since there are so many different types of timetables that you can create, I will focus on how to make a good timetable that is geared toward studying. This can be adjusted to fit any type of timetable that you are interested in generating. I am choosing to focus on studying because every teacher should provide timetables for studying to ensure that their students are taking time to digest the information needed to pass their tests. When you allow your students to take time to study, they will perform better on their exams. Below, I will provide tips on how to design the perfect timetable for studying.
1. Determine the time of study
Set aside time and space for your students to study. Once you determine this time, you can create the perfect timetable. Keep in mind that every student is different. Therefore, some may prefer to study in the morning, and some may prefer to study later in the day. However, if you are unable to allow your students to study at various times, then you will need to identify a time that works for all your students to study at the same time.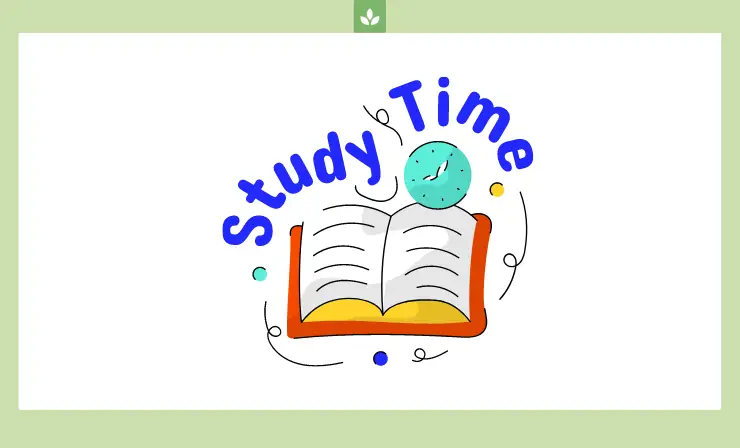 2. Determine the students' current study schedule
Think about any distractions that seem to come up when your students study. A lot of times students will need peace and quiet, a full stomach, and a stress-free atmosphere. This means you may want to find any breaks in your teaching schedule and see what is available for studying. You may also want to schedule studying after lunch to prevent students from focusing on being hungry.
Set up a time to study everyday and make sure there are no flaws in that time period. Ensure that everything is quiet and peaceful. You can alter this time if needed.
3. Find out the students' easiest and most difficult subjects
After your students tell you which subjects are easiest and most difficult for them, encourage each individual to begin studying the hardest subject first and then make their way to the easiest one. This should encourage them to focus more time on the hardest subject. The reason for this is because they may need to give more time to the subject that they are having a harder time comprehending in hopes that they are able to gain a better understanding of it.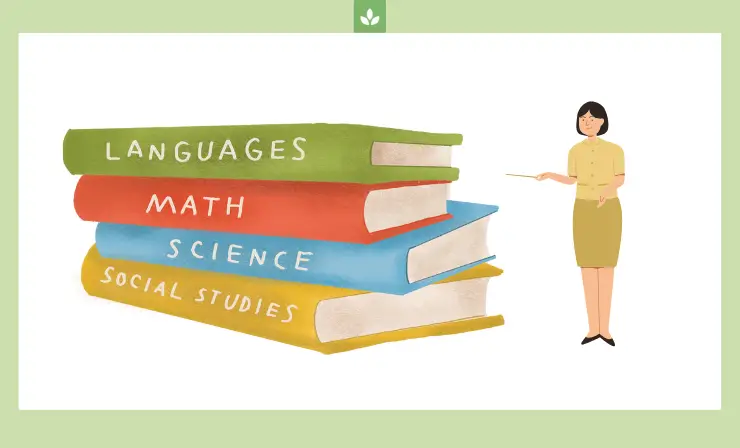 If you want everyone to study the same subjects at the same time, you will need to determine which of your students have strengths toward certain subjects and which ones do not. If more people feel like math is harder, you should require them to study math first. The goal is to give them more time on the subjects that they are struggling with.
4. Determine important dates and deadlines to be prepared for tests
If you know that a test or exam is coming up, you should urge your students to study hard for that specific test. By knowing the important dates and deadlines for tests and projects, you will allow your students enough time to fully comprehend everything that will be on the test or project.
5. Do not forget to include breaks
While studying is very important, you should also implement breaks when your students are studying for long periods of time. This keeps your students alert and refreshed. You can even include brain break activities in the middle of studying to ensure that everyone is taking breaks.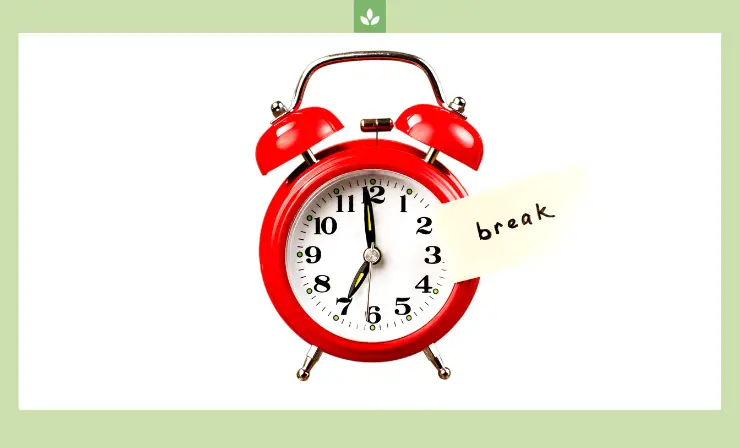 If there are no breaks given, your students will become tired, depleted, and frustrated. My recommendation is to give them a break every hour that they study. This means that a student who studies for two hours should be given two breaks. You can also take them for a walk outside, play music for them to get up and move around to, talk about their day, and more.
Here's an example of how your break might go.
Meditation Classes Introduction Into Time Table.
This is Great Idea for New Innovation. How Many Schools are Conducting Yoga (Meditation) Classes. If you're not Conducting Yoga Classes, Immediately You Can Start. Then only we can save our future Generations. Please ?? pic.twitter.com/TsGUw730o7

— VNR Fitness (@urstrulyVNR) August 2, 2022
6. Set clear goals
Set goals for what you expect from your students studying. Show them the goals and let them know when they have achieved them. If the timetable works for your expectations, keep using it. However, if it does not meet your expectations, I suggest making a new one to try out.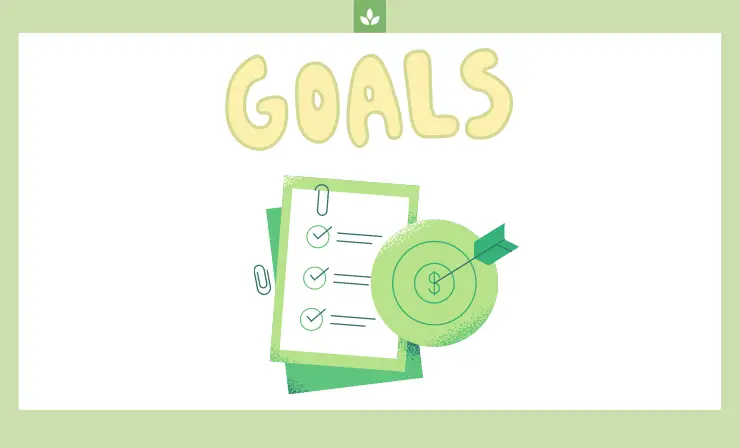 If you would like to see a video on how to prepare a timetable for studies, check out Let'stute's YouTube video. In the video, you will be given tips in which you can use and apply when you are looking at software to create your school timetable. This short video is very informative and worth watching.
Teachers who need to show their entire class their new schedule or timetable for the day, week, or year should begin using a document camera. These cameras are excellent gadgets that allow teachers to place sheets of paper and objects underneath them to show to their whole class at once. This will make it easier for everyone to see and go over what you are showing them. My other article explains in detail about the document camera, which you can read by clicking here.
Useful Recourses
Conclusion
As you can see, there are a ton of incredible software that will help you create timetables to manage your classroom in a better fashion. After looking at all the software included in my list, I hope this article helped you find the software for school time table that is most suitable for you. Once you begin implementing these timetables into your classroom, you will realize how much weight has been lifted from your shoulders. As a matter of fact, you may wish you had been using them all along. Good luck and happy teaching!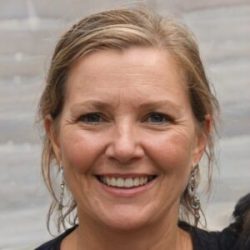 Latest posts by Simona Johnes
(see all)