Teaching can be very fulfilling and rewarding at times. However, if you're a teacher, you also know that it can be very draining.
Staying on top of all of your responsibilities as a teacher, including grading, planning, communicating with parents, collaborating with parents, managing behaviors, and more, can be exhausting. Finding ways to help you do your job more efficiently, without sacrificing quality, is important.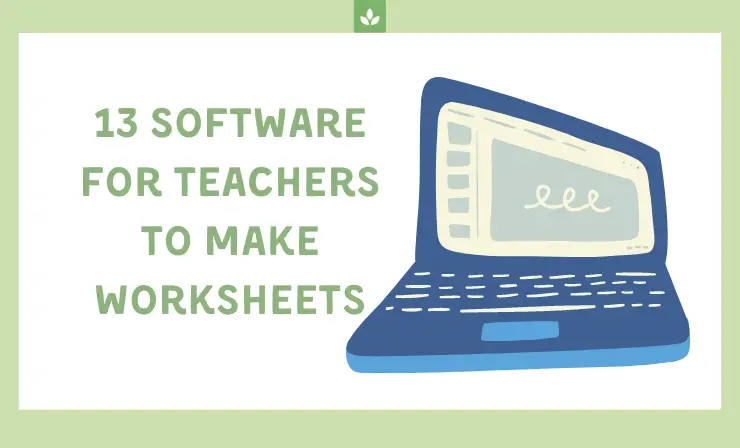 If you're like me, you've probably spent more time that you'd like to admit making worksheets on your computer. Some things turn out OK with standard word-processing software, but it can be difficult to make your worksheets more visually appealing. Also, moving text and images around without the right software is challenging and ends up wasting your precious time.
After spending too much time making a math worksheet for my 2nd graders, I finally reached the breaking point. Nothing was working how I wanted, and I couldn't get the worksheet to look anything like the vision I had in my head.
I decided it was time to switch to a new program, so I set out to find the best software for teachers to make worksheets. Read on, and I'll share more about what I found.
In this article, I'll tell you about:
Here's a video which contains a brief retelling of the article.
13 Software for Teachers to Make Worksheets
Are you ready to discover the best software to use for making worksheets for your students? Whether you teach kindergarten, high school, or anything in between, I think you'll find that one of the software programs below will offer what you need.
Here's a list of the software which I recommend.
My List of 13 Software for Teachers to Make Worksheets
Platform
Why choose it
1. Canva →

Numerous worksheet templates.
Easy to customize texts and colors.
Can create a custom worksheet using lines, shapes, and text.
Multiple font options to choose from.

2. PDFEscape →

You can add PDF form fields to an existing document.
With the PDFEscape publishing feature, you can also add a submit button for your students to use to turn in their work.
A free online PDF reader, PDF editor, form filler, and annotator are included with the program.

3. Adobe Illustrator →

You can easily add and resize graphics and images without them becoming fuzzy or blurry.
Illustrator lets you recolor images using whatever color you desire.
It makes it possible to create professional worksheets.

4. Designhill Worksheet Maker →

There are numerous worksheet templates to choose from.
Each template is fully customizable.
Finished worksheets can be downloaded in high-resolution vector files.
Designs are print-ready.
The AI-tool helps suggest worksheet designs based on your preferences.

5. Math Goodies →

You can create worksheets for a range of math concepts.
Within each larger concept umbrella, there are more specific areas to focus on.
Teachers can create multiple worksheets on the same concept at the same time.
Worksheets can be saved or printed for free.

6. My Worksheet Maker →

Allows you to create worksheets, Bingo cards, crossword puzzles, word searches, and flash cards.
You can customize each file type to make it match your needs.
The editor is simple and straightforward.

7. Math2PDF →

There are multiple modules to choose from (including money, algebra, fractions, decimals, measurements, and more).
You can create worksheets with just clicking a few buttons.
Customize the number of questions, operations to practice, header titles, and more.

8. Freeology →

Find worksheets in various categories, including graphic organizers, writing, and journal topics.
Once you click on a worksheet, you can download, print, or share it right away.

9. MakeWorksheets.com →

Multiple worksheet categories to choose from.
With membership, you can receive unlimited access to all of the worksheet types.
PDF files of completed worksheets can be downloaded to print or share.

10. Quick Worksheets →

Allows you to create and customize 25 different types of worksheets.
You can also make digital worksheets for students to complete on tablets, smartphones, or computers.
Designs are saved to the cloud.
Worksheets are clutter-free.
You can browse through designs made by other educators to find inspiration for your needs.

11. TopWorksheets →

Converts existing worksheets into digital worksheets for your students.
Provides you with access to activities made by other teachers.
Can help with tracking student progress.
Generates group codes to share with your students to access content.

12. Liveworksheets →

Ability to convert .doc, .jpg, and .pdf files into interactive practice exercises.
You can make worksheets more engaging and interactive by adding sounds, videos, speaking exercises, and more
The library of resources includes many worksheets made by other teachers.
When you share your worksheets with other teachers, you can make as many as you'd like.

13. Wizer →

Allows you to digitize worksheets and make them more interactive.
Can add videos, audio clips, images, and more to each file.
You can find ready-to-use worksheets in the digital library.
Completed worksheets can be shared using learning management systems, such as Google Classroom.
Soon you'll be able to make engaging worksheets that highlight the skills that your students need practice with. I've definitely found that making a worksheet that targets exactly what my students need to work on is better than trying to find something that is already made that may or may not focus on what I want to target.
Canva is one of the best choices when you're looking for software for teachers to make worksheets. It includes numerous worksheet templates that are ready to use or easy to customize to your exact specifications.
With Canva, you can also easily create a worksheet from scratch to match your exact visions. Add text, shapes, images, and more to turn your design ideas into reality.
When designing with Canva, click on the "Elements" tab to see all the different customization options you have. These include lines, shapes, graphics, moving stickers, photographs, and even video.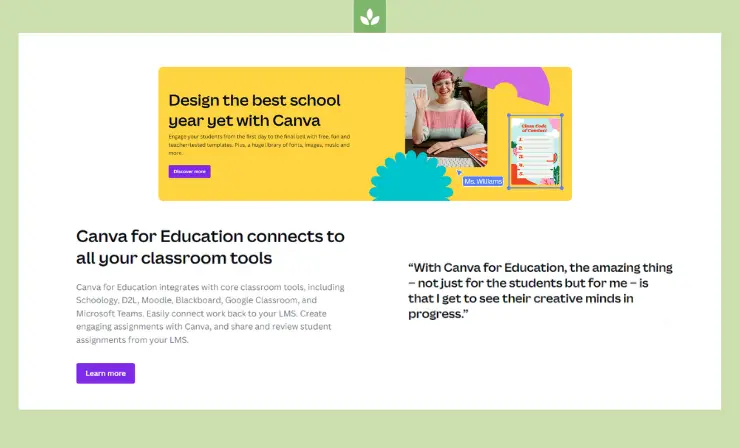 What teacher doesn't love having a lot of font options to make their worksheets look professional. With Canva, you'll enjoy an impressive selection of fonts, as well as some pre-selected font combinations that will help deliver that professional touch.
Want to learn more about how to use Canva to make worksheets for your students? This Teacher Tips video has a lot of great tips and ideas to help you.
I really like all that Canva has to offer, and I think you will too!
Pros
Canva is user-friendly.
It offers a wide assortment of customizable worksheet templates.
You can easily make professional-looking worksheets.
Cons
It is not as easy to control the different design elements as is possible with more designer-focused software.
Best For: Teachers looking for a library of customizable worksheet templates.
PDFEscape is a great option if you're looking to create digital worksheets for your students to complete on their own computer. It can help you easily convert your current worksheets and files (or those made with the other programs on this list) into a fillable PDF.
To use PDFEscape, simply upload your worksheet to the program. You'll then be able to use the various tools to add PDF form fields to the document. For example, you may add check boxes that will display a check mark when the student clicks them, short text boxes for them to write a one- or two-word response, larger paragraphs boxes for questions where more writing it needed, and more.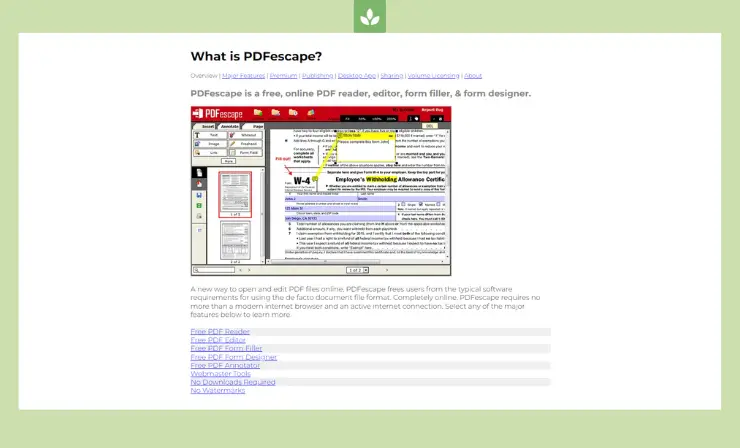 Additionally, if you sign up for the PDFEscape publishing feature, you can add a submit button that will allow your students to automatically turn their work into you.
In addition to all of these features to help teachers design PDF worksheets, PDFEscape also includes a free online PDF reader, a free online PDF editor, a free PDF form filler, a free PDF annotator, and various desktop features. Many of the feature are free to use as long as you want; you won't need to sign up for a subscription if you don't want to.
This video shares a few tips for using PDFEscape to create worksheets for your students. Take a few minutes to watch it to decide whether PDFEscape may be the tool you need.

If you're teaching your students virtually or like having them complete work on their computers in the classroom, I think PDFEscape may be a wonderful tool for you to use.
Pros
Can help you convert an existing worksheet into a fillable PDF for your students.
Easy to work with.
You won't ever have to pay for the free features.
Cons
Not for creating worksheets from scratch.
Best For: Virtual learning teachers.
I also really like Adobe Illustrator for creating student worksheets. Geared towards designers, this program will help you make worksheets that are aesthetically-pleasing and effective for your students.
When you add graphics to a design template, Illustrator allows them to be resized without becoming fuzzy of blurry. You can easily add text graphics to the page and move them around to the exact location you desire.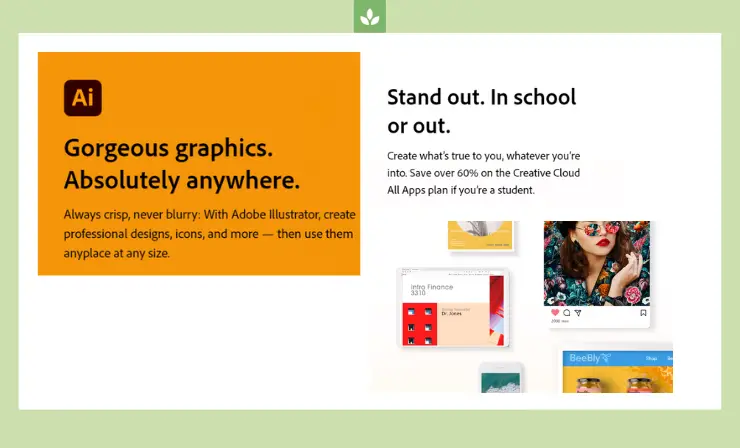 One of the features I like when making worksheets with Adobe Illustrator is that you can recolor images by clicking on segments of them. You can even copy the color from another image to create an exact match—ideal for those other perfectionists like myself.
For example, if you're making a worksheet to go with one of the best chapter books for 1st grade, such as The Magic Tree House series, you could add an image of the book cover page or characters to your worksheet. You could then use the color selector tool to take one of the colors from that image to use for other text or images on the page. This will result in a tied together and professional look.
Pros
Offers advanced features that other programs may not include.
You can save files as PDFs once complete and ready to use or as Illustrator files to modify later.
Making customized worksheets that match your exact needs is simple.
Cons
May be more advanced than what you need for basic worksheets.
Best For:Teachers with an eye for design and perfection.
The Designhill worksheet maker is another great tool for teachers looking to create top-quality worksheets for their students. The free design tool is also designed to be easy to use; individuals of all skill levels can craft worksheets to match the instructional needs and design visions.
The Worksheet Maker offers a wide assortment of templates that teachers can customize to match the exact needs of their instruction. Use Designhill's stock library to add images to bring the worksheet to life and make it more engaging for your students.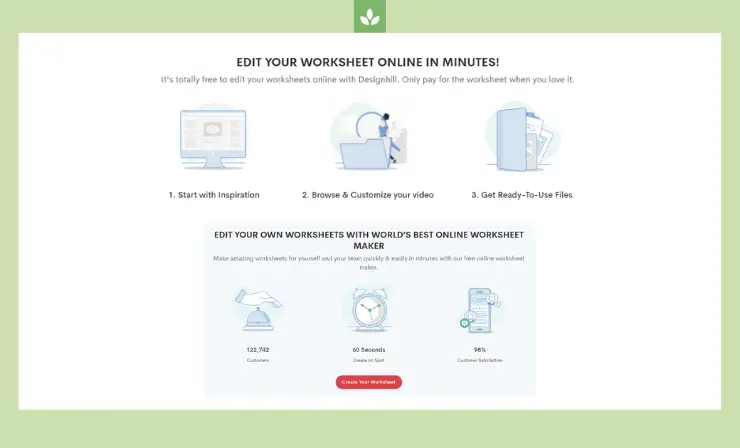 After you've finished designing the worksheets, they'll be ready to print. Pass them out to your students and display one under the classroom document camera to explain the directions to students. You can learn more about the best document cameras in this article.
You'll maintain the full copyright ownership for each worksheet you design. Designhill also offers 24/7 live support if you have any problems using the software.
Pros
Easy to use software.
There are lots of customizable template options.
The AI tool can learn your design preferences and offer design suggestions that you may like.
Cons
You have to pay for the finalized worksheets before you can print or download them.
Best For: Teachers willing to pay for professional-looking worksheets for their students.
The Math Goodies Worksheet Generator can help you easily create worksheets for helping your students practice essential math concepts. Choose from the following concepts:
Addition
Subtraction
Multiplication
Division
Decimals
Fractions
Mixed operations
Time
Word problems
Pre-algebra
Number charts and graphs
Factors and multiples
After you select the topic you want to focus on, there will be sub-topics to help you choose the best worksheets based on the level of the students in your class. For example, under addition, you can choose from multiple-digit addition, numbers up to 20, or 5-minute drills.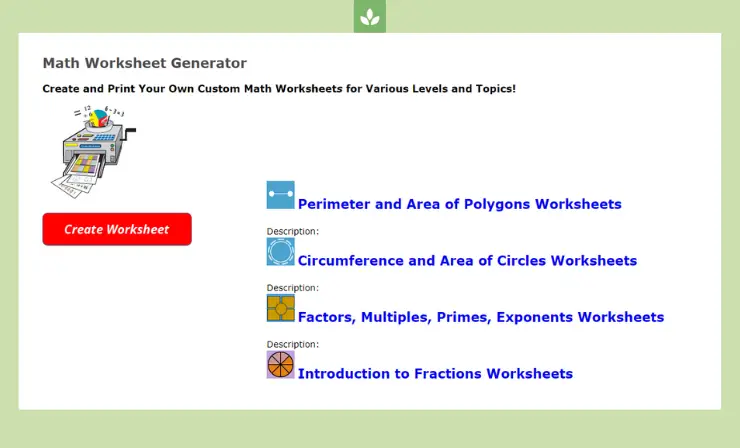 Once you've finalized your selection, choose how many different worksheets you'd like to create. This can help you create different versions of the same concept with ease for extra practice or homework. You can also choose whether or not to include an answer key with each worksheet.
After that, your worksheet(s) will be displayed. Then, either download the files to save them to your computer or print them out to make copies for your students. It's that easy!
Pros
The tool is very easy to use.
You can reduce prep time by creating multiple worksheets on the same concept with just a click of a button.
Saving the worksheets to your device or printing them out is free.
Cons
Only creates math worksheets.
Best For: Elementary and middle school math teachers.
You may also like My Worksheet Maker. This tool can help you make worksheets, Bingo cards, flashcards, crossword puzzles, and word searches to help your students practice and review essential concepts.
To start, choose the type of file you'd like to make, then you'll be able to customize the look and content of the page.
The basic worksheet template starts with a space for the title, student name, and date. Then, you can choose from a list of question types to add to the worksheet, such as multiple-choice questions, open response, matching, handwriting lines, and more.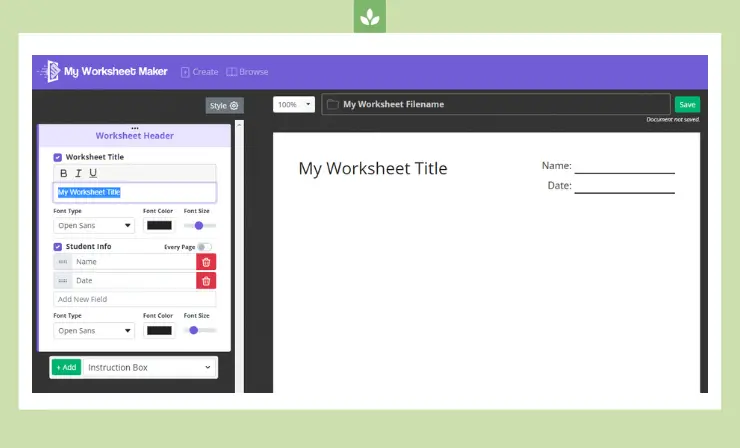 You can also add other elements, such as word banks, instruction boxes, headers, and dividers to make the worksheet clearer and easier for students to complete.
Once you have your worksheet designed, you can also change the font, font size, and font color.
The templates for flashcards, crossword puzzles, Bingo cars, and word searches offer similar customization options, allowing teachers to meet the specific needs of their students and demands of each objective.
Pros
The Worksheet maker allows you to choose from a variety of question/answer types.
The font, font color, and font size can all be customized based on your preferences.
There are five different worksheet/template types to choose from.
Cons
No options to add images to your worksheets.
Best For: Teachers looking to create basic worksheets for extra practice.
Whether you're looking for some quick worksheets for a substitute or want to make extra practice for your students, Math2PDF may be exactly what you want. As a side note, when I leave worksheets for a substitute, I like to record a quick video showing myself solving one or two of the problems using the strategies we've been working on in class — this way there is no confusion.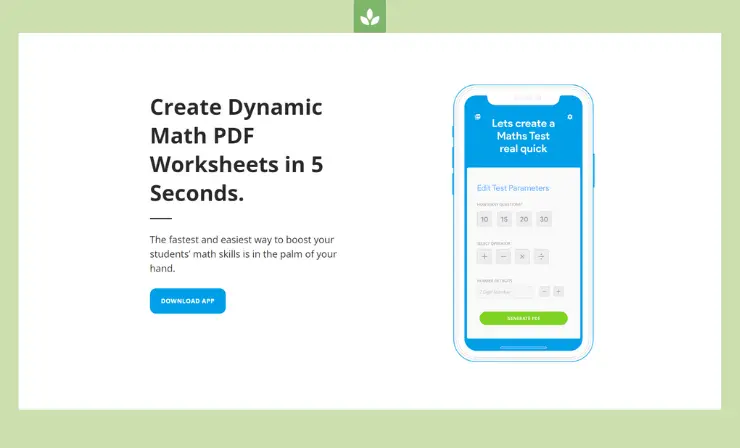 Math2PDF is designed to help teachers create a meaningful worksheet for their students in as little as 5 seconds. Just choose the parameters for your worksheet from the available selections, generate a PDF using the program's button, then print, save or share the worksheets.
Generating worksheets using Math2PDF makes it easy to create multiple worksheets on a given skill without repetition. The app is compatible with Android and iOS operating systems, so you can even create worksheets from your cell phone or tablet.
Pros
Simple and easy to use, even from your phone or tablet.
Offer customization options to match your specific needs and goals.
Ideal for making worksheets for a substitute, extra practice, or homework.
Cons
Only allows you to create math worksheets.
Best For: Creating quick practice/review math worksheets.
Freeology has been helping teachers create worksheets for over 20 years. This resource offers different templates that teachers can use to match the objectives of their lessons.
The top of the website offers a range of categories to help you find a worksheet that will help you with your lesson. Choose from a variety of graphic organizers, journal topics, printable calendars, writing organizers, and even planners for teachers.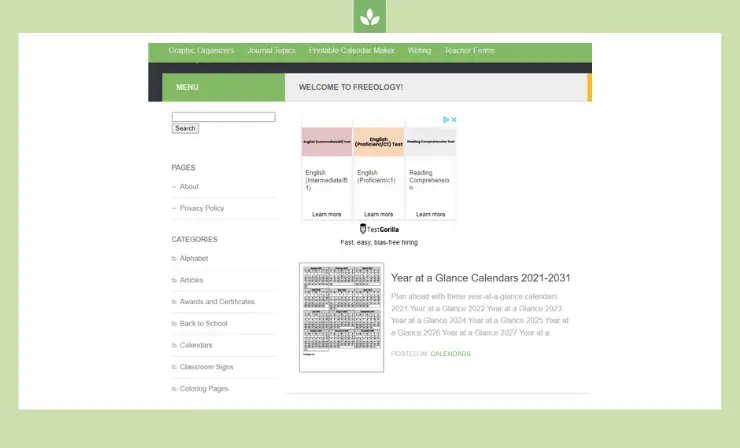 I've found the graphic organizer section of this website to be the most useful. While you can't make any modifications to the templates, there are a lot of different graphic organizers that are ready to use exactly as they are.
I also like some of the worksheets found under the writing section of the website. Many are great for extra practice and could also make great resources for sub plans.
Pros
The worksheets are ready to use and can be printed right away.
There are a lot of excellent graphic organizers that you can use for any subject area.
The printable worksheets can help you quickly gather materials for a last-minute substitute.
Cons
The website is outdated and doesn't allow you to customize the templates.
Best For: Printing out ready-to-use graphic organizers.
MakeWorksheets.com is another teacher software program (html) that you might find useful. This worksheet maker is designed to help simplify all the tasks a teacher is responsible for by helping them create worksheets that meet their lesson goals.
The website's home page lists several different template categories that you can choose from. These include: math worksheet makers, puzzle worksheet makers, language arts worksheet makers, graphic organizer makers, and more.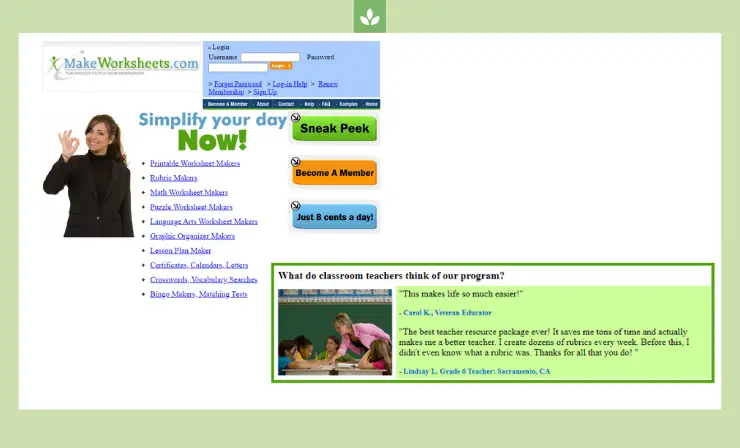 Start by clicking on a category, then you can view the different types of worksheets that are available. You will need to become a member in order to be able to generate multiple worksheets.
However, even without being a member, you can still view samples of each worksheet type to decide if it will work for you.
Pros
The membership cost is reasonable at just 8 cents each day ($29.99/year).
There are lots of different pre-made and customizable worksheets to choose from.
Teachers can also make rubrics with this program.
Cons
You have to pay to be a member to access all of the site's features.
Best For: Elementary and middle school teachers.
Quick Worksheets is an online worksheet generator that offers 25 different worksheet types for teachers to choose from. You can make spelling texts, word searches, crossword puzzles, cloze reading passages, and more for your students.
The finished products are designed to be uncluttered and easy for students to follow. This design helps keep students from getting overwhelmed by the content of each page and allows them to focus on the problems on the worksheet.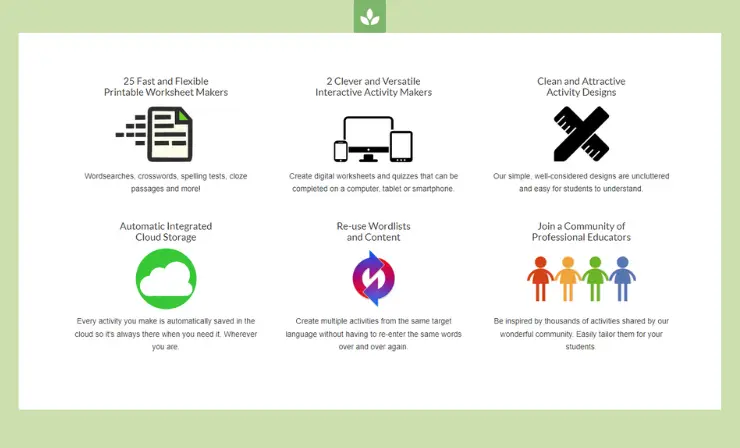 When you make a worksheet, it will be automatically saved in the cloud, meaning you can access it whenever you're logged into your account.
Another benefit of Quick Worksheets is that you can also create digital quizzes and worksheets to share with your students to complete on a computer, smartphone, or tablet. This can be an excellent resource if you're teaching students virtually.
Pros
Worksheets are saved to the cloud, so you can access them from any device.
The worksheet pages are designed to be clutter-free to help students focus their attention on what's important.
You can use one set of target words to create multiple different activities.
Cons
You'll have to sign up for a monthly subscription in order to store your printable worksheets.
Best For: Teachers who want to be able to access their worksheet designs from any device.
Would you like to make engaging, digital worksheets that your students can access from any device? Whether you're teaching students virtually or are looking to waste less paper, TopWorksheets may be the solution for you.
This worksheet creator helps you take your existing worksheets and converts them into interactive, digital assignments for your students. You can also find resources and worksheets made by other teachers that are ready to be used.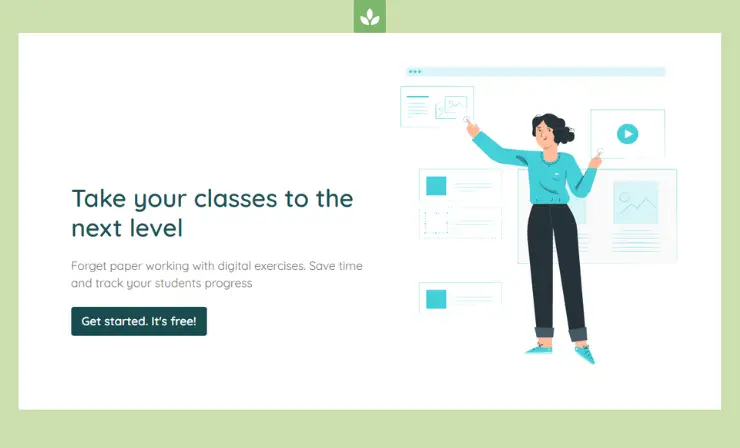 A benefit of digital worksheets is that it also makes it easier to monitor student progress. You can keep track of how students are doing and the types of mistakes they are making to help you adjust your teaching strategies.
Pros
Cuts down on waste by reducing the need for paper copies.
Ideal for teachers engaging students in virtual instruction.
Makes it easy to convert your existing workshops into engaging digital assignments.
Cons
All the features aren't included in the free version.
Best For: Those teaching students virtually.
If you're looking to make your current worksheets more engaging for your students, try Liveworksheets. With Liveworksheets, you can take .doc, .pdf, and .jpg files and convert them into interactive practice exercises with self-correction for your students.
Not only will you reduce waste, but you will also help keep your students engaged and focused on their work by adding videos, sounds, speaking exercises, and more to each exercise.
In addition to converting your files to interactive online exercises, you can also browse through the Liveworksheets collection to find resources designed by other teachers.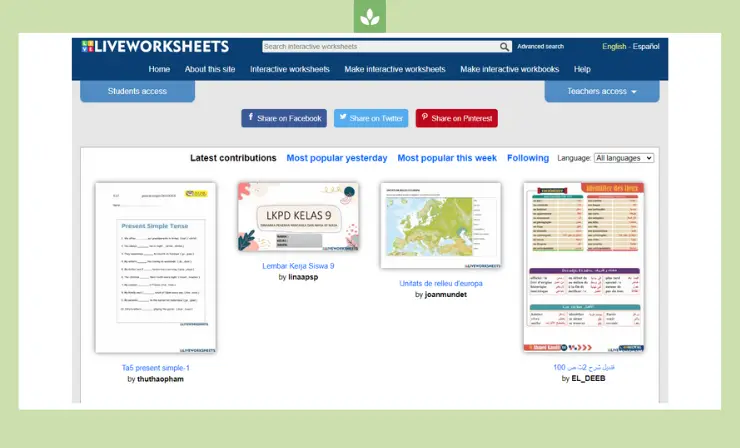 If you choose to share the worksheets you create with other teachers on the site, you can make as many as you'd like. Should you decide that you don't want to share your files, you can save up to 20 private worksheets.
Once you create a file for your students, share it on the classroom interactive whiteboard to make sure everyone understands the directions. Then, set them off to work independently.
Pros
Allows you to make engaging digital worksheets for your students.
Reduces paper waste.
Ideal for virtual instruction.
Cons
If you don't want to share your files with others, you can only save 30 private worksheets.
Best For: Teachers looking to create online and digital worksheets for their students.
Finally, I also think you may like using Wizer to create digital worksheets for your students. While there are paid versions for this program, there is also a free option that allows you to make top-quality worksheets to use during instruction.
In addition to making your own worksheets, you can also explore the available content made by other teachers. Wizer offers more than 10,000,000 digital worksheets ready to use with your students.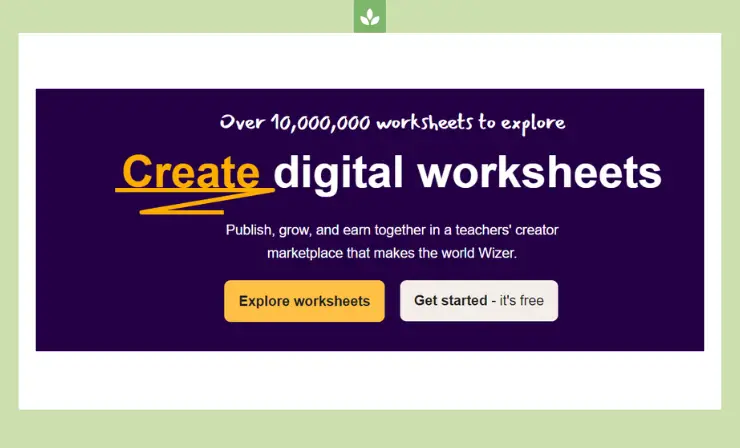 To make worksheets more engaging for students, you can add images, audio, and video clips. There is also a wide selection of question types to choose from.
Once completed, worksheets can be shared with students using Google Classroom and other similar programs.
Pros
Easy to use app.
Allows you to make colorful and engaging worksheets.
Some worksheets can be automatically checked and corrected with an answer key to reduce your workload.
Cons
You have to have an account to make your own worksheets or download those made by other teachers.
Best For: Teachers of all grade levels.
What Makes a Good Worksheet?
So many teachers wonder what makes a good worksheet. Honestly, the answer can vary based on the age of your students, the concepts you're working on, and more.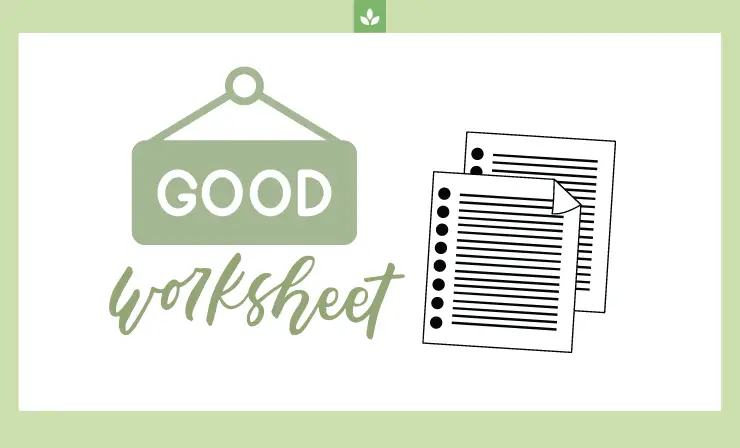 To start, a worksheet must be appropriate for the age and levels of your students. A worksheet for first graders requires much larger font sizes and spacing than one designed for high school students.
The best worksheets should also be visually appealing. This isn't to say that you have to dedicate so much time focusing on the design, but more so that you want to make sure that your students will be able to focus on the important content of the worksheet and able to identify what they need to do.
Be purposeful when designing your worksheets. Make sure that they include clear directions, adequate space for students to respond to questions, and a few images or interesting fonts to make them seem less mundane.
Here's how one of my colleagues prefers to create a worksheet.
Making worksheets fun by making them big and have student choose their favorite color. pic.twitter.com/pnE5zqZ6SL

— Leticia Hernandez (@letyher001) November 23, 2020
You can watch this video if you're looking for addition tips to help you make your worksheets look professional and more appealing for your students.
Even if you're a novice, making attractive worksheets for your students is certainly possible. And, your skills will only get better with more practice and experimentation!
Useful Resources
Final Thoughts
So, there you have it. You just learned about some of the best software options that will help you make attractive, engaging, and meaningful worksheets for your students. Downloading one of the software options above takes just minutes (or less), and you'll be able to start creating content right away.
Think of all the possibilities for math, science, reading, social studies, writing, and more. Which software for teachers to make worksheets do you think you are ready to try?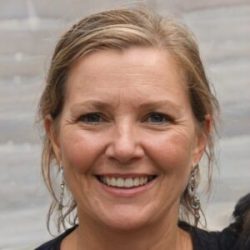 Latest posts by Simona Johnes
(see all)