Did you know that the origins of Halloween can be traced back over 2,000 years? Do you find yourself more excited than your students about Halloween festivities in the classroom?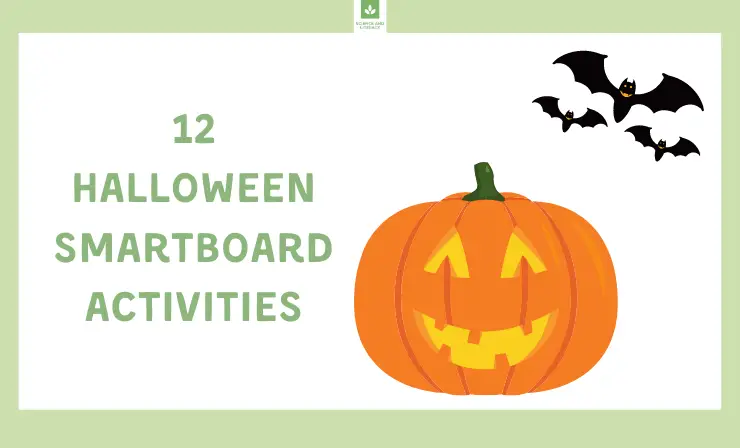 Before you start planning your Halloween costume and classroom Halloween party, don't forget to also think about choosing some Halloween Smartboard activities for your students. Smartboard activities with a Halloween theme can help you engage your students and keep them on-task on one of the most exciting days of the year.
Plus, in addition to being fun, Smartboard activities that cover a wide range of topics and subject areas are available, so you'll be able to find some Halloween-themed activities that will reinforce skills your students need to practice.
As a teacher, Halloween was one of my favorite days of the year. However, it was also difficult to reign in student excitement in the morning before it was time for the school Halloween parade and classroom parties.
In this article, I'll share some of my top tips to make your Halloween day (and week) and exciting and educational one for your students. After you read the article, you'll learn:
5 reasons to celebrate Halloween at school
12 top Halloween Smartboard activities
Alternative options to try if your school doesn't allow Halloween celebrations and activities
5 Reasons to Celebrate Halloween at School
While there are some people pushing to cancel school Halloween celebrations, there are a number of reasons why celebrating Halloween at school can be a good thing. These include:
1. Letting students have fun
Students work hard all year (and so do teachers), taking a brief break from all the hard work, and letting kids be kids is a great way to reward them for all that hard work. Halloween is a popular holiday with many children. They enjoy getting to dress up, thinking about the candy and other treats they'll enjoy, and playing games.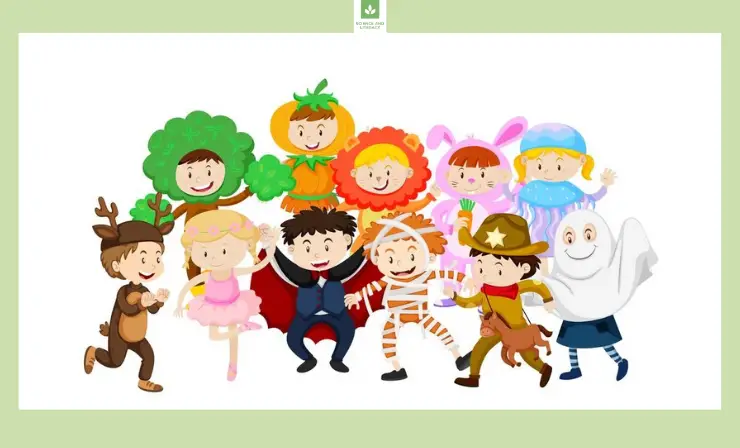 2. Engaging Students in Learning by Making Connections to Halloween
You can get student buy-in by putting a Halloween twist on the lessons you're already planning. If you're planning a math lesson on word problems, simply swap out the characters in your problem with Halloween favorites such as Frankenstein, zombies, and ghosts, and watch how much more engaged your students become. There are also many Halloween games and other activities available online.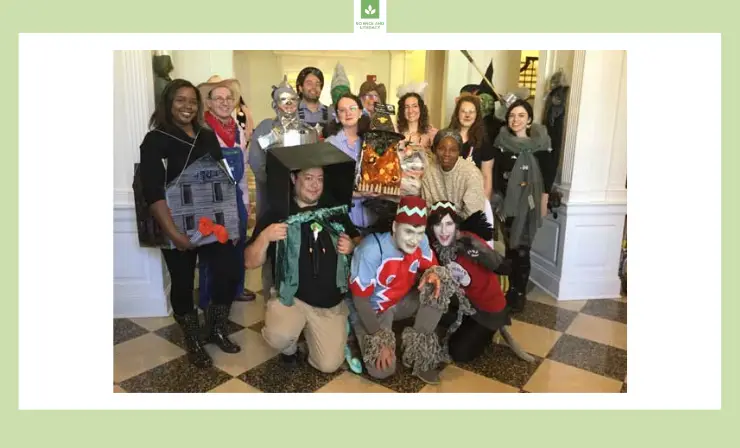 3. Giving Students the Opportunity to Express Themselves
Letting students wear their costumes to school on Halloween (or put them on before the class party), is an excellent way to let students express themselves and share more about their favorite characters. You can learn more about your students by seeing what they dress up as. When you dress up too, they can learn a little more about your likes and interests as well.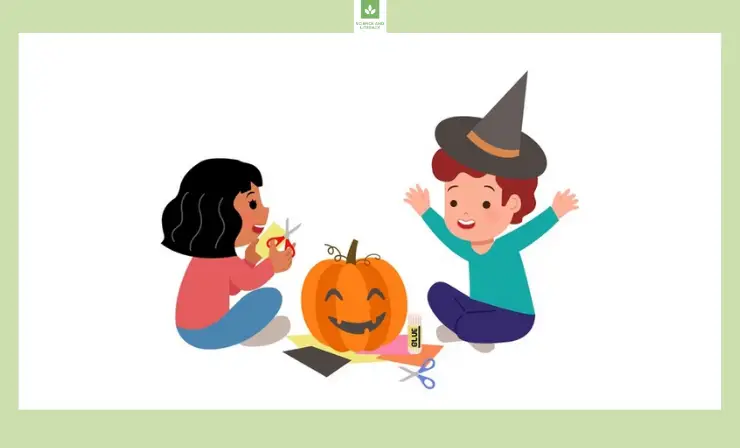 4. Planning School-Wide Parades
Seeing an entire school of kids parading around is pretty special. I do enjoy this Plainfield Elementary School Halloween Parade!
Looking at all the creative costumes and smiles as kids march through the school building or around the blacktop lets you see how much joy Halloween can bring to a child.
5. Welcoming Parents
Halloween parades and class parties also offer the perfect opportunity to welcome parents into the building. Parents love seeing their children parading around with other students in their class. Many also love helping out with the classroom Halloween party and watching their child enjoy themselves on a special day. If your school is worried about safety concerns with having additional adults in the building, consider inviting parents to virtually attend the Halloween parade or class party this year.
12 Halloween Smartboard Activities
Looking for the best Halloween Smartboard activities? Look no further! I've put together a list of 12 of my favorite games!
I've tried many of these in the past with my students, and they're always a big hit. Some are just for fun, but others can help reinforce important math and language art skills for your students.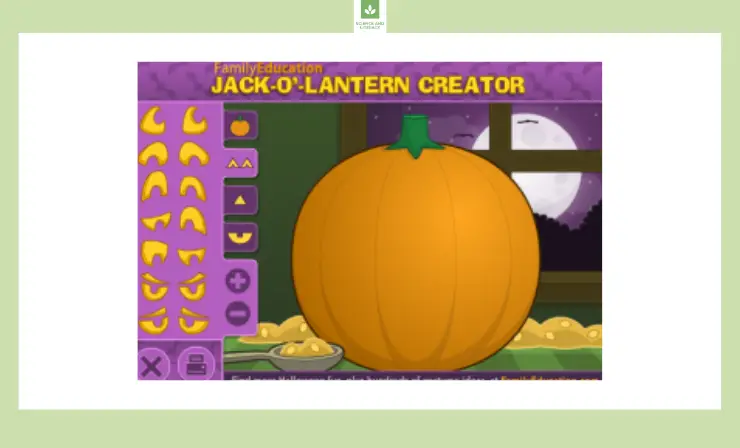 Age: Elementary
Students will have a lot of fun with this Jack-O-Lantern Creator Game. The game features a large pumpkin that students can decorate by choosing the eyes, nose, mouth, and other features they'd like to add. You could also use this as a descriptive writing lesson by having students write a paragraph to describe the features of their Jack-O-Lantern.
Best for: Allowing students to express their creative sides; descriptive writing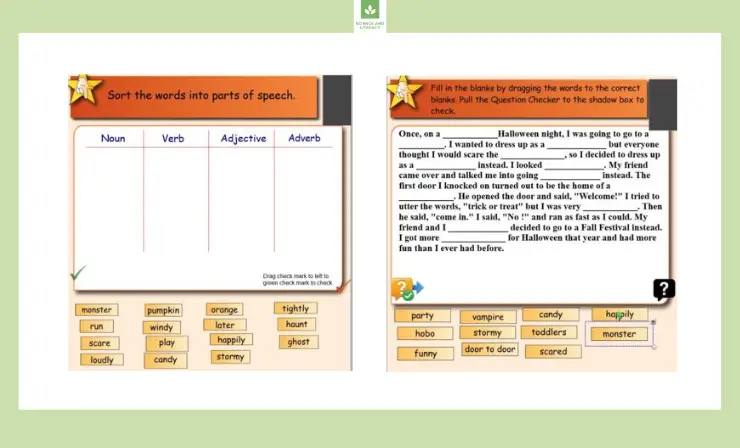 Age: 1st-4th grade
This downloadable package includes four language arts activities for Halloween. These activities include sorting words into parts of speech, working with antonyms, filling in the blanks to make up a Halloween story, and completing a matching puzzle.
Best for: Working on English and language arts skills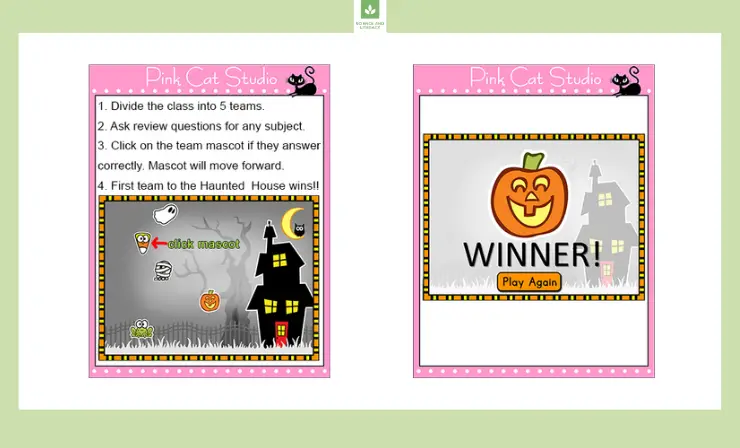 Age: Any
You can customize this fun Halloween game for any subject or grade level. The game is an interactive PowerPoint, where students or teams will work to be the first to make it to the haunted house. All you'll need is a list of review questions that match the content you've been working on with your students.
Best for: Reviewing content with students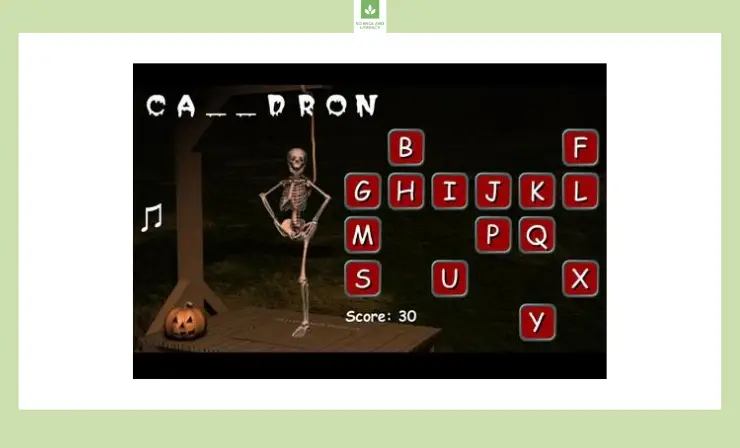 Age: 2nd-5th grade
This fun game adds a Halloween twist to a classic game. Students will need to work to determine the mystery word as they play Hangman. The game is made more engaging through Halloween-related animations and graphics.
Best for: Spelling practice, fun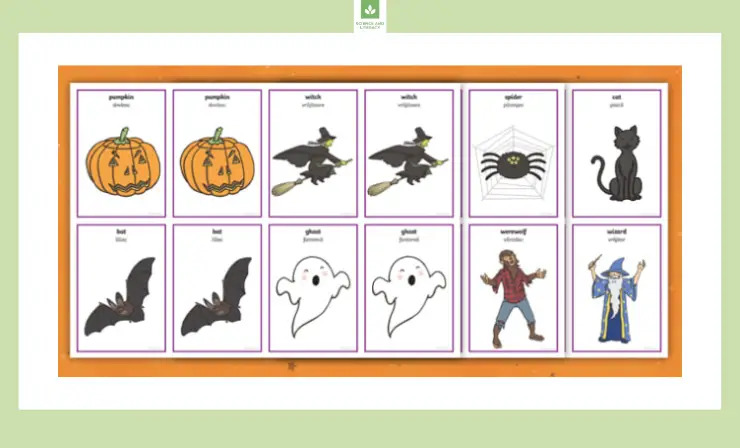 Age: Kindergarten – 2nd grade
In this game, which is similar to memory, students will need to try to match pairs of Halloween-themed images. When students correctly identify a pair, they will be awarded the corresponding cards. The aim of the game is to locate the most pairs of pictures.
Best for: Memory and recall practice, fun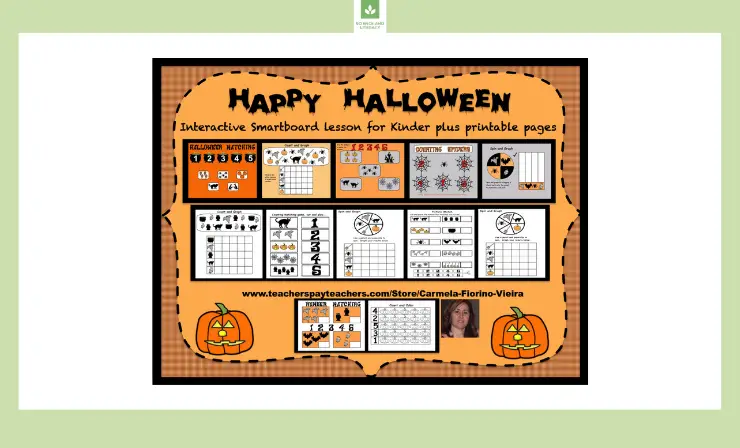 Age: Kindergarten
This downloadable pack includes a mix of interactive Smartboard activities and printables that focus on counting skills. Each lesson and printable features a fun Halloween theme that is sure to keep kindergarteners focused on learning and practicing their counting skills.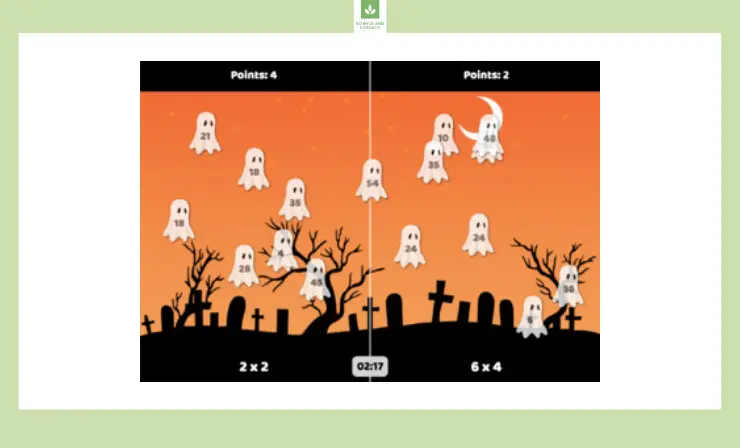 Age: 3rd – 5th grade
Students will have some true Halloween fun practicing their multiplication skills in this spooky game. You can split your class into two teams and students from each team will face off against each other to see who can earn the most points. To earn points, students will need to click on the floating ghost that shows the answer for the multiplication fact displayed on their side of the screen.
Best for: Multiplication review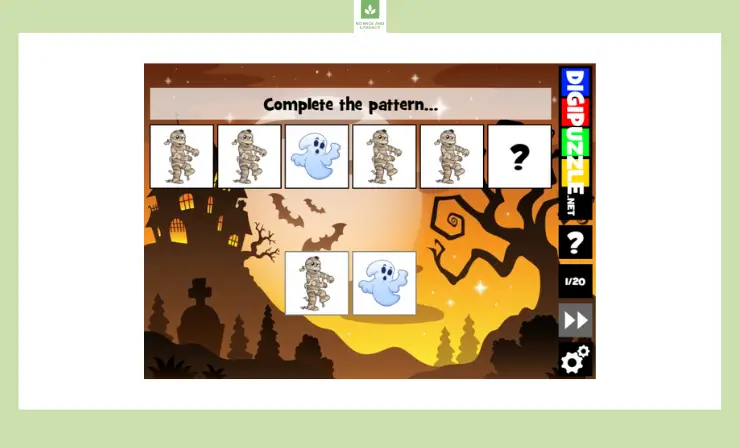 Age: Pre-K-1st grade
Help your students practice patterns with this Halloween game. Students will need to drag the correct picture up that completes each pattern. If they choose the correct image, the screen advances to the next pattern. If they make an incorrect selection, the image bounces back, and they can try again. The game includes a mix of ABAB, ABBA, ABC, and various other patterns.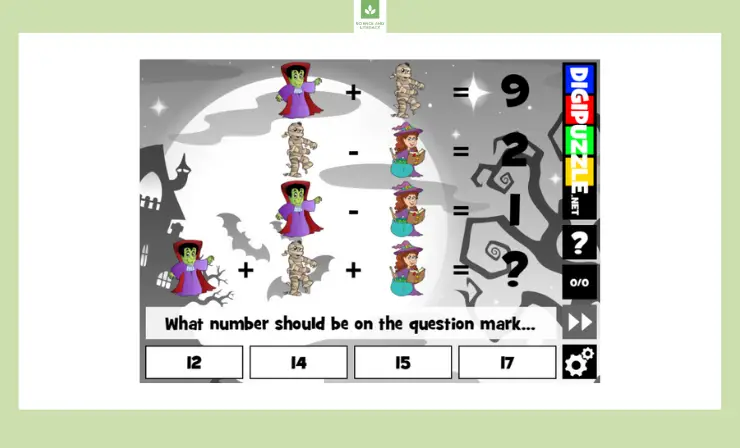 Age: 2nd-5th grade
Students will have fun solving these addition and subtraction Halloween riddles. Each slide displays four equations, but instead of using numbers, Halloween symbols, such as witches, Frankenstein, and zombies, are used. Students need to figure out what each symbol means to determine the answer to the final equation
Best for: Addition and subtraction review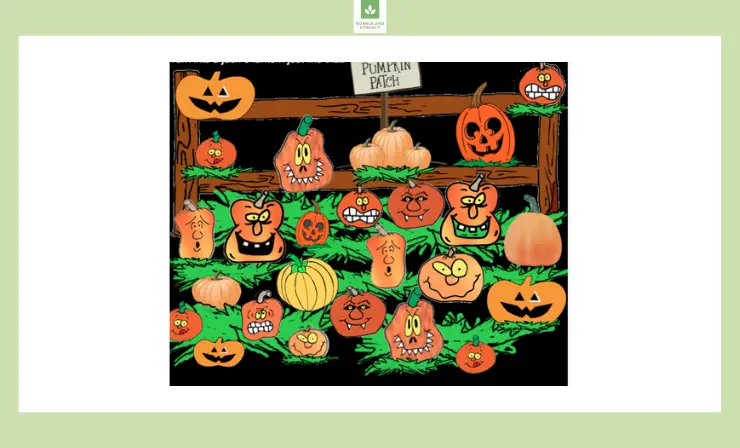 Age: 2nd-4th grade
Students will click on one of the pumpkins at the pumpkin patch to see an example of solfege. They can then drag the sol, mi, and la labels on the page to label each pitch on the musical scale.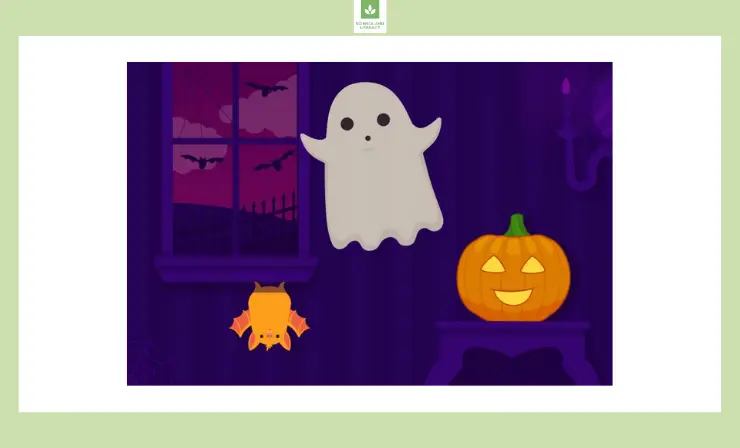 Age: 1st – 5th grade
In this game, students need to use the arrow keys to navigate the pumpkin figure up through the levels of the game. As they jump and climb towards the top, they can collect different items, such as capes, hats, and ghost costumes. Once they reach the top of each level, they'll need to answer a Halloween trivia question.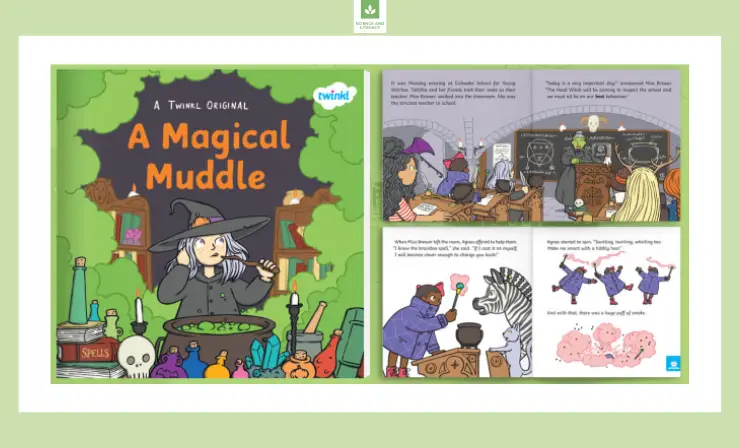 Age: 1st-3rd grade
Who doesn't love a good Halloween story? With this downloadable pack, you can share the Magical Muddle story with your students on your Smartboard, then they can work to complete some of the differentiated activities related to the story. Some of the included worksheets include reading comprehension practice, writing practice, rhyming practice, math practice, and coloring pages.
Best for: All subjects on Halloween
Halloween Alternatives for Schools
If your school doesn't allow Halloween parties, parades, or other activities, there are plenty of alternative activities you can plan to still give your students a fun fall day. These activities can also be used for the students in the building who don't celebrate Halloween and will be spending time in an alternative location during the parade or party.
Fall harvest celebrations: Rather than celebrating Halloween, consider designating a special day to celebrate all things fall. Celebrate the change of the seasons and plan activities centered around autumn, such as changing leaves, picking apples, scarecrows, and painting pumpkins. You can still have classroom parties centered around this theme, and could even do a parade. Instead of having the kids dress in a costume, consider having each class design a banner or float celebrating their favorite things about the fall.
Schoolwide dress-up day: If you like the tradition of having students dress up in a costume to celebrate Halloween, think a little outside of the box to keep that aspect of the day intact. However, instead of having students dress up as ghouls, goblins, or other traditional Halloween costumes, choose a different theme. For example, you could consider having students dress up as their favorite person in history, a favorite book character, or in a traditional cultural outfit. You can still have students parade around the school to show off their outfits and could invite parents in to see their students dressed up.
After school Halloween party: If your school is canceling Halloween festivities during the day due to a large percentage of the population that doesn't celebrate the holiday, consider holding an optional after-school or evening Halloween party instead. This way, parents won't feel like they have to keep their kids home from school if they don't celebrate Halloween, and the students in the school who do celebrate the holiday can still have a fun party and dress up in their costumes.
Useful Resources
Final Thoughts
Halloween is an exciting fall holiday. Kids and teachers alike look forward to school celebrations and parades. One way you can make the holiday even more enjoyable for your students is by planning some Halloween Smartboard activities for them to complete. These activities will keep them engaged and can even allow them to practice some of the skills they've been working on in the classroom.