Math is one of the hardest subjects in school, but it is a subject that is required to be taught. Therefore, teachers have no way around it. I remember math being a tough subject for me as a child, so I often watch my students and relate to their frustrations when it comes to doing math problems. I decided to find math whiteboard games that would help my students let loose and learn how to have fun while doing math. This does not solve the aggravation that math can cause my students, but it does help engage them and keep things interesting and entertaining.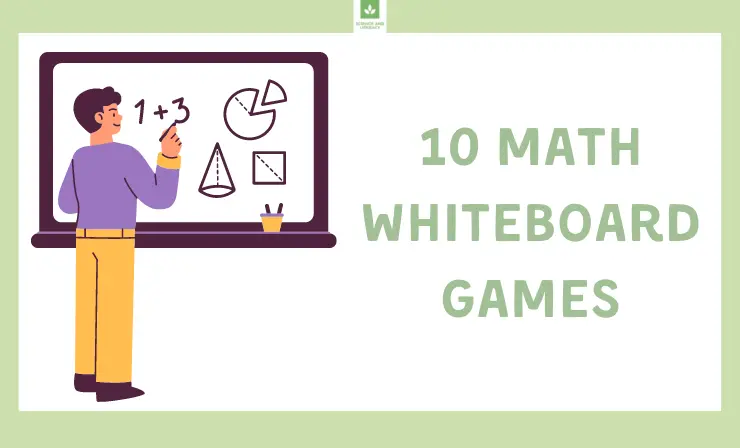 In this article, I will be sharing several of the whiteboard games involving math that I have used and felt like worked with my students. Throughout the years, I have tried out hundreds of these games and am confident that the ones on my list are the best. I believe you will find at least a couple that will work for you and your students. The goal is for teachers around the world to adopt some of these whiteboard games to make math a more enjoyable experience for students.
After reading this article, you will officially know:
10 Math Whiteboard Games
I have conducted research and tried out many different math whiteboard games with my students. However, I always seem to come back to 10 of my all-time favorite games. The reason for this is because they get my students up and moving, laughing, smiling, and learning while having a good time. Below, I will tell you about the top whiteboard games involving math that I highly recommend. I encourage all my readers to try each of them at least once before deciding which ones are your favorite.
The following are 10 of the best math whiteboard games for students:
1 .Back 2 Back →
2. Guess My Number →
3. Mountain →
4. Double Trouble Race →
5. Mega Noughts and Crosses →
6. Snake →
7. Tug of War →
8. Race to 100 →
9. 101 and Out →
10. Higher or Lower →
1. Back 2 Back
Grade Level: 2nd Grade to 5th grade
Description: All you need is a whiteboard, markers, and two people who are fast when it comes to guessing math facts. There are two teams, and each team must choose the person they want to go up to the board to write down numbers. The objective of this game is to guess the other player's answer before they guess yours.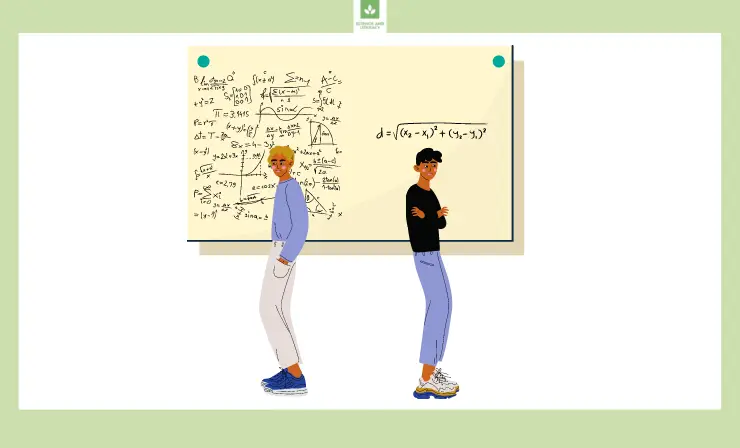 The two students who are chosen to represent their teams must stand back to back at the board. This gives them the opportunity to write on the board while blocking the other person from seeing their number. Once the caller yells "numbers up," the two students write down a number of their choice. The caller will state the sum or product of the two numbers. The students sitting down will use their knowledge of math facts to figure out what the other person's number is when added or multiplied by their number. The first player to announce the other person's number wins! The loser selects the next person to take their place.
2. Guess My Number
Grade Level: Kindergarten to 5th Grade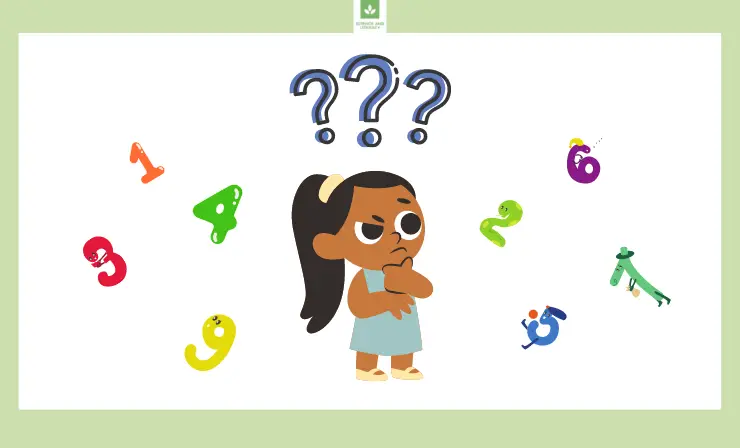 Description: Start by making a large chart on the whiteboard if you do not have a dry erase chart that can be clipped to your board. One student will choose a number, and the other students will try to guess the chosen number by asking questions. The student will cross off numbers that the answer is not and circles numbers that it could be. The person who guesses the correct number wins and gets to be the next person to choose a number for the class to guess.
3. Mountain
Grade Level: 1st Grade to 4th Grade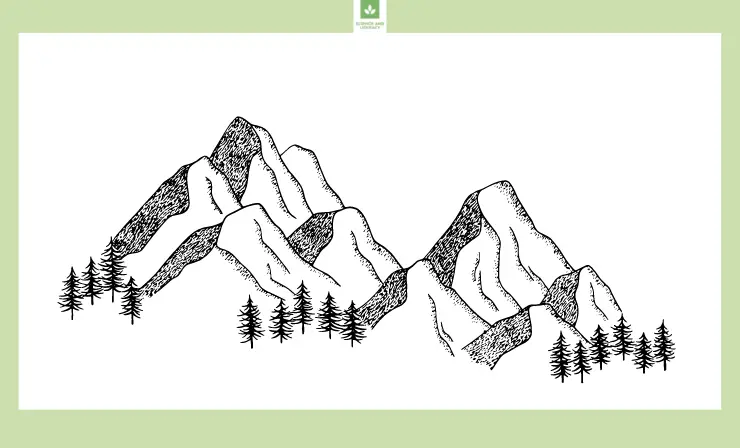 Description: Begin drawing a mountain with a smiley or funny face. Write in numbers that go up and down the mountain. The objective of this game is to be the first person to climb the mountain, in number order, and then go down the mountain on the other side. Hand the students dice to roll. They will hope for the numbers that are listed on your mountain to be able to cross them off the mountain. However, keep in mind that they must go in order. For example, if your first number is a 1, they cannot skip that number. They must roll a number 1 first before moving on to the next number.
4. Double Trouble Race
Grade Level: 1st Grade to 4th Grade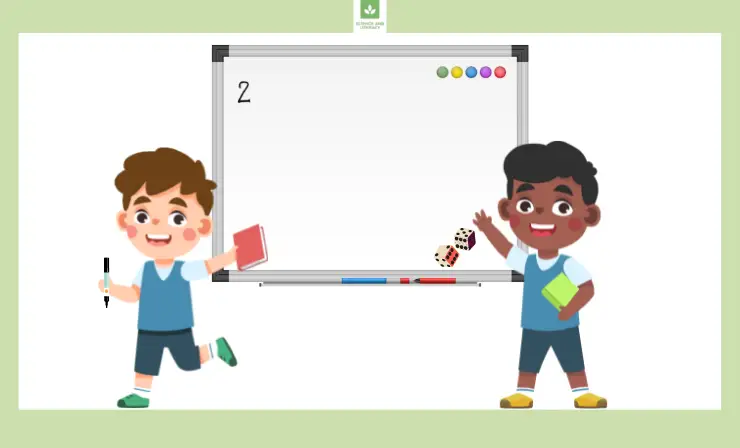 Description: For the Double Trouble Race game, you will need 2 six-sided dice, markers, and a whiteboard. This is a two-player game that students can take turns with their partners doing in front of the class. Player one will start writing the number 0 to 100 out on the whiteboard, while player two is rolling the dice. When player two gets doubles on the dice, they get to call out "Doubles." What I mean by doubles is a 4 and 4 or 2 and 2. The players switch turns until someone reaches 100. Then, another pair of players can go.
5. Mega Noughts and Crosses
Grade Level: 1st Grade to 4th Grade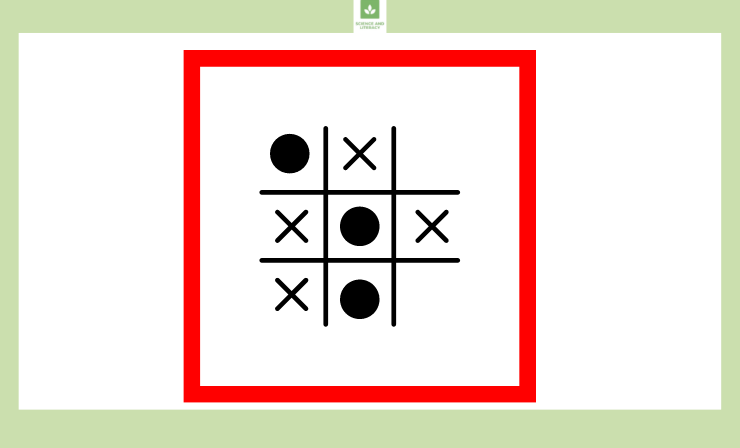 Description: Draw a 5 x 5 grid on the whiteboard. Select two students to go to the board and decide which is X and which is O. They will then take turns by writing an X or O in a square until the entire board is filled. Go through the grid and determine how many lines of 3, 4, and 5 of the same letters there are.
If there are 5 X's or O's in a row, that is 5 points. Four X's or O's are 4 points, and 3 X's or O's in a row are 3 points. Determine who received the most points as the person with the most points wins!
6. Snake
Grade Level: 1st Grade to 4th Grade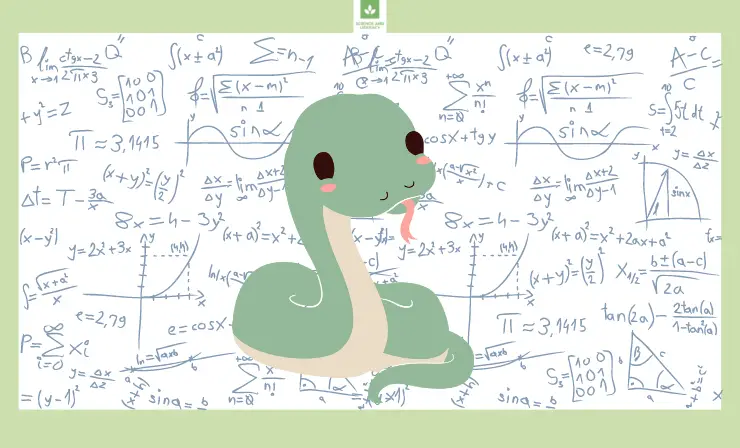 Description: You will need markers, whiteboard, and 2 six-sided dice. Start drawing a snake with the numbers 2 to 12 on its body. Ask a student to go to the whiteboard and roll both dice. Then, they need to add the numbers together and cross out the total. For example, if they roll a 3 and a 2, they should cross out the 5. If that number has already been crossed out, they return to their seat without crossing anything out. The team to cross out all the numbers first wins.
7. Tug of War
Grade Level: 1st Grade to 4th Grade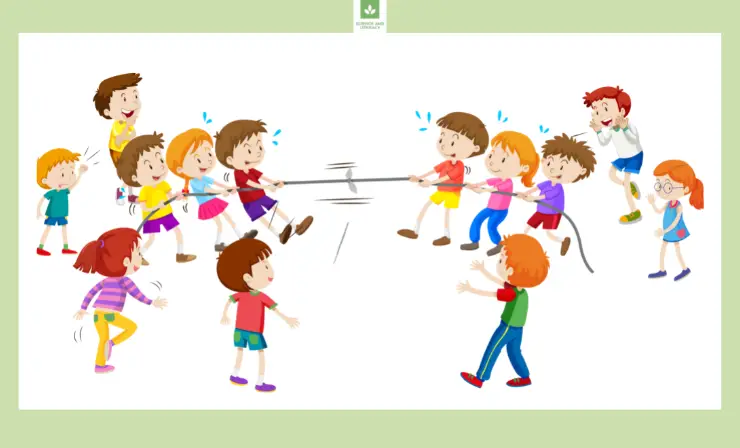 Description: For this game, you will need 2 six-sided dice, a whiteboard, markers, and a small figurine. Start drawing a numberline from 1 to 27. Set up two teams and have one player from each team go to the board. One player is called "plus," while the other player is called "minus." The figurine starts on the number 14. The "plus" team will move the figurine right with hopes of getting to the number 27, and the "minus" team will move the figurine left with hopes of getting to the number 1.
Have the two individuals take turns rolling the dice and adding up the two numbers they get. The number that they get is how many numbers in their direction that they get to move the figurine. Whoever reaches the end number first (1 or 27) wins.
8. Race to 100
Grade Level: 1st Grade to 4th Grade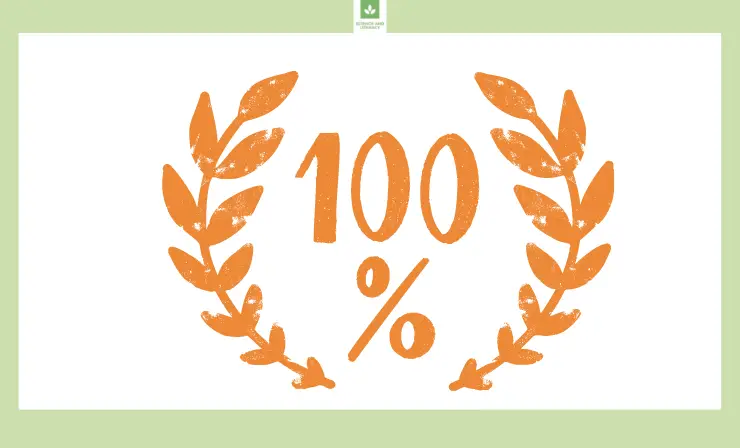 Description: Race to 100 game requires a whiteboard, 3 six-sided dice, and markers. Player one starts the game by rolling the 3 dice. They can choose to roll all three dice again, two, or only one dice. After they are done rolling, they will add their score and write it on the whiteboard. The score is based on: 3 numbers that are the same gets 30 points, and 2 numbers that are the same gets 20 points. If all three numbers are different, they will need to add all three numbers. The first player to score over 100 wins the game! Be sure to write down the scores each time to keep track of who is winning.
9. 101 and Out
Grade Level: 2nd Grade to 5th Grade
Description: A whiteboard, marker, and one dice are needed to successfully play this game. Students begin taking turns rolling the dice. Whatever number they roll, they can choose to keep that number or add a zero to it. For example, if a student rolls a 3, they can leave it as a 3 or make it 30. They will need to keep track of their numbers on the whiteboard for everyone to see. The team to reach the closest to 101 without going over wins the game. If you go over 101, you are out and the other team wins.
10. Higher or Lower
Grade Level: Kindergarten to 5th Grade
Description: Higher or Lower is a simple, fun game in which students create a number chart on the whiteboard. One team will form together to come up with a number. That number is kept a secret while the other team takes turns guessing the secret number. The team with the number must tell the other team if the number is higher or lower. While the team is guessing the number, the other team will cross off the numbers on the number chart that are guessed wrongly.
For an up-close look of a math game you can do with your students on the whiteboard, check out The Bielec Method's YouTube video. This video shows you a fun math game that you can play with kids. It will get them excited, encourage them to let loose, and will help them forget they are even learning.
If you do not have an interactive whiteboard in your classroom, my suggestion is to consider purchasing one. These devices are excellent when it comes to teaching children and encouraging them to participate in games together on the whiteboard. To learn more about the interactive whiteboard and see which one you should buy, visit my other article by clicking here.
4 Ways to Make Teaching Math Fun and Easy
There are certain ways to make teaching math fun and easy for you and your students. I will tell you about four ways below in which may not seem like much, but I believe they will help you out tremendously in the classroom.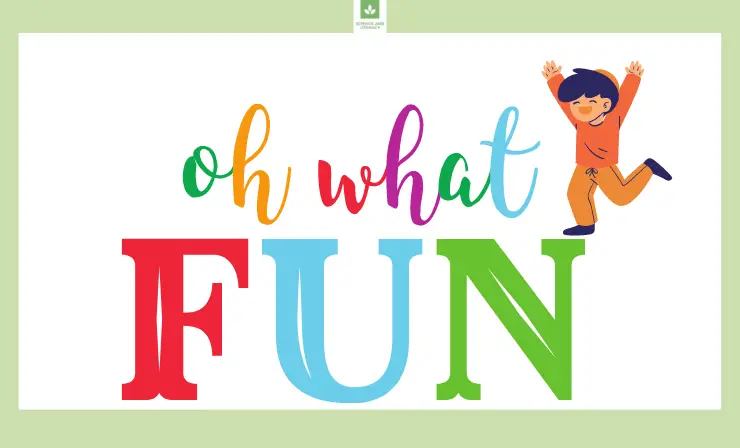 1. Play Math Games
A lot of students will get tired of doing worksheets or math problems on paper if you rely heavily on lectures and lesson plans. This will cause their participation levels to drop, and they will become less engaged. To prevent this, I recommend playing various math games to encourage fun, excitement, and competitiveness in your classroom.
2. Emphasize Hands-On Learning
Hands-on learning is very important when it comes to teaching math. Students understand better when they are learning hands on. A lot of teachers use Legos or blocks to give their students hands-on learning in math class.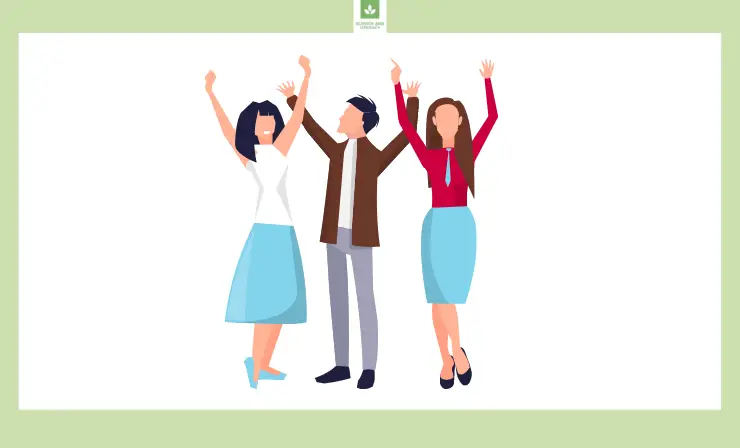 3. Build Excitement and Offer Rewards
Offer points, candy, stickers, certificates, badges, trophies, or toys for getting the answers to math problems correct. Many times, students have never experienced rewards or success when it comes to math, so if they see that they will be rewarded for their efforts they will want to try harder. This is very motivating and inspiring to students.
4. Encourage Teamwork
Encourage your students to work together to find answers from time to time. This makes thing easier and fun, and students may be able to help other students understand how to do certain math problems. Math games that involve teams is a great idea when it comes to teamwork.
If you are looking for a way to make teaching math a better experience for your students, watch Chula Vista Public Library's YouTube video. Since this is a DIY project, you will need a few items such as markers, dice, paper, and pawns.
Document cameras are a great tool that magnifies any object that you place under it. This will ensure that every student in your classroom can see the specific object or sheet of paper that you are showing. It is a great way to get your students involved by learning math problems. For more information on the document camera, read my other article here.
4 Essential Strategies in Teaching Math
There are several essential strategies in teaching math. However, I will tell you about four that I think are the most valuable. These four have helped me a lot when it comes to teaching a variety of math problems to my students. Therefore, I hope they can help you the same way too.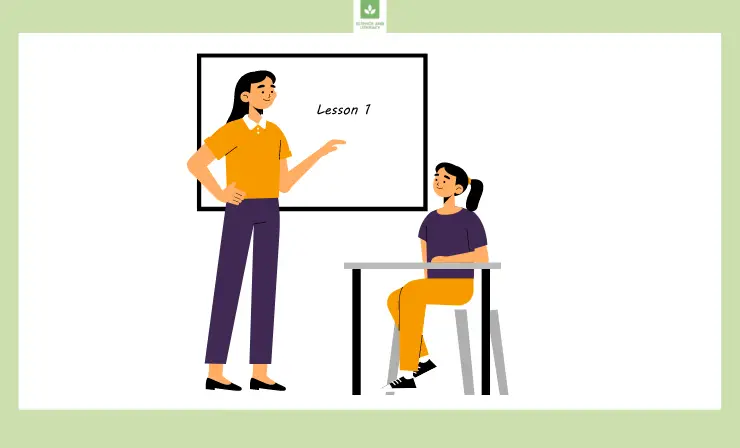 The following are essential strategies to take into consideration when teaching math:
1. Observe, modify, and reevaluate
Instead of constantly moving on with the curriculum, take a day to reevaluate and work on problems that your students may be experiencing. Even though you must keep up the pace, you also do not want your students to fall behind because they do not understand how to do certain math problems. Observe how everyone is doing and make any modifications if needed.
2. Connect math to other learning areas
If you show your students how math connects to other subjects, they will become more interested. For example, show them books that have math connections, show them art that involves math, and play music that sings about math. This will show them that math is everywhere around us, and it can be more than a textbook, flashcard, or test problem.
Putting our whiteboard table to good use today with lots of math games. Developing our mental math skills and strategies! #iteachmath #PVNCLearns #StFrancis45 pic.twitter.com/m5wuiIrUht

— Sarah Sims (@MrsSarahSims) March 25, 2019
3. Personalize and offer choice
Evaluate each individual's learning progress. You will notice that students have different learning styles. Therefore, you will want to make sure that every student is learning successfully even though they may be an auditory learner or visual learner. Give students the option of doing different activities from time to time, such as completing a worksheet, playing a group game, or listening to a CD that goes over math problems.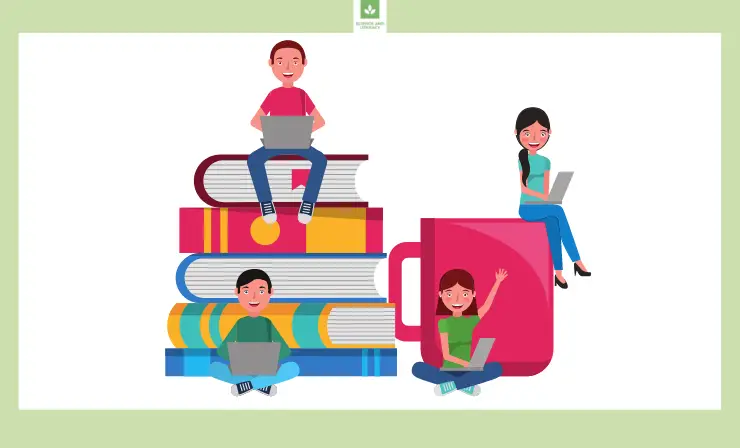 4. Choose meaningful tasks
Children get excited and engaged by solving real-life problems. With that being said, try to write out word problems or ask the students aloud different real-life problems that you have come up with that involve math. They will enjoy solving these problems because they will seem real to them.
Math is a subject that some students often need more time on. However, teachers are required to keep moving at a steady pace to teach everything that they are supposed to teach before the semester or year is over. If you have experienced this issue and are looking for a way to alleviate this stress in your classroom, I suggest purchasing a camera for recording lectures. These gadgets will allow your students to go back over lessons that you have taught as many times as they need as long as you recorded them. I have written another article on the document camera which I think you will find beneficial. In this article, you will learn all there is to know about the document camera as well as get an idea of what type you should buy for your classroom.
If you are looking for a writing game to do with your students instead of math, Mike's Home ESL's YouTube video is the perfect choice to watch. He will show you a writing game to do with your students while taking a break from math.
Useful Resources
Conclusion
I hope this article helped you find a few math whiteboard games to use in your classroom. The games mentioned in this article are all fun, entertaining, and help motivate students to enjoy learning. To make these games even more competitive, you could offer prizes to the winners. Good luck and happy teaching!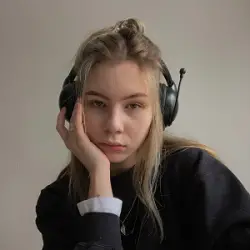 Latest posts by Paulie Ivanova
(see all)