Update of March 03, 2023: I've added:
some usage cases in product reviews;
the updated advanced guide on choosing an interactive whiteboard for teaching;
the F.A.Q. section to cover all the probable questions you may have.
As a teacher during the pandemic, I have found myself coming up with different ideas to keep my students engaged. Recently, I discovered interactive whiteboards, and they have worked like a charm. I am very impressed and satisfied with the picks that I have purchased, and my students are occupied for hours at a time when using these neat devices.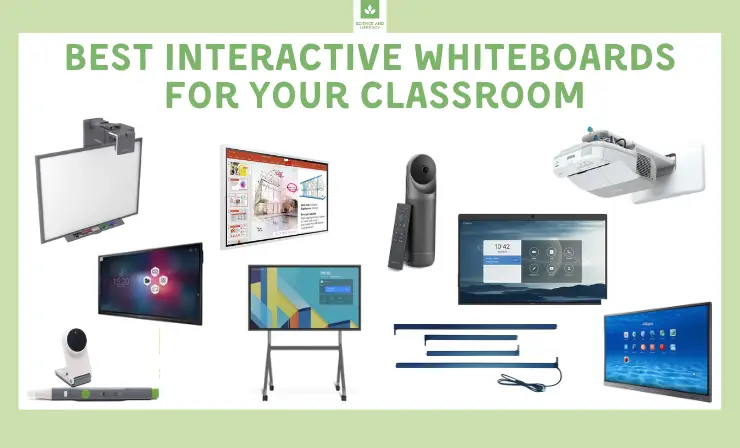 Before making this big purchase, I made sure that I did a lot of research to find the perfect interactive whiteboard that would work best for my classroom and students. To my surprise, I learned that these devices are growing in popularity among schools and teachers around the world.
However, in reality, I should not be surprised because this is the new learning style of the 21st century, and I should have made this purchase a long time ago ?
Just see how students are engaged in the lesson while working with the interactive whiteboard!
Great use of #interactivewhiteboard that is #studentcentered Students add ideas to share with whole group #teacherontheside @BerkleySchools pic.twitter.com/sTZPv1T0e4

— Angie (@AngieMChurch) May 31, 2018
So I decided that we, teachers, should keep up with the times and picked up for you a list of the 11 best interactive whiteboards for all teacher cases. Everyone is going to choose something of their own!
More of a fan of watching videos than reading long articles? For you, we've made a video about the best interactive whiteboards for schools. Check out our YouTube channel, get excited!
After reading this article, you will officially know:
How to Choose a Digital Board for Teaching
There are several factors that will go into choosing a digital board for teaching, such as the size of your classroom, the budget, the age of your students, the requirements to set it up and begin using it, and more. Therefore, it is important to fully understand the features of a model that you may be considering. I will explain more in detail below.
The following are the main factors that you should take into consideration before selecting a digital board for teaching:
10 Features to Look for While Choosing an Interactive Whiteboard
Factor
Description

1. Cabling and Connections

Keeping your whiteboard running at peak performance requires some research into its power and connectivity needs. Whether it's cables to link the board to a computer or hooks for an internet connection, make sure that you have all of the necessary equipment available – Bluetooth can help limit how many cords are needed in certain instances! It may seem like tedious work, but guaranteeing smooth functionality is essential.

2. USB-C connectivity

USB-C is revolutionizing the classroom experience with its plug-and-play capabilities, allowing teachers to connect quickly and easily. Outperforming previous cords in both speed and efficiency, it replaces multiple cables with a single reversible cable for video, audio or power – no extra outlet necessary!

Its universal standard makes USB enabled displays an investment that will never be obsolete; ensuring today's teaching methods are prepared for tomorrow's technology.

3. Front-Facing Ports

For teachers with aging laptops or those wanting to easily incorporate more devices into their classrooms, front-facing I/O ports are a great solution. Without having to physically turn the laptop around or flip through cords at the back of monitors, these ports provide easy access and enable an uninterrupted flow during lessons – preventing frustrating delays in class!

4. Touch Technology

There are 3 factors to consider while speaking about touch technology:

With dual pens offering independent color functionality, teachers and students can now enjoy lively classroom activities with effortless multicolor annotation.
Writing is a powerful tool that can be made more enjoyable and successful with the right display.
The current standard is 20-point touchpoint capabilities, though some more advanced boards are capable of recognizing up to 33 touches at once – creating an engaging learning environment where students can participate together through exciting exercises.

5. Audio

Interactive panels may seem like they have it all, but if you want a truly immersive experience in your classroom, consider the sound quality.

While many interactive screens come with built-in speakers at 10 watts each – and rear facing no less! – good sound doesn't stop there. Facing speakers make for an upgrade that's worth noticing: louder volume levels and better clarity of audio will capture any student's attention.

For those who really want to crank up their learning environment, additional sound bars are available cheaply so you can create an acoustic atmosphere worthy of the best classrooms around.

6. Microphone Array

Microphone arrays are all about taking sound capture to a whole new level. With multiple mics working together, you can get immersive surround-sound quality on even the smallest devices — allowing listeners to experience audio with an unprecedented dynamic range and clarity.

For virtual classes where students attend remotely, this kind of technology is essential for ensuring their voices come through loud and clear while background noise is canceled out completely. Get ready: microphone arrays will revolutionize your listening experience!

7. Size & Shape of the Screen

Choosing the right size of whiteboard for your needs is an essential part of any room's setup. A large one will ensure that everyone, even those far back in a larger meeting space or classroom, can easily take in all it has to offer at once and make sure nothing goes unnoticed.

Aspect ratio should also be taken into consideration; while 4:3 (standard) still remains popular with many users, 16:9 acquires more popularity due to its wide screen appeal given current laptop screens and projectors typically utilizing this aspect approach.

8. Resolution

Technology is continuously evolving, and resolution quality is no exception. For digital panels with a crisp, clear picture there's no better standard than 1080P High Definition (HD) Resolution or higher – which at the moment means 4K Ultra HD.

Boasting 3840×2160 pixels of vibrant colors per screen to make visuals come alive in any environment, it's truly revolutionary when compared to pre-existing standards.

9. Networking and Wi-Fi

My advice is to only purchase a model that has some type of internet or Wi-Fi capabilities. This is one of the most important factors on this list because internet and Wi-Fi will ensure that it offers more resources, lesson plans, research options, and games all in one device. Without internet, it is not much different than a regular dry-erase board.

10. Multi-Student Participation Available

If you are a teacher or educator teaching multiple students at once, you may want to find a model that has multi-student participation capabilities. By ensuring this, your board will allow several students to participate in games, lessons, presentations, and more.
If you are still on board with buying an interactive digital board for teaching in your classroom, take a look at Nativity Religious Education Program—Burke's YouTube video. In the video, you will see two teachers who will provide instructions on how to begin using it as well as how to connect it to a laptop. Both of these details are important for you to know before you purchase a digital board and start using it.
Before presenting you my top-list, I'd like to to focus your attention on the three models that I liked the most.
Editors' Choice
If you are not into reading long articles and are looking for a device for your particular needs, here are my quick suggestions for you:
Vibe All-in-One — the must-have if you teach virtually or in-person and want some students to participate at once.
IPEVO IW2 — for teachers who need a cheap device to turn the existing whiteboard or projector surface into an interactive one.
Chengying Multi Touch Frame — for those who want to create a non touch screen into touch screen monitor: easy to assemble and I doesn't need any drivers.
I researched about 40 different products and narrowed my list down to 10, which I believe are the greatest models on the market. Therefore, I decided to share my list for other educators and teachers looking to purchase one of these devices as well. I promise that you will not regret it and will also wish that you would have bought one sooner!
My List of 11 Best Interactive Whiteboards

| | | |
| --- | --- | --- |
| | For group participating (up to 4 people at once) | Amazon → |
| | For remote control of key features from compatible mobile devices like smartphones and tablets | Amazon → |
| | For artificial intelligence technology that automatically adjusts lighting, visual and audio settings | Amazon → |
| | For drawing with fingers or touch pens | Amazon → |
| | For touch recognition (you can write with a pen and the notes will appear in the color of your pen) | Amazon → |
| | For teachers with not a lot of space or need a device that can travel on the go | Amazon → |
| | For teachers on a low budget. | Amazon → |
| | For individuals who need wireless control | Amazon → |
| | For moving around the classroom easily | Amazon → |
| | For individuals who already have a device so they want to buy this frame to make it touch screen | Amazon → |
| | For a mobile phone or a laptop wireless screen projection | Amazon → |
Are you a person who enjoys integrating holidays into your teaching lessons? If so, I have written an article about 12 different Halloween smartboard activities that I recommend checking out. This article is perfect for educators who love holidays and need ideas on lesson plans involving Halloween.
After researching several models, I have come up with my own list of what I believe are the models currently on modelsthe market. For your convenience, I will list each of these devices as well as provide my own personal reviews of them below.
1. Vibe All-in-One
Buying Options
The Vibe S1 55″ touchscreen whiteboard is perfect for office and classroom use. With its 4K UHD resolution, the board is clear and easy to read from any distance. The touchscreen display is responsive and easy to use, making it perfect for presentations and collaborative work.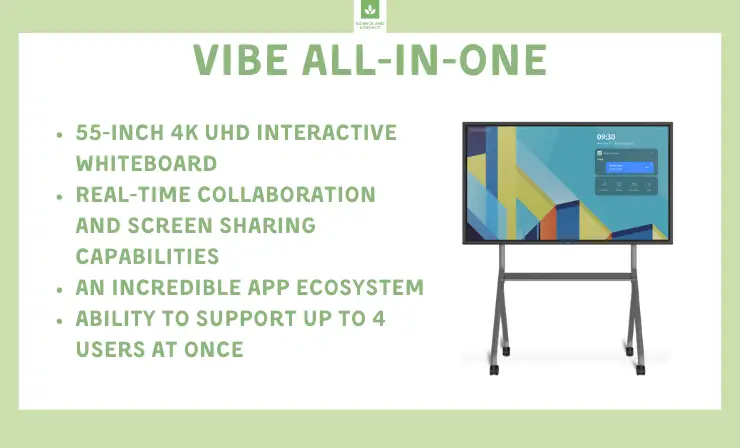 Additionally, the all-in-one computer comes with Chrome OS and an open app ecosystem, making it a versatile tool for both work and learning. And for added convenience, the whiteboard also comes with a built-in whiteboard for teachers.
Pros
With Vibe, you can move seamlessly between working sessions, revisit meetings, and pick up where you left off.
Its open ecosystem allows you to integrate the popular apps you use in your workflows.
Here is an ability to annotate any PDF or third party app on the Vibe S1's 8ms response time screen for a natural pen-to-paper writing experience.
You may pull in references from Chrome and YouTube, keep an eye on your Zoom audience while you present, take notes that everyone can follow. With Vibe S1's split screen mode, dynamic presentations are within reach.
4 people can participate at once.
Cons
Some webcams are not compatible with this model.
Tech support could be better: some time is needed befre you get the answer.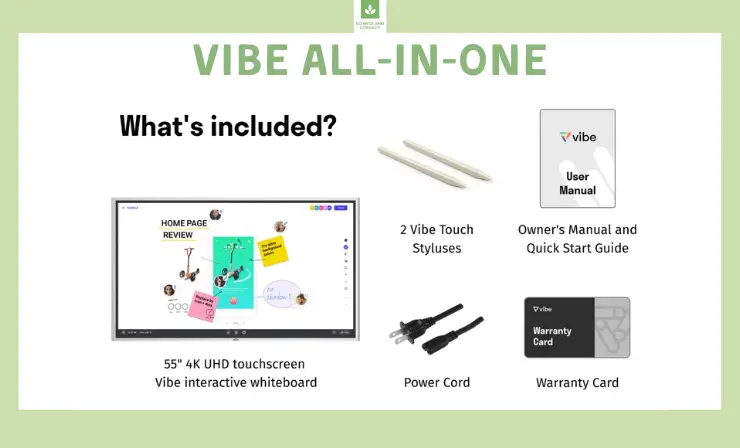 Use it to…
homeschooling your child(ren);
have multiple people in the same room write on the whiteboard from different devices at the same time;
be able to participate in seeing and writing on the whiteboard from remote locations.
Vibe brings aspects of both synchronous and asynchronous learning methods to the classroom. Watch the video below to its features, video conferencing and remote collaboration options, organization tips and best practices!
Top choice for: group participating (up to 4 people at once).
2. Samsung Flip 2
Buying Options
The Samsung Flip 2 WM65R is a 65 inch digital flipchart for school that comes with 4K UHD resolution for an immersive viewing experience.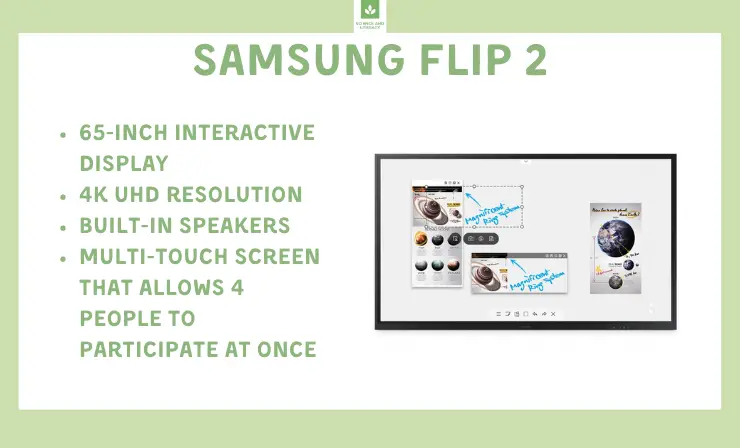 The touch screen makes it easy to control and share content, and the Wi-Fi connectivity lets you access the internet and other devices without cables. Plus, the HDMI and USB ports let you connect to other devices for even more functionality.
Pros
IT is equipped with a powerful 4K UHD resolution and a built-in speaker that create an immersive learning experience.
Easily Share content through NFC, screen mirroring, or HDMI to enhance understanding within your classroom.
It's built tough to handle frequent flipping and writing while reliable Bluetooth and Wi-Fi connections deliver steady media streaming.
Expertly designed for frequent use in dynamic classrooms; its slim frame offers efficient portability without skimping on durability or performance.
Mobile Viewer Apps allow remote control of key features from compatible mobile devices like smartphones and tablets.
Cons
The software seems to be limited.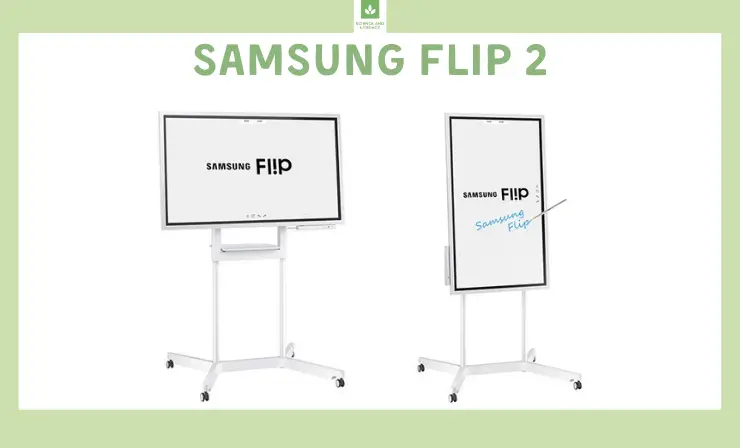 Use it to…
import pictures, documents, videos, etc and allow you to draw over them;
teach and present from this board when working remotely;
save your projects directly to the storage and connect to them from anywhere.
It is the perfect tool to engage today's young students, facilitating critical teaching moments and helping students and instructors collaborate, expressing themselves with powerful technology that couldn't be easier to use. See how the device is used in this video.
Top choice for: remote control of key features from compatible mobile devices like smartphones and tablets.
3. DTEN D7
Buying Options
DTEN D7 is an all-in-one video system for school that transforms any surface into a digital whiteboard. It functions as an interactive monitor with microphone array, HD camera, and speakers. The DTEN D7 is perfect for small or large groups, making it ideal for classroom instruction, business meetings, and video conferencing. With its 55-inch screen, the DTEN D7 provides plenty of viewing area for everyone in the room.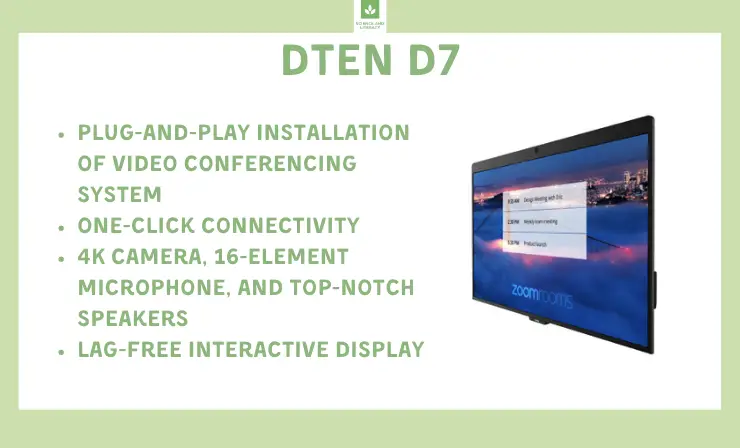 The built-in HD camera captures clear images, while the microphone array picks up every sound. And with powerful speakers, everyone will be able to hear clearly.
Pros
It is extremely easy to install, with a one-click connectivity that makes it practically plug-and-play.
The DTEN D7 features state-of-the art artificial intelligence technology that automatically adjusts lighting, visual and audio settings to match the surroundings of any classroom. This ensures an optimal viewing experience for all participants.
It has a 4K camera, 16-element microphone array and top-quality integrated speakers. This makes it the perfect choice for any size classroom or meeting room.
The DTEN D7 also doubles as a digital whiteboard, letting you share and edit documents in real time. And because it's interactive, everyone in the room can participate in the discussion.
Cons
On the smaller size for individuals looking for a bigger whiteboard.
Only has ports for USB and HDMI cords.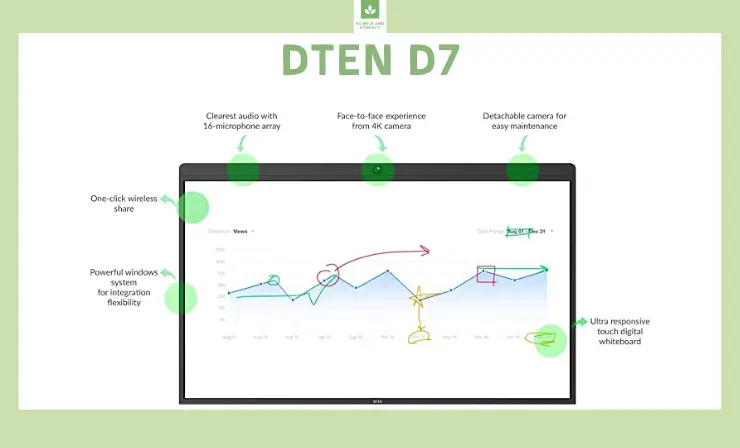 Use it to…
conduct Zoom lessons;
share and edit documents.
The video describes Smart Gallery, a Zoom Rooms feature that uses cutting-edge AI to create individual video feeds of in-room participants, giving remote participants a clearer view of their in-room counterparts.
Top choice for: artificial intelligence technology that automatically adjusts lighting, visual and audio settings.
4. AG Neovo IFP-6502
Buying Options
This 65 inch Interactive Flat Panel Display by AG Neovo is a great choice for schools and classrooms. Its 20-point multi-touch screen allows for multiple students to interact with the display at the same time, and its 4K resolution ensures clear and crisp images.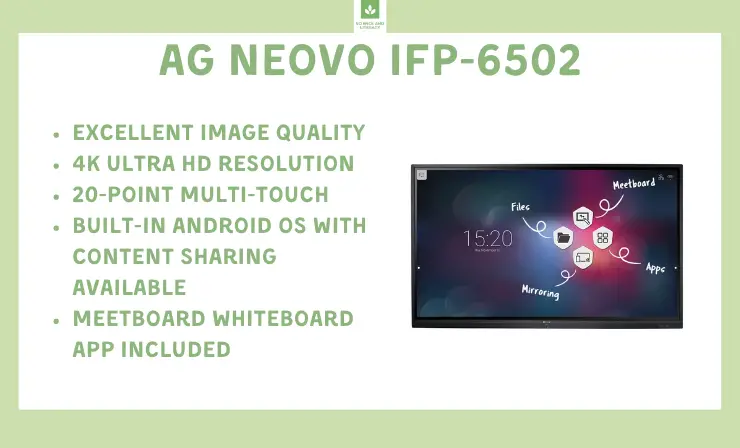 Plus, Dual Styluses let each student control the display without interfering with others.
Pros
The 65" interactive display features 4K Ultra HD (3840 x 2160) Resolution for stunning visuals.
20-point multi-touch lets multiple users write or draw with fingers or touch pens.
Built-in Android OS with integrated annotation and content sharing capabilities makes it easy to collaborate.
The included Meetboard whiteboarding app lets you annotate and take notes like a pro.
Cons
May be difficult to set up.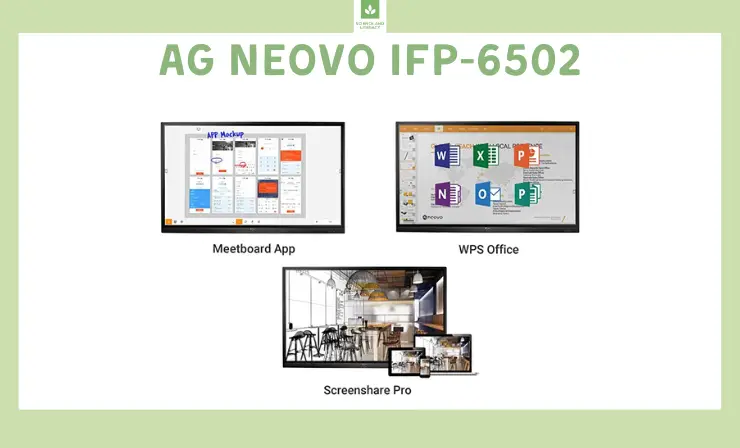 Use it to…
toggle between the whiteboard and presentation mode;
change text within the presentation, write on the screen during the presentation, switch to the internet during the presentation.
The video describes in detail all the functions and advantages of this device. It shows such features as screen mirroring, video conferencing, and simple integration capabilities.
Top choice for: drawing with fingers or touch pens.
5. SMARTboard SB-660
Buying Options
The SMART Board SB660 is perfect for school settings. It's an interactive whiteboard with a short throw projector bundle. The projector has a 1920 x 1080 resolution and a 3000:1 contrast ratio.
The 77-Inch device with Projector Bundle offers great quality, games, and education resources that will help you stay productive while teaching. This whiteboard makes meetings and presentations much easier, as you can take notes, write on top of any application, and edit and send anything to anyone.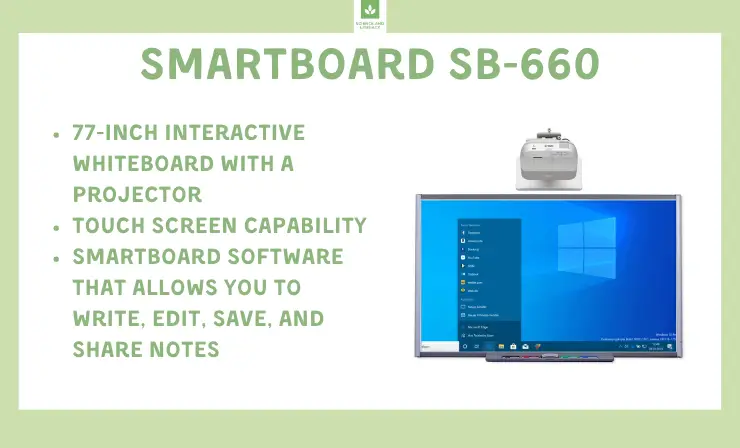 The board has a 4K resolution and a 100,000:1 contrast ratio. The bundle also includes an IR remote, three pens, and a mount.
Pros
Comes with a projector which is perfect for lessons in the classroom.
The SMART Board SB660 offers touch recognition, which means that you can write with a pen and the notes will appear in the color of your pen. So if you have a blue pen, your notes will be in blue, and if you have a black pen, your notes will be in black.
In addition to the touch recognition feature, the buttons on the Pen Tray also allow you to activate the On-Screen Keyboard and access the right-click and help functions.
You can also capture your work to SMART Notebook software as a screen shot that you can edit. This feature is especially useful for teachers who want to annotate student work or create learning materials.
Cons
May be on the bigger side for individuals looking for smaller interactive boards.
Does not possess multi-touch functionality.
Must use a computer to connect to internet.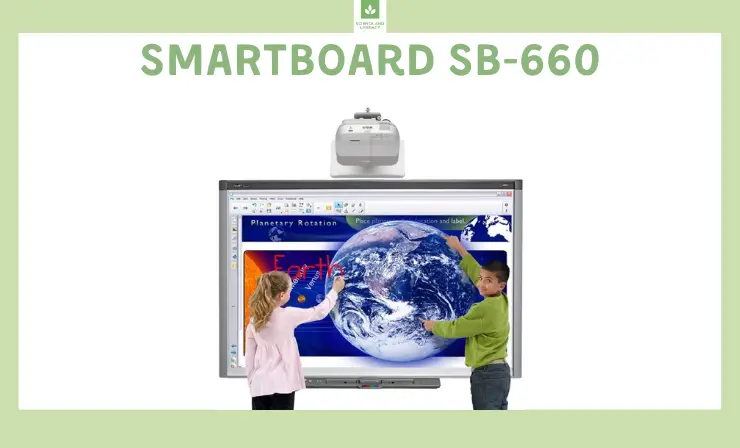 Use it to…
open and close applications, scroll through files, conference with others, create new documents or edit existing ones, visit websites, play video clips and more — by touching the screen;
write over any application in digital ink using a pen tray pen or your finger.
Brian Martin, an instructional design consultant, tells us some effective pedagogical uses of this witeboard. He also shows how to interact and actively engage your students with content on the "touch screen" allowing increased exploration of complex models and concepts. See how in the video below!
Top choice for: touch recognition, which means that you can write with a pen and the notes will appear in the color of your pen.
6. KanDao Meeting Pro 360
Buying Options
KanDao Meeting Pro is an AI powered wireless conference system that can be used in any meeting or classroom. The system includes a built-in sound detector which can automatically mute the audio if someone starts talking outside of the meeting area.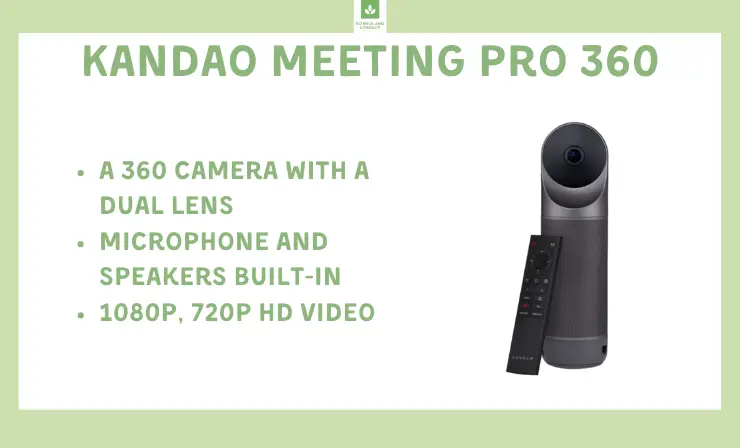 The system also features an Android operating system for use inside the meeting room. This allows users to view presentations, videos, or even play games on the big screen.  And finally, the face tracking feature keeps participants in the frame regardless of their position.
Pros
Great for teachers with not a lot of space or need a device that can travel on the go.
With sound detection, anti shake, and face tracking features, it ensures that every student is able to participate in class without disruption.
The android system ensures that every student remains on task by providing an interactive learning experience. Monitor student progress and performance with ease.
The anti shake and face tracking features keep students focused and on track, while the sound detection prevents any disruptive noises from interrupting class.
Cons
Only works with Android applications.
Cannot see a lot of faces at once when using for meetings or classes.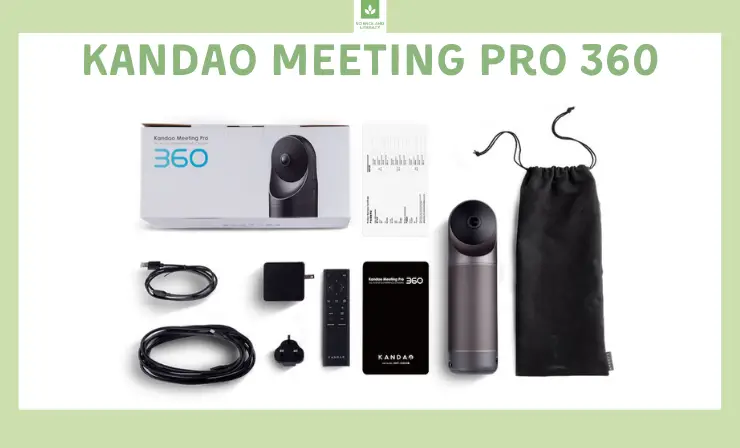 Use it to…
conduct classes outside of school;
switch between different numbers of separate highlighted windows;
charge your laptop during the lessons which is very thoughtful to prevent the laptop from running out of battery.
The Kandao meeting camera's offer a hassle free experience to remote working with their ease of use and incredible features! Watch the review by TT Technology to learn more about this product.
Top choice for: teachers with not a lot of space or need a device that can travel on the go.
7. IPEVO IW2
Buying Options
IPEVO IW2 Wireless Interactive Whiteboard System is the perfect tool for teachers, students, and families. It is an interactive whiteboard that lets you wirelessly control your presentations and lessons from anywhere in the room.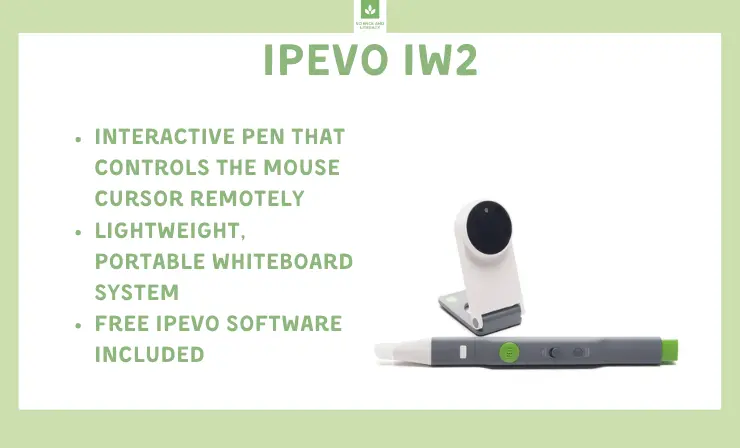 The IW2 system includes a remote teacher unit and student units, so everyone can be involved in the lesson. Use the IW2 system to engage students in homeschooling activities, remotely teach a class, or just keep everyone on task during a meeting.
Pros
It doesn't require any Wi-Fi, so you can use it anywhere, and the included Interactive Pen lets you annotate and control the mouse cursor remotely. This makes it perfect for remote teaching – set up a physical whiteboard at home and take advantage of the free IPEVO Annotator software to draw and annotate teaching material.
The IW2 is also great for homeschooling activities – show storybooks, do arts and crafts, play games, or put together a puzzle. And with the Interactive Pen, you can point and draw with ease.
The IW2 is lightweight and portable, making it hundreds less than conventional interactive whiteboards.
This device is a more affordable option with some of the same specifications.
Cons
You will need to buy a projector to go with this item.
Calibration is off.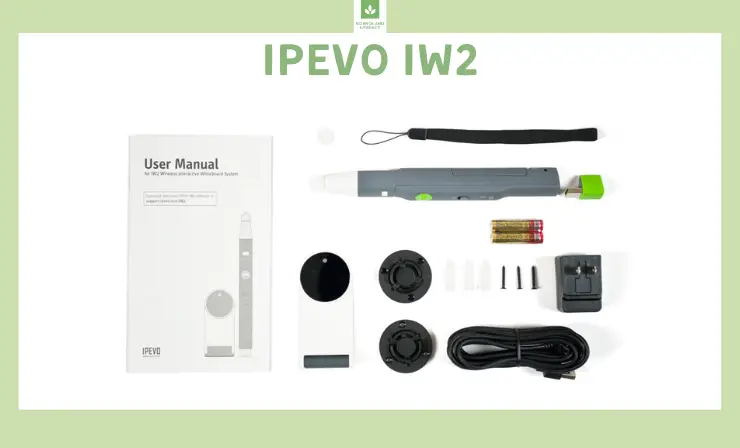 Use it to…
show storybooks, do arts and crafts, play games;
point and draw;
collaborate with students across distance.
Watch the video to learn how to set up an IPEVO IW2 System. It is quite simple to install and pleasant to use. You can get even more teaching possibilities when you use IW2 with an doc cam.
Top choice for: teachers on a low budget.
8. Epson BrightLink 475Wi
Buying Options
Epson's BrightLink 475Wi is an interactive projector that's perfect for use in the classroom. It is the perfect option for those looking for an interactive solution without buying a whiteboard. It offers an affordable alternative with several of the same features.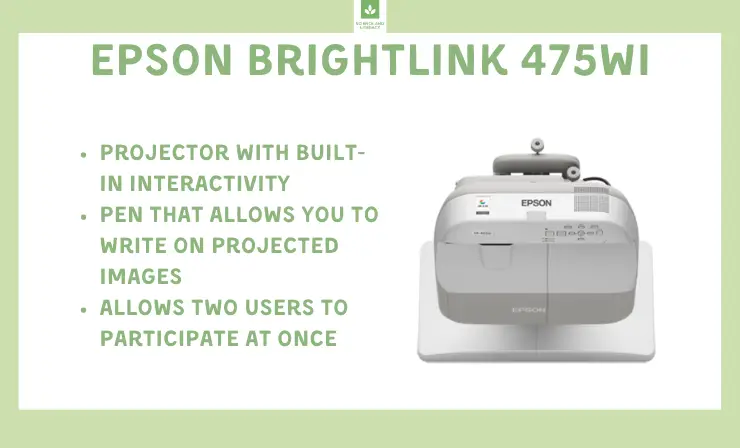 With WXGA resolution and 3LCD technology, it delivers sharp, clear images and videos. And with a mount included, it's easy to set up and use. Plus, its wireless connectivity lets you control it from anywhere in the room.
Pros
The BrightLink 475Wi projector lets you write on projected images from iPads, document cameras, and Blu-Ray players without connecting to a computer.
Innovative pen technology allows two users to annotate simultaneously anywhere on the board.
No driver installation required. Auto calibration and convenient tools like horizontal keystone correction make it easy to get started quickly.
Ultra-bright WXGA images up to 100″ from less than 13 away make it easy to engage all students.
Cons
Still as expensive as an interactive whiteboard.
The picture could be better.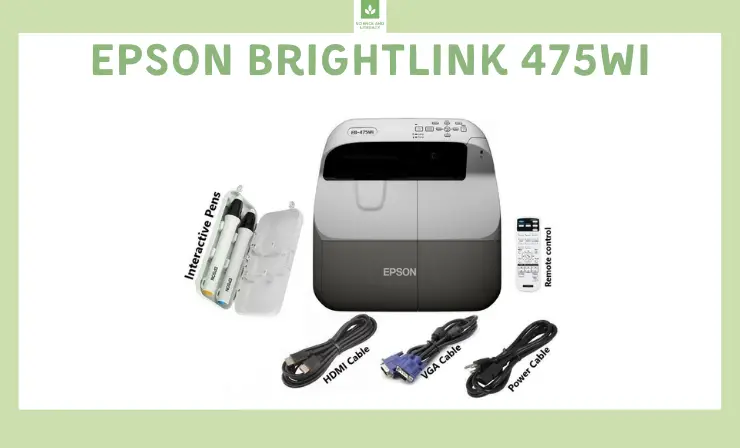 Use it to…
actually "write" directly on your projected content as you show it;
write simultaneously or independently;
work close to the screen, as in a classroom environment while inviting participants to annotate along with a teacher.
Elementary school teacher, Chris Wilson, uses BrightLink interactive projectors to enhance learning, by using existing materials and software. He shares his experience in the video.
Top choice for: those who need wireless control to use it from anywhere in the room.
9. Soulaca Smart Whiteboard
Buying Options
The Soulaca Smart Whiteboard is a touchscreen electronic interactive whiteboard presentation that comes with a rolling TV stand. This product is perfect for teachers and classroom use, as it provides a dynamic and engaging way to present information. The touchscreen feature makes it easy to interact with the audience, while the rolling TV stand ensures that the whiteboard is always at the perfect height.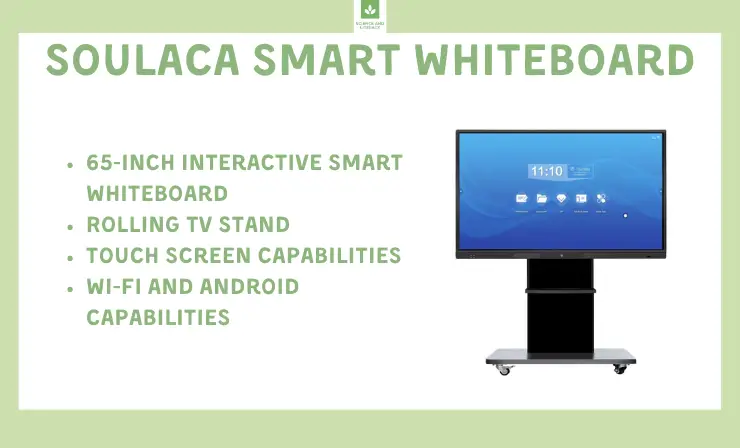 This Smart Whiteboard set is Android 8.0 based with a RAM of 3GB and a Flash Memory of 32GB.
Pros
It comes with a rolling TV stand, making it perfect for moving along the classroom.
The built in WiFi allows for easy connection to the internet.
The touchscreen monitor can be used as an interactive whiteboard or even a huge cellphone! It supports camera use, web browsing, and a variety of applications from the Android market.
This smart whiteboard has all the ports you need for connecting to other devices! With the HDMI and VGA ports you can even use it as a computer monitor.
Cons
May be difficult to mount to the wall if you do not want to use the rolling stand.
No more than two students able to participate at once.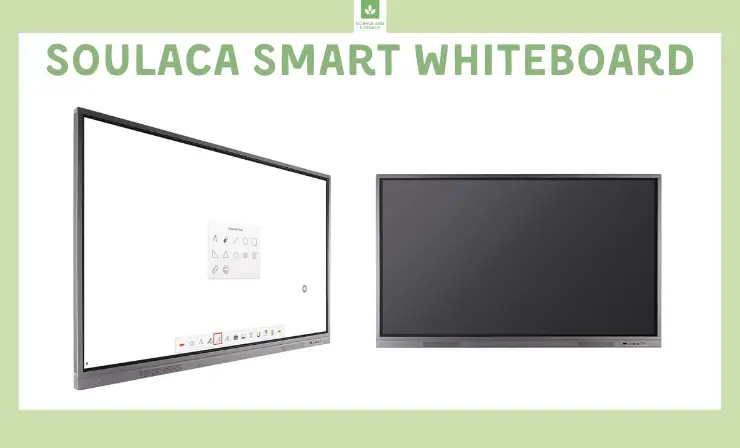 Use it to…
annotate as needed, share via video conferencing, or pin screenshots;
make real-time collaborations with students.
Top choice for: moving the screen around the classroom.
10. Chengying
Multi Touch Frame
Buying Options
Do you need a large touchscreen display that can be used in a classroom setting? If so, the Chengying Multi Touch Frame is ideal. This frame has a 75 inch diagonal display and uses infrared touch technology, so it's compatible with a wide range of devices.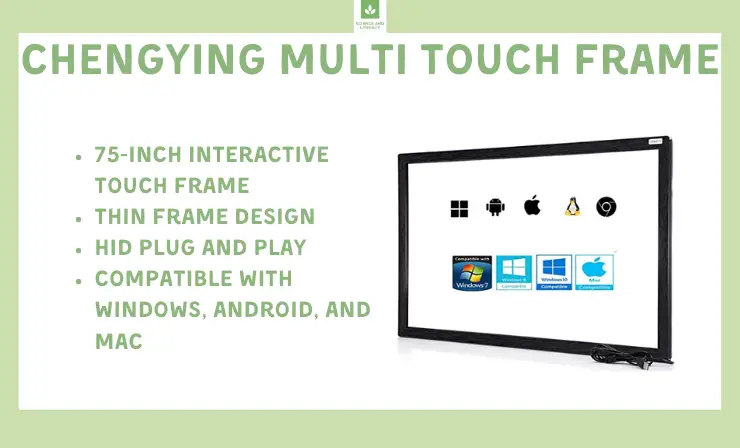 Plus, the USB interface makes it easy to connect to a computer or other device.
Pros
With this large screen, you can easily work on group projects with others or just have more fun playing games with friends and family. The infrared touch technology makes it possible to have up to 10 people touching the screen at the same time without any interference.
This overlay is compatible with most standard LCD monitors and comes with a USB interface for easy connection. The infrared touch panel registers touches accurately and quickly even when users are standing some distance away from the screen.
No drivers or software needed! The Chengying Multi Touch Frame can be used immediately with any computer that has Human Interface Device (HID) support.
Cons
This is only the frame. It does not include the screen or monitor.
May experience some lagging from time to time
Use it to…
make your interactive whiteboard multi-touch.
Top choice for: individuals who already have a device so they want to buy this frame to make it touch screen.
11. JYXOIHUB 55 Inch Digital Electronic Whiteboard
Buying Options
The JYXOIHUB 55 inch digital electronic whiteboard is a versatile and advanced interactive display designed to enhance collaboration and productivity in various settings. The whiteboard boasts a high-resolution display, ensuring crisp and vibrant visuals for a captivating user experience.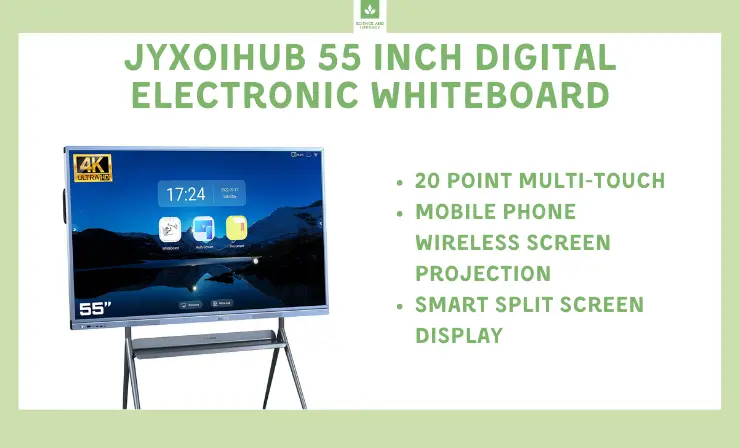 It features intuitive touch functionality, enabling users to write, draw, and manipulate content effortlessly using either a stylus or their fingers. Additionally, the whiteboard integrates seamlessly with computers and other devices, allowing for seamless content sharing and synchronization.
Pros:
Large display size: The 55-inch screen provides ample space for creative expression and collaboration, accommodating multiple users comfortably.
The whiteboard's impressive display resolution ensures clear and detailed content, enhancing readability and engagement.
The touch-sensitive surface offers a user-friendly interface, making it easy to navigate, annotate, and interact with digital content.
The whiteboard's compatibility with various devices facilitates convenient content sharing and synchronization, enabling effortless collaboration.
The JYXOIHUB whiteboard can be utilized for a wide range of applications, including brainstorming sessions, presentations, teaching, and interactive learning experiences.
Cons:
As a sophisticated electronic device, the JYXOIHUB 55 inch digital electronic whiteboard may have a higher price point compared to traditional whiteboards or other interactive display solutions.
The whiteboard's electronic components may require occasional maintenance or updates to ensure optimal performance and longevity.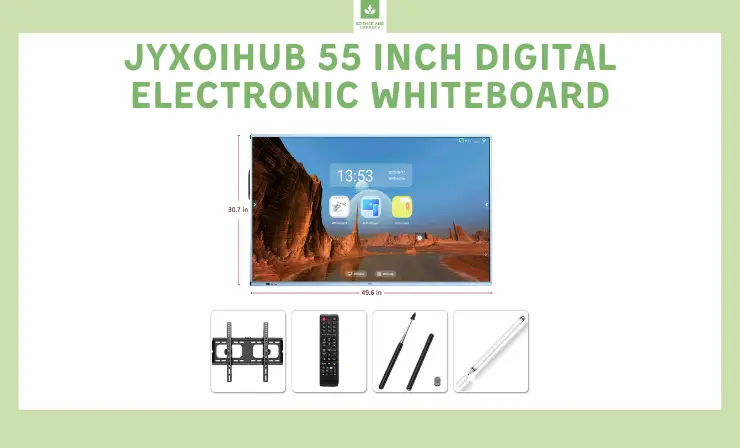 Use it to…
create dynamic and interactive lessons by incorporating multimedia elements, interactive activities, and real-time collaboration with students.
demonstrate complex concepts, diagrams, and visual aids with greater clarity, making it easier for students to comprehend.
enable group work and collaboration, where students can collectively brainstorm ideas, solve problems, and present their work.
annotate digital documents, slides, or websites, highlighting key points and providing clarifications to enhance understanding.
Top choice for: teachers who need a mobile phone or a laptop wireless screen projection.
You May Also Need
Once you have decided on the perfect digital whiteboard for your classroom, I would like to tell you about a few other products that I hdeviceave come across. Each of these products will be useful and beneficial to your lesson plans involving your new whiteboard.
The following are a few items that you should consider purchasing along with your interactive board: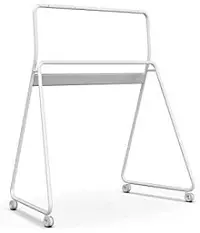 It is perfect for anyone looking for a portable smart digital monitor holder. It can hold interactive whiteboards that are 55 inches.
This product is lightweight and designed specifically to store or hold your device while moving it around your classroom, home, or office.
Wherever you need your digital whiteboard, you can easily maneuver it with this stand on wheels.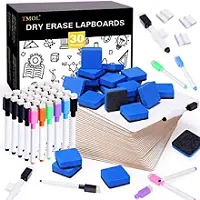 This 30-piece kit of dry erase, double-sided lap boards are perfect to hand out to your students for activities. Your students can write or draw whatever you instruct them to by following along with your interactive whiteboard.
This kit also comes with 60 dry erase markers, 30 erasers, and 30 pen holders. It is an awesome deal that I believe any teacher should consider adding to their classroom.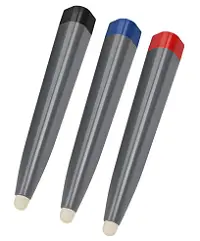 The Naysku Stylus Pens are infrared touch pens for digital boards. In fact, they have been specifically created to use for electronic  presentations. Each pen has a pressure sensor which allows it to write on it like a regular pen.
However, every mark can easily be erased and does not cause any permanent damage. In my opinion, these stylus pens are a must-have product when using a smartboard!
If you have heard of the terms smartboard and interactive whiteboard and are curious to know the difference, I suggest taking a look at my other article that covers this topic. In this article, I explain what each of these products are to help you understand the difference as well as help you figure out which one you are looking for in your classroom.
I have also written about several smartboard games for preschoolers. If you are teaching preschoolers or young children with i, you should consider reading my other article for ideas on a few games involving a smartboard. You will be redirected to the article by clicking here.
How to Use Interactive Whiteboards in the Classroom
There are a variety of different ways that you can use them in a classroom. You can create games, use the internet as a resource, play games, and do lessons on the internet, and so much more. The options are limitless.
My favorite way to use my new whiteboard is to write math or English problems on the board and have my students go up to the board and show their peers how to solve the problem with explanations. This is a fun way to engage your students and get them more involved as well as move around.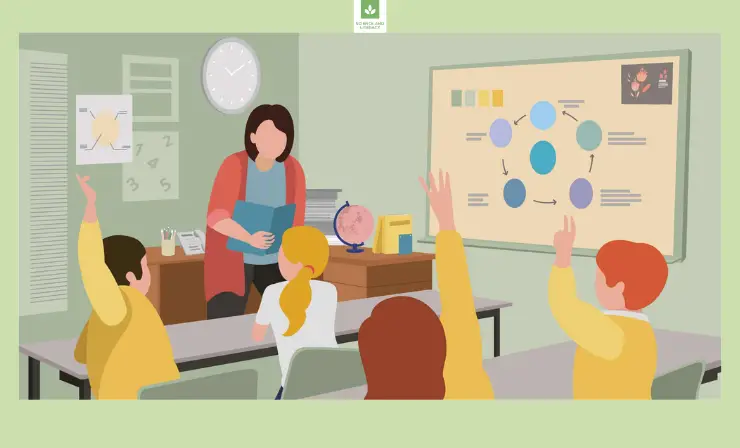 I personally feel like when you have a child teach and lead their friends in lesson plans, it boosts their confidence as well as helps them understand the problem better themselves. In addition, when you add technology and electronics to learning, kids in the modern-day classroom tend to learn at a quicker pace.
This device can be useful even in kindergarten. It will be especially effective to use it with other gadgets.
Check out this #kindergarten #numberbond #lesson! This would be great #independentpractice on a tablet, or #wholegroup review on an #interactivewhiteboard for #addition and #subtraction within 10!
➡️ https://t.co/DrPONmkL5R pic.twitter.com/IdZfkIO3Ed

— I Know It (@iknowit_com) February 6, 2020
For an in-depth explanation of the 21st-century style of learning on it, check out PembrokePublish's YouTube video. During this video, you will hear Jennifer Harper and Brenda Stein Dzaldov speaking about the book that they wrote, which is titled "Literacy Smarts." The book and video both explain several different ways to use it in the classroom. If you are planning to purchase it, I highly recommend watching this video.
F.A.Q.
I have tried to answer frequently asked questions that you may have when choosing a digital whiteboard.
What are the limitations of electronic whiteboard?
Interactive whiteboards offer a great potential for learning, but there are some points to consider. Long hours of lesson preparation can be required and insufficient training may lead to issues with student height limitations, display, lighting and remote access hindering the effectiveness of teaching in an online environment.
Does an interactive whiteboard need a computer?
Absolutely. To use an interactive whiteboard, you'll need two other technologies – a computer and projector. The application on your computer sends the displayed image to the projector that projects onto the board – turning it into an engaging platform for presentations or activities.
How do interactive whiteboards enhance learning?
By incorporating interactive whiteboards into their lesson plans, teachers can present subject material in an immersive way that appeals to multiple learning styles. With this tool at the ready, students are exposed to a variety of engaging methods for understanding information – from hands-on touch interaction and visual aids through to listening exercises. Not only does this widen knowledge horizons; it also ensures better comprehension and long-term retention of what has been learned.
Is interactive whiteboard an assistive technology?
Yes, it is. Actually, assistive technology is any tool, physical or digital, that helps students with disabilities learn.
From corrective eyewear that allows children to see properly and interact whiteboards full of interactive content, assistive tech is transforming classrooms into vibrant hubs of activity enabling everyone – regardless of disability – find success at school. Moreover, these same devices are breaking barriers outside the classroom too; allowing individuals with a wide range of physical impairments to participate more fully in day-to-day life activities like shopping or going out on errands independently.
Access your files in an instant from any location.
Engage with students on a deeper level through the board's interactive features.
Invite everyone to join remotely – no matter where they are located.
Make presentations even more impactful by adding videos, images or audio recordings easily into the mix.
Keep Learning
Conclusion
I hope that this article helped you find the best interactive whiteboards currently on the market as well as helped you select the perfect one for your classroom. These devices are becoming increasingly popular among teachers and professors, as they are the new way to teach in the 21st century. Parents and teachers both have seen great results from them, so they will not be disappearing anytime soon. Therefore, if you have decided to purchase one of these intriguing devices, I believe you are making a very wise decision. Welcome to the new way of teaching and learning in the modern-day classroom!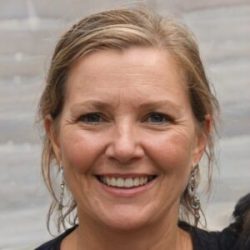 Latest posts by Simona Johnes
(see all)