As a teacher with many years of experience, I have learned that seating charts are very effective. Some teachers may decide to let their students sit wherever they choose, but this could cause chaos down the line. The reason that I believe this is because you may run into issues such as two students wanting the same seat, students becoming too chatty with the person sitting next to them, or students who purposely choosing to sit in the back to not pay attention. Therefore, whenever I discuss my recommendations with other teachers, I always mention seating charts.
Seating charts are underrated as they can provide a great learning environment for your students. There are no exact directions on where to place students, but a thought-out seating chart will create an effective learning environment that will allow students to reach their full potential. If it is before the first day of class and you do not know your students well yet, my advice is to consider using a seating chart maker classroom tool. This will take the stress and pressure off your hands and develop a useful seating chart that will work great for the time being. Once you have gotten to know your students, you may need to go back and make some changes to your seating chart.
After reading this article, you will officially know:
You can watch this video, it will briefly retell the content of the article.

Here's a brief description of each maker.
My List of 7 Seating Chart Makers Classroom
Platform
Why choose it
1. Adobe Express Classroom Seating Chart

A variety of templates to choose from
Several backgrounds, designs, and icons for personalization
Easy site to create customized classroom seating charts

2. Mega Seating Plan

Contact tracing available
Able to import classes
Ability to create your classroom layout
Can use color coding and display data

3. Click School Classroom Seating Planner Generator

Add and edit names
Adjust seating plan
Table plan
Screen plan

4. Seating Chart Maker

Automatic seating
Ability to change seating to form groups or individual work
Can create a seating chart in just minutes

5. Kami Digital Seating Chart

Customized and interactive seating charts
A variety of templates to choose from
Ability to get creative, organize, and focus on the details

6. Template.Net Classroom Seating Chart

A lot of different templates to select
PDF templates that are easy to download and print
Easy tool to create and arrange students in certain orders

7. SmartDraw Classroom Seating Chart

Different types of classroom seating templates to choose from
Easy to edit and customize
Wonderful graphics that will provide you with an in-depth look at your classroom layout
Now let's take a closer look to each maker.
7 Seating Chart Makers Classroom
A seating chart maker classroom tool is a great idea for teachers who need an organized seating plan for their students before the first day of school. You most likely will need a seating chart quickly, which may be hard and almost impossible to fit into a teacher's hectic schedule. However, there are tools out there that will create random seating plans as fast as a heartbeat for you. Below, I will tell you about the 7 best seating chart makers that I found.
The Adobe Express Classroom Seating Chart is an easy way to create a classroom seating chart. Users will not need any designing skills to construct a good seating chart for their students. All you need to do is choose a template that fits what you are looking for, fill in your students' names, and add fun backgrounds to personalize it.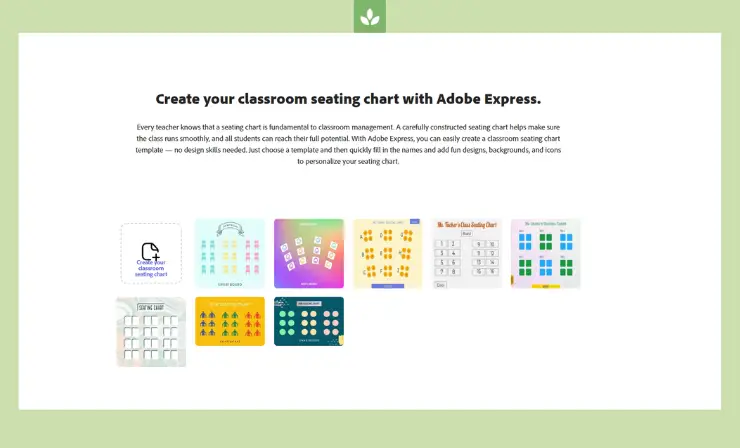 Pros:
Hassle-free design
Fast and easy
Free templates to choose from
Customization available
Cons:
Best For: Adobe Express Classroom Seating Chart is best for teachers who need a variety of different ways to make seating charts for their students as quickly as possible. This tool is a plus for teachers who want to customize and personalize their seating charts as well as add colors.
Mega Seating Plan is a very popular seating chart tool among teachers. It is known to be free, easy, and fast. Close to 200 countries currently use Mega Seating Plan because it saves teachers time and effort when it comes to constructing a good seating chart.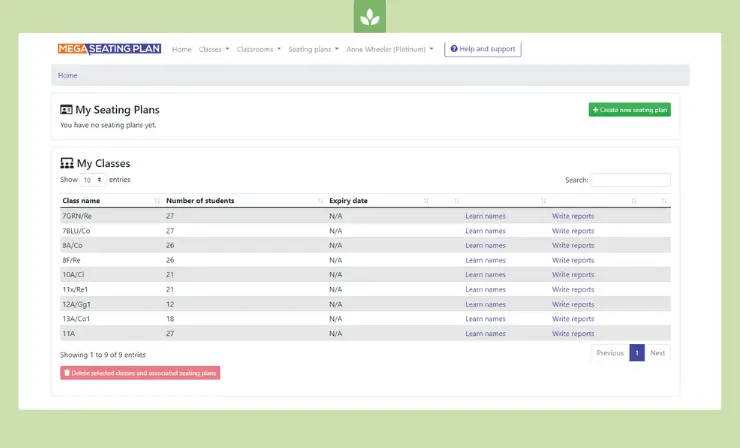 Pros:
Fast and easy
You can do so much with Mega Seating Plan such as import classes, design your classroom layout, display data, and use color coding
Cons:
To take full advantage of Mega Seating Plan, you will need to pay for the premium version
Best For: Mega Seating Plan is best for teachers who are looking for a tool that can create a fast-seating chart for their students. If you are looking to save time, this tool is a great choice.
Click School Classroom Seating Planner Generator is a basic seating chart designing tool. Teachers using this tool simply add their students' names and the chart will begin to fill.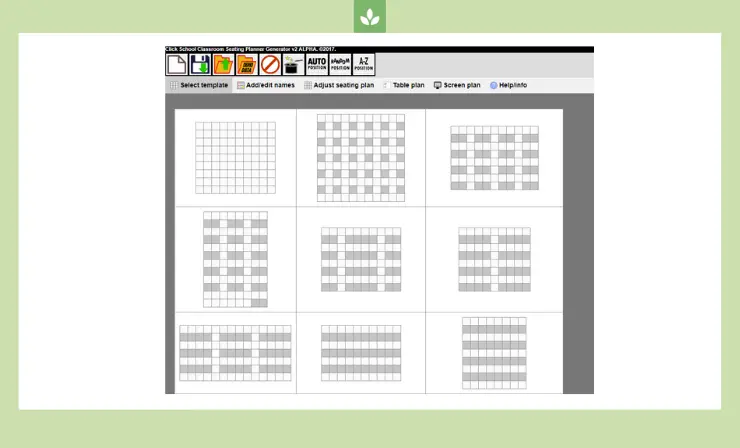 Pros:
Simple and basic design
Fast and easy
Variety of templates
Cons:
Unable to personalize or add color
Best For: Click School Classroom Seating Planner Generator is best for teachers who are beginners to seating charts. This tool is easy, basic, and simple to start using.
Seating Chart Maker is used to construct seating charts for classrooms. You can easily create your seating plans and then print them out for your class to see.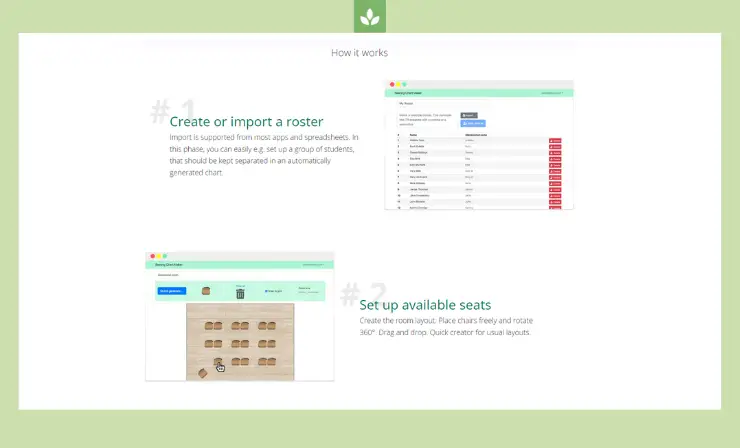 Pros:
Can create seating charts based on alphabetical order, random, or from scratch
Can change seating chart at anytime to move students away from each other, form groups, or move to a different row
Only takes three steps
Cons:
Best For: Seating Chart Maker is best for teachers and educators looking for a great tool that will make the classroom seating chart process easier and faster.
Kami Digital Seating Chart is a wonderful online tool that will make your first day back to school painless with a customized seating chart. When you have so many different tasks to get done, Kami Digital Seating Chart will relieve you from the stresses of creating a seating plan for your students.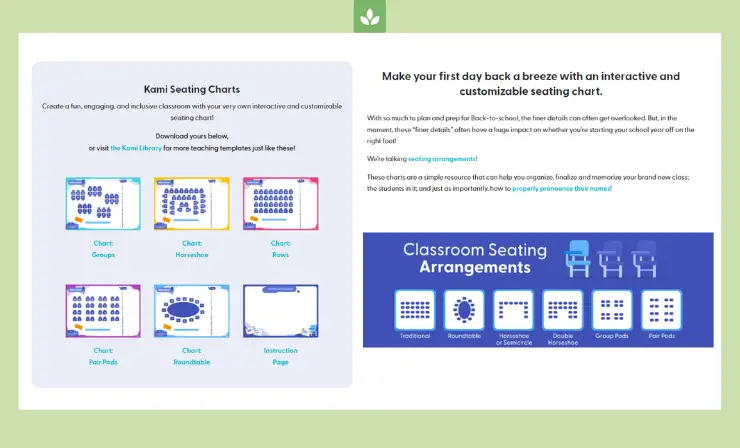 Pros:
There are several different ways you can create a seating chart, such as for a group, rows, horseshoe style, pairs, or a roundtable
Easy to use
Can customize and make colorful
Cons:
Best For: Kami Digital Seating Chart is best for teachers and educators who are looking for a fully functional seating chart tool. This seating chart tool offers a lot of customization, personalization, and organization to your life as a teacher.
Template.Net Classroom Seating Chart is an excellent tool to organize your class. There are a variety of templates on this site to choose from that will provide order in the classroom. The charts that you can create with Template.Net will give you a visual example of how your students will be placed in your class.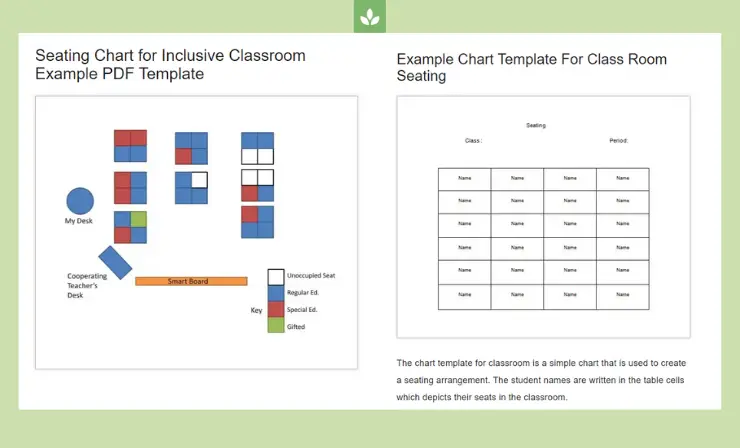 Pros:
Very basic and easy to use
Several different types of templates
Can rearrange your chart at anytime to benefit special-need students, different learning styles, or to keep chatty students apart
Cons:
Inability to get very creative
Inability to use personalization or a lot of colors
Best For: Template.Net Classroom Seating Chart is best for teachers looking for a basic seating chart site that does not require much time or effort. It is a great tool for beginners who do not have much experience with making seating plans and want to create a chart and print it for their students' convenience.
SmartDraw Classroom Seating Chart is a great seating chart option for teachers interested in visualizing their classrooms, where their students will sit, and edit and customize their classroom layout in only minutes. The creativity and graphics on SmartDraw are awesome!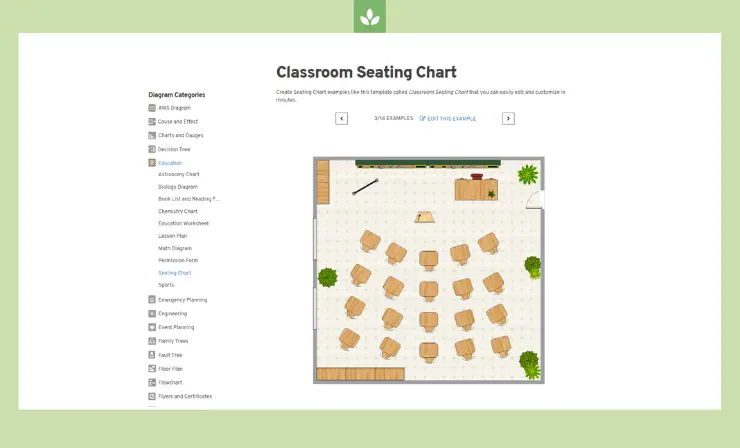 Pros:
Amazing graphics
Ability to change and edit your classroom seating chart
The customization and creativity are great
Easy to use
Cons:
Best For: SmartDraw Classroom Seating Chart is best for teachers and educators needing a tool that will allow them to organize, customize, and assign seating for their classroom. This tool may be the last on my list, but it is a great one to consider using!
For an in-depth video on a seating chart that works, take a look at Laura Randazzo's YouTube video. In the video, you will learn about how the layout of your classroom will have an impact on your students' learning, how to build a classroom seating chart, and many tips that will be beneficial to you in this process.
If you need a quick, random seating chart generator, you can always use Microsoft Excel. Mr. Bodger's YouTube video explains how you can do this based on your classroom's layout. This video is beneficial and informative for first-time teachers needing a random seating plan as quickly as possible.
When you are developing a classroom seating chart, my suggestion is to ensure that everyone can see the interactive whiteboard. For those that have never heard of an interactive whiteboard, these devices are amazing. They allow your students to participate in activities and games that encourage learning.
I also found an interesting research that might be useful for you and your classes.
What's the best seating plan for your classroom?

Here's what research says, to help you make a choice ➡️ https://t.co/W56gTsbsWk pic.twitter.com/n5TjSYo9ej

— InnerDrive (@Inner_Drive) May 15, 2022
Five Tips to Get Your Students to Sit Quietly in Class
There may be times when you need your students to sit quietly in their seats for a few minutes. This is understandable and quite common because teachers need moments to get things in order and ready. Encouraging your students to sit quietly may be difficult, but I will tell you five tips on how to successfully do this below.
The following are five tips to get your students to sit quietly in class:
1. Use visual cues
When you are reading something aloud to your students and want them to sit quietly and listen, you can hand out objects or bean bags and tell them to throw the objects into a bucket each time they hear you say a certain word. You can choose any word and let your students have fun with this. They will sit quietly and listen for the special word to be said.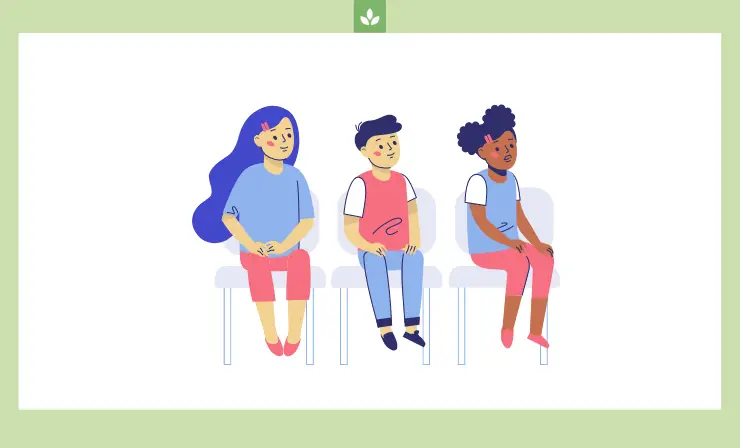 2. Use carpet squares
You can use carpet squares or cut your own squares from construction paper. Place them on the floor, making sure they are spread out. Tell your students to sit where the squares are and ensure that no one is too close to their peers. The goal is for the student to remain in that place and to pay attention to what you are teaching or reading without moving.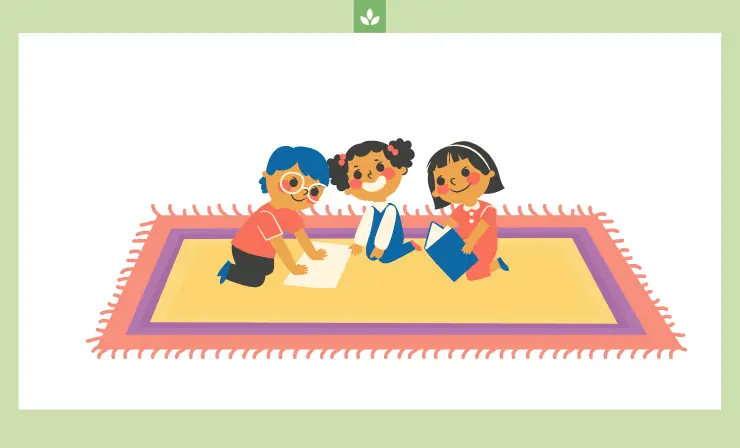 3. Make sure your students have the correct sized chairs and desk heights
It is important to make sure all your students fit inside their desks and chairs properly. If one of your students is too tall, you may need to get them a different sized chair and desk. Without the correct sizes, your students will be uncomfortable, which may lead to them moving around a lot.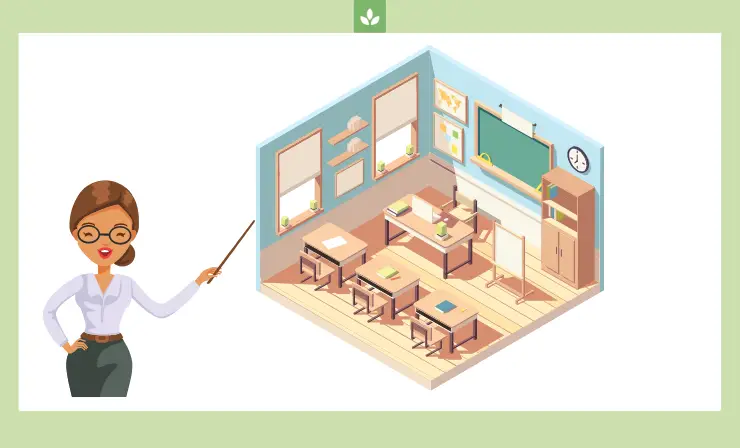 4. Tell your students to finish your sentence
Teach your students different sayings. You can do this by saying part of the saying and encouraging them to finish it. For example, if you say, "the only person stopping you is," they should yell out, "YOU!" When they realize that you could say these sayings daily, they will be more likely to pay attention. In addition, you can hand out candy to the ones that finish your sayings correctly, which will also encourage others to remain attentive, be quiet, and wait for the saying to be said.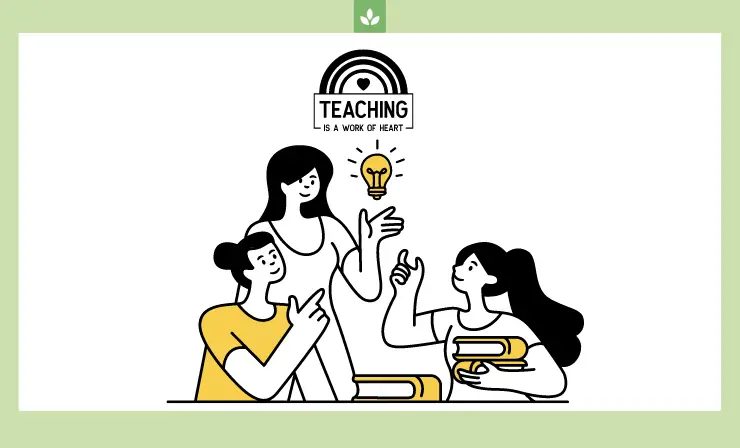 5. Use a checklist
You can hand out checklists for the day or week and tell your students to mark off every assignment or task that has been completed. At the end of the week or day, they can hand in this checklist. This will encourage them to be quiet, attentive, and make sure that everything is being completed on time.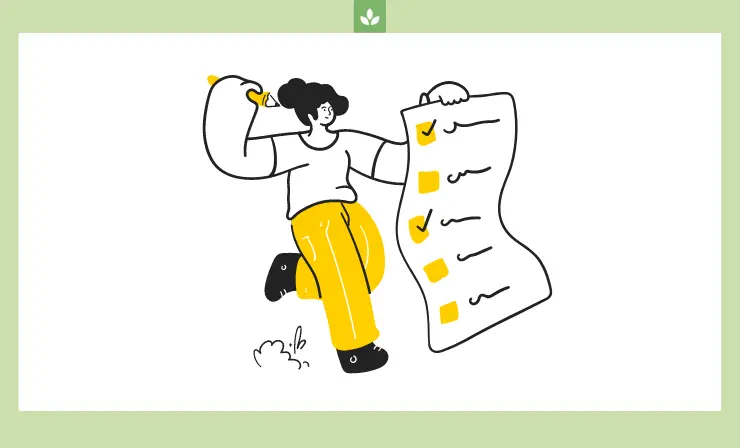 To get a detailed overview of several different seating chart layouts and ideas, my advice is to watch Mr. and Mrs. Social Studies' YouTube video. The video will show you different examples of seating charts that you can use for your students. The goal of this video is to make this tedious process easier for teachers by providing tips, ideas, and strategies on where to place your students based on their learning styles, needs, and preferences.
Document cameras are another device that you need to make sure every student in your classroom can see clearly from their seat. These tools allow the teacher to place a sheet of paper or object underneath, and the entire class should be able to see it. The document camera is the modern-day projector that magnifies whatever you put underneath it.
If some of your students are still struggling to keep up even after you have switched around their seats, I recommend purchasing a camera for recording lectures. This will allow your students to go back and re-listen to your lectures until they feel like they fully comprehend everything you have discussed. You will no longer have to keep stopping and getting behind on your scheduled curriculum.
Useful Resources
Conclusion
I hope this article helped you find the best seating chart maker classroom tool. After evaluating over two dozen different types of seating chart makers, I am confident that the ones in my list work the best for teachers world-wide. You may even find more than one that works well for you and your students. I am a firm believer in using seating charts in my classroom, and I believe that you will be too once you start implementing them into your classes. Most of the teachers I communicate with wish that they had thought of using these tools sooner. Good luck and happy teaching!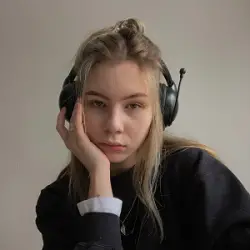 Latest posts by Paulie Ivanova
(see all)