Update of February 16, 2023: I've added:
some usage cases in product reviews;
the updated advanced guide on choosing a personal amp for teaching;
the F.A.Q. section to cover all the probable questions you may have.
As in-person teaching becomes more common again, many teachers are finding that they are straining their voices trying to be heard in the classroom. Budget cuts in many school districts have led to increased classroom size, and the use of face masks in the classroom can cause teachers' voices to be muffled.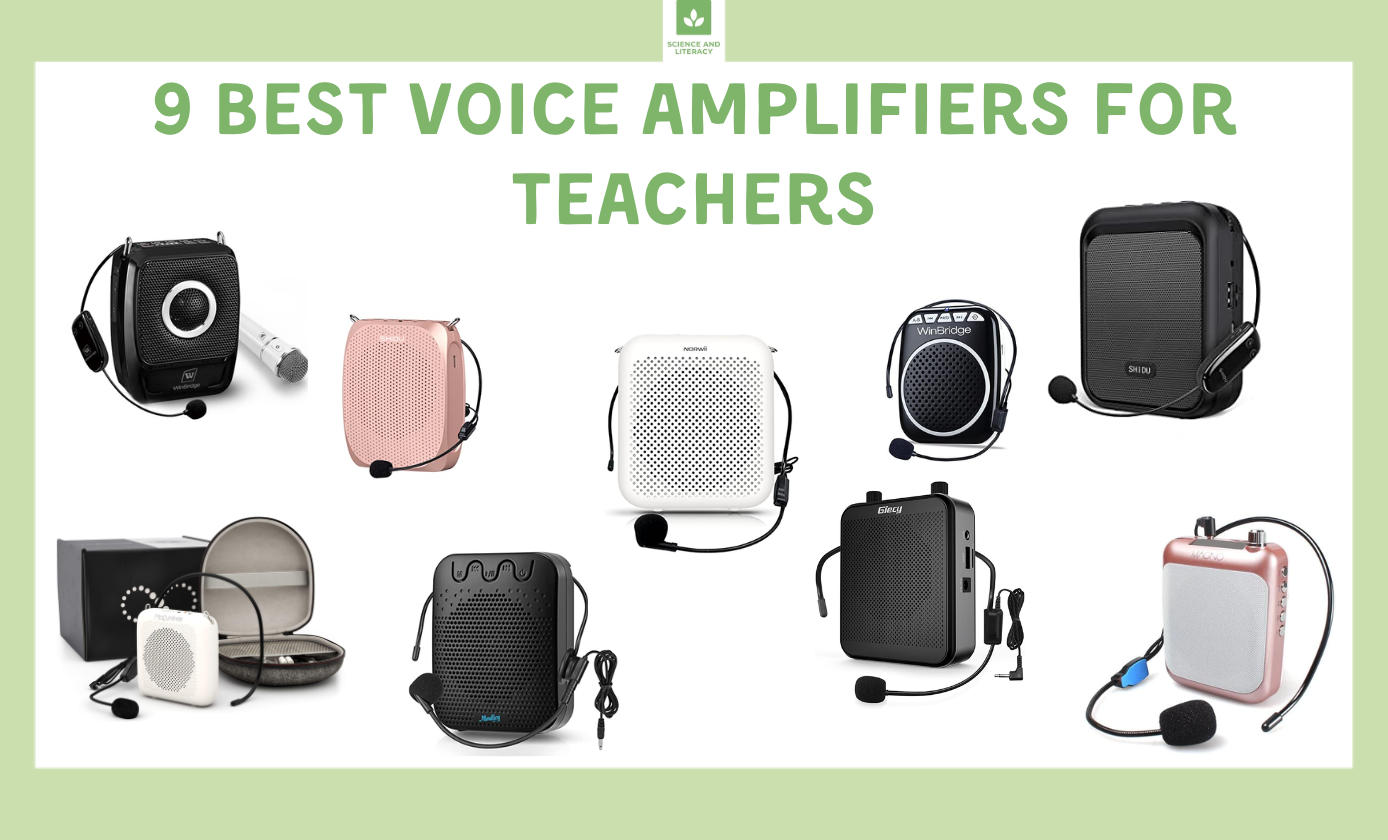 If you've been having these issues, you might want to consider voice amplifiers for your classroom. You know, during the pandemic we do need these tiny helpers to speak while wearing a mask and ensure the safety of our students.
Just ordered a voice amplifier for school. One day of over-projecting my voice through a mask is enough for me! I reckon they are going to be an essential for every teacher before long #edchatie

— Laura Quigley (@MsLauraQuig) September 2, 2020
I know how difficult it can be to research technology for the classroom from personal experience, so I wanted to create an ultimate guide on the best voice amplifiers for teachers with everything you need to know about them.
More of a fan of watching videos than reading long articles? For you, we've made a video about the best amplifiers for teachers. Check out our YouTube channel, get excited!
After reading this article, you will know all about:
What Is a Voice Amplifier?
A voice amplifier is a device that helps to increase the loudness of a person's speaking voice. It is also known as a personal amplifier, PA system, or sound amplification system. They come in both handheld and wearable designs, with the former being ideal for those who need to move around the classroom while speaking.
There are a few different styles of microphones for personal voice amplifiers. Some come with a small, handheld microphone. Others have headsets, which include a microphone that is mounted in front of the mouth. There is also a style known as the collar microphone which circles the neck like a necklace.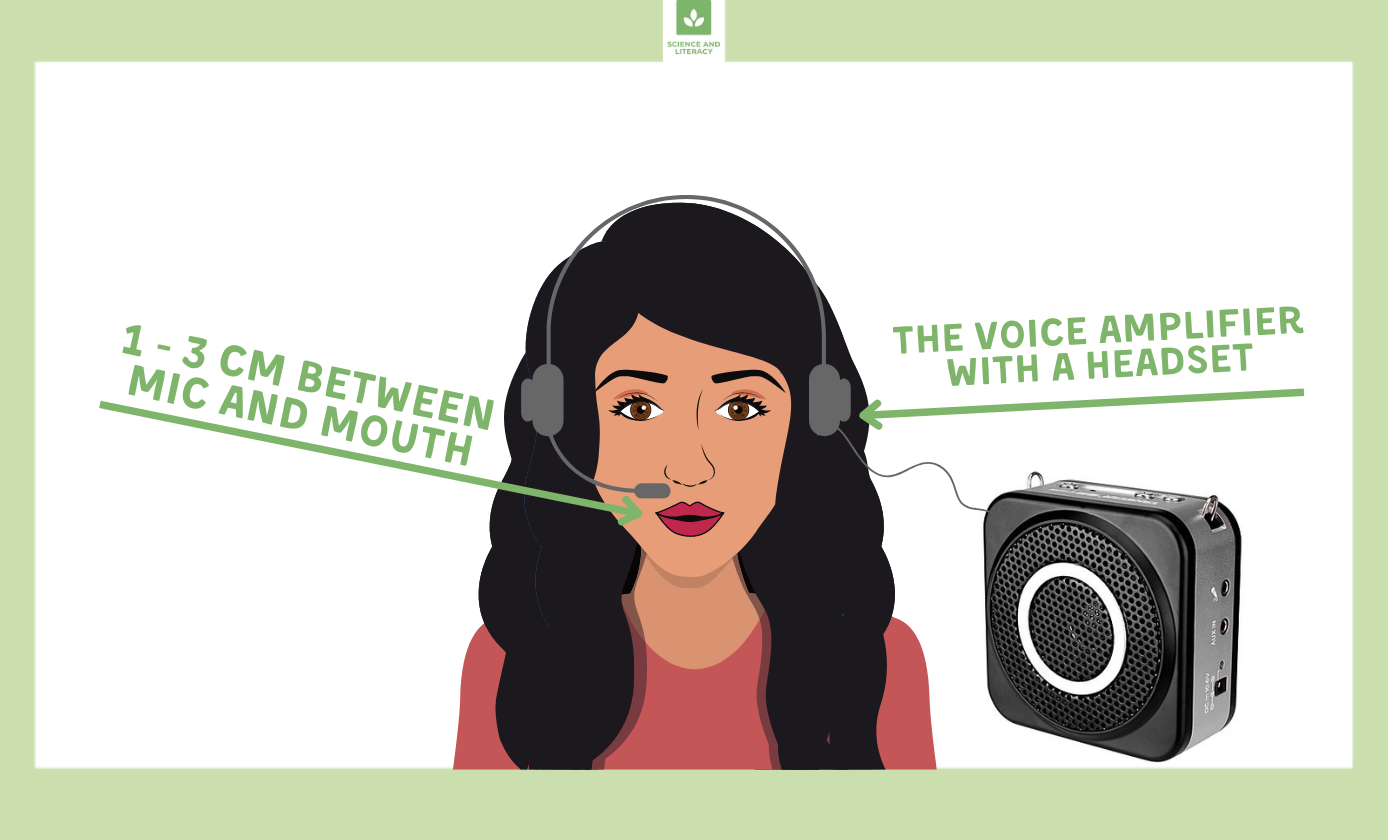 The key to using an amplifier correctly and ensuring a clear sound is to set it up correctly. Depending on a type of an amp, you can position it on a headset microphone, an earpiece, or as a clip. The microphone should be between 1 to 3 cm from the mouth to avoid feedback. Any crackling noises may indicate that it is not connected properly. It can also be worn around your waist, your neck, or positioned on a chair or wheelchair.
If you want to learn more about this, read our article, where we talk in detail about what a voice amplifier is.
How to Choose a Voice Amplifier
Before we get into the list I have compiled on the voice amplifiers for teachers, it's important to know what you're looking for. Here are some of the criteria to pay attention to when choosing a new device.
4 Criteria for Choosing a Voice Amplifier
Criterion
Description

As a rule of thumb, a battery capacity of 1500 or more is considered good for this gadget. It gives approximately 6-8 hours of continuous working time. The amplifier with the 1800mA battery will work for about 10-12 hours without charging.

The NORWAY gadget has the most powerful battery among models in my list, it can work up to 38 hours without recharging.

A full charge usually takes 3 to 5 hours.

2. Bluetooth vs Wired
In a bluetooth (or wireless) amp, the microphone and the speaker connect via bluetooth, meaning that you can place the speaker closer to the students, or in the middle of the room and speak at your normal volume. Unfortunately, a wireless device is easy to run out of power needs frequent charging, and it is tedious to use.

Alternatively, wires provide an added degree of reliability when it comes to maintaining connection so that may be better suited if necessary. Plus, the operation is straightforward, even without checking the manual. Just plug and play.

You determine what is a priority for you ?

3. Ease Of Use
If teaching with your hands comes easier than through words alone, look out for an option that offers a convenient wireless device so everything can be done at once. For example, WinBridge WB001 comes with a convenient waistband so you can attach it to your body and move around the classroom.

For those hoping to take their amp outdoors on adventures, make sure it is waterproofed — otherwise a rainy day could spell disaster!

Take a minute to consider when and where you will use your amp.

If you're teaching outdoors or to a large lecture hall, you might want to look into getting an amplifier with a large range. For example, the MAONO model — it has 800 sq.m sound coverage, while the Giecy modelcover about 20000 sq.ft (1000 sq.m).

As a rule, the price does not depend much on the characteristics of the gadget, most amplifiers are approximately the same — about $30. The WinBridge models are in the higher price range, but, as the reviews show, they are quite durable.

The budget of my guide ranges from US$20 to US$140, so you can buy the most cost-effective voice amplifier for teachers.
Sometimes as teachers we don't even realize how noisy our classrooms can get. Check out the below video if you want to hear some examples of loud classrooms that could benefit from a voice amplification system.
Before presenting you my top-list, I'd like to to focus your attention on the three models that I liked the most.
Editors' Choice
If you are not into reading long articles and are looking for a device for your particular needs, here are my quick suggestions for you:
NORWII S358 — for teachers who conduct lessons all day long and don't have time for charging their amp.
WinBridge WB001 — for those who need a small and adjustable microphone for walking around the classroom.
Giecy G300 — for educators who conduct lessons or excursions outdoors and need to be heard taking into account the noise of the street.
Now just have a look at our list of my favorite voice amplifiers. It's gorgeus, I promise.
Our List of 9 Best Voice Amplifiers for Teachers
Product
Where to Buy
1. MAONO AU-Co1 →

For those who need a voice amp with an FM radio.

2. NORWII S358 →

For teaching long hours without charging.

3. WinBridge WB001 →

For playing music from TF card or flash drive.

4. SHIDU S258 →

For the hands free use.

For those who need a plug-and-play device.

For teaching to lecture halls of 50 to 150 students.

For teaching in a socially distanced classroom.

For producing extremely clear sound.

For large class sizes and teaching outside.
And now you're welcome to have advice on how to choose a device that'll fit your perfectly!
The Best Voice Amplifiers for Teachers
Now that we've gone over what a voice amplifier is and discussed the benefits of using one in lessons, let's get into these devices. Teachers and students can agree that having clear sound quality and being able to hear the lecture are extremely important for effective learning.
Does anyone have recommendations for mid-priced voice amplifiers please? #education #educhat #facemasks

— Maria O'Connor (@moc_red) September 5, 2020
Well, here are our top choices to help you find the best match for you!
1. MAONO AU-Co1
Buying Options
First of all, we have the MAONO pick, a compact and stylish choice for all your classroom needs. This is a fairly inexpensive and high-quality option for those who need everything at once.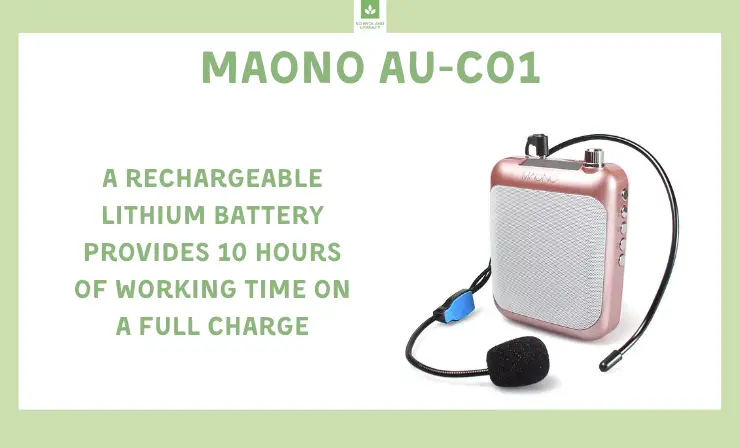 This MAONO model comes with many impressive features, including a speaker with capabilities up to 126 decibels. This package comes with a wired headset microphone, a waistband, an audio cable, and a USB charging cable.
Pros:
10 hours of working time on a full charge means that this device will last through a full-time workday.
There is an FM radio function, that allows you to play music in the classroom.
This device is powerful enough to cover large classrooms: it can cover about 10000 sq. ft (1000 ㎡).
Cons:
This model does not have Bluetooth capabilities, so it is not compatible with all microphones.
Though this device is compact and lightweight, it does not come with a carrying case for transport.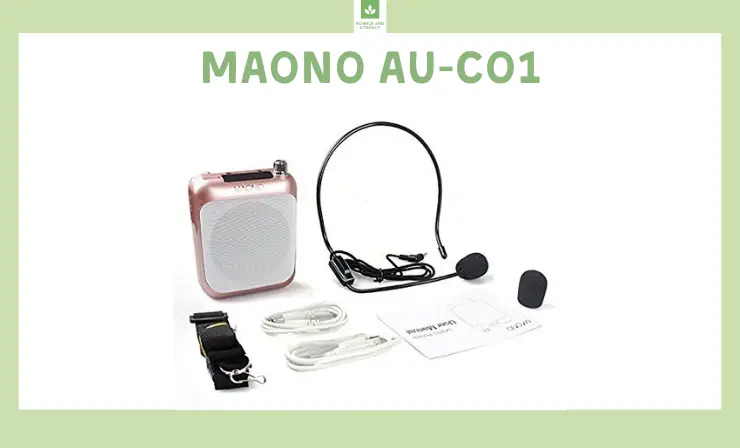 Use it to:
amplify your voice in group settings while wearing medical masks.
play FM radio in the classroom.
to have social distancing meetings.
Top Choice for: Teachers who need not only an amp, but also an FM radio that you can listen to your favorite channel anywhere.
2. NORWII S358
Buying Options
Up next is the NORWII S358 portable rechargeable device, a popular choice with impressive battery life. This model costs almost half as much as the previous one, wow!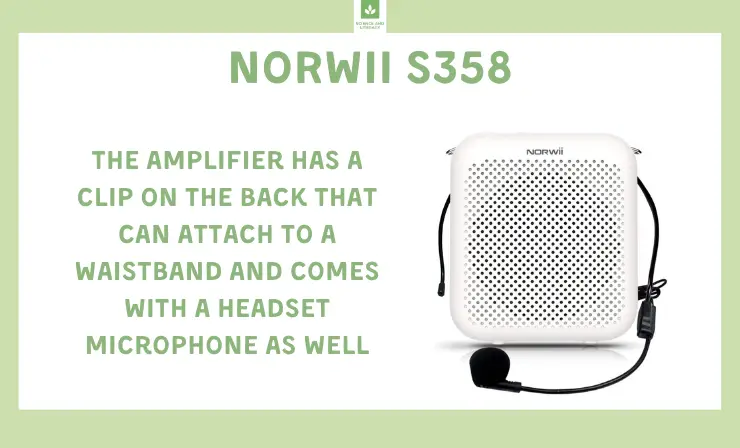 This NORWII device boasts many impressive features, including a 10W sound capability that can cover a range of up to 10,000 square feet. A double power lithium battery allows for an impressive 18 to 20 hours of runtime per charge.
Pros:
The battery last all day and then some so it's no big deal if I forget to charge it.
This device is lightweight and thin, only measuring at 4.0 x 3.59 inches. This makes it very easy to transport.
This amplifier can also work as an MP3 player, making it multifunctional.
It has a clip on the back, you can clip on a belt or the pant waistband.
Cons:
This model does not have Bluetooth capabilities, meaning it might not be for you if you prefer to move around a lot when teaching.
This device is powerful for its size, but it might not be sufficient if you're trying to teach in large or outdoor settings.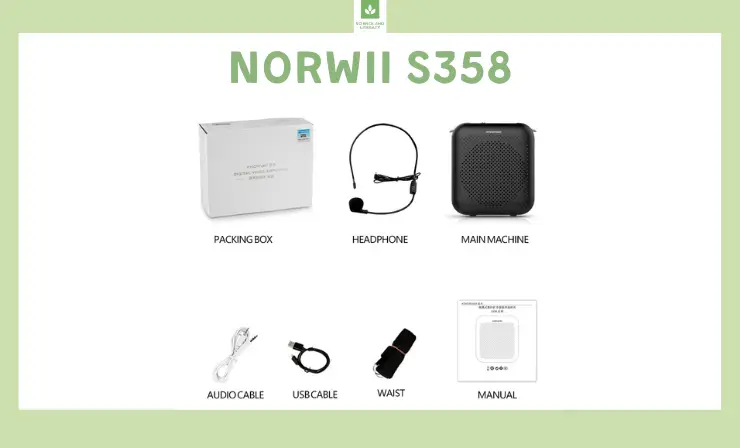 Use it to:
to bring students back to attention.
teach all day long.
Top Choice for: Those who are teaching long hours.
3. WinBridge WB001
Buying Options
Next up, we have the WinBridge WB001 portable pick, a very popular device among teachers. An a bit more expensive option than the previous one.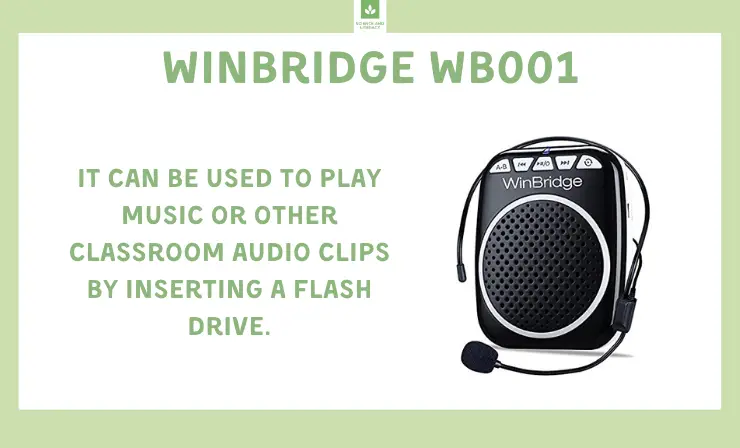 The device has a heavy-duty rechargeable lithium battery with 5 to 8 hours of voice amplification on a full charge.
Pros:
This is a very lightweight product, weighing in at only 138g.
This device comes with a convenient waistband so you can attach it to your body and move around the classroom.
This product has many uses and can be used both to amplify your voice as well as provide your class with other types of auditory enrichment, like music and audiobooks.
Cons:
The purchase of this device does not include a charger. While this device is simple to charge with USB, you'll have to provide your own cable.
If you're planning to use this device in microphone mode with the volume turned up high, the battery may only last 3-8 hours. If you need the device to reliably last longer than that, this one might not be for you.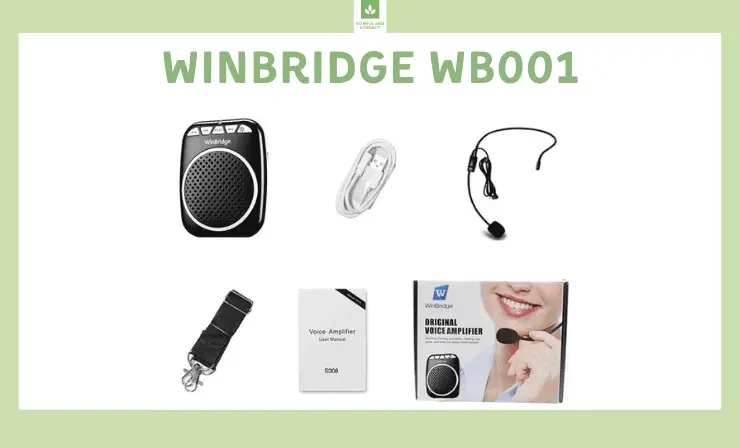 If you want to see a more in-depth video review of this amplifier, be sure to check this out:
Use it to: 
do presentations or run meetings in front of the audience.
project voice from an adjustable microphone that is included.
play music from TF card and flash drive.
Top Choice for: Teachers looking to play music from TF card or flash drive.
4. SHIDU S258
Buying Options
The first device we'll be looking at today is this SHIDU Portable Mini, which is described as being perfect for educators. So… let's check it.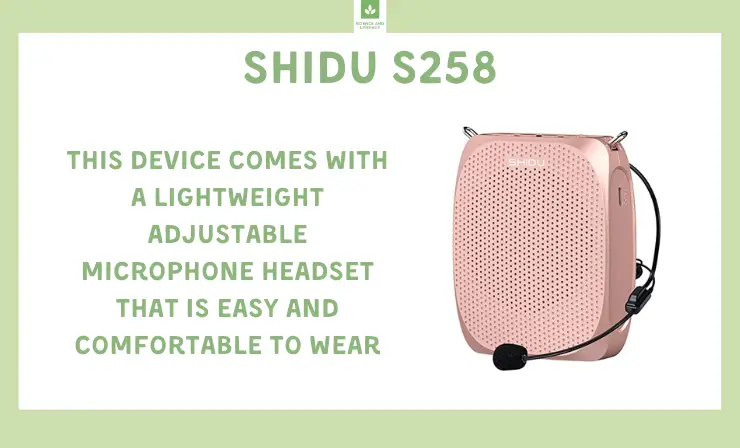 This product has a wide range of features, including a 10W output that can amplify for a room of 25-100 people. This SHIDU has a built-in big rechargeable lithium battery that lasts for 8 to 12 hours.
Pros:
There is a clip for you to attach to the belt and waistband for the hands free use.
Long battery life provides convenience and supports a full day of teaching.
The portable microphone and headset is adjustable and you can adjust the distance between the mouth and the mic.
Cons:
This device only provides enough amplification for 25-100 people, so if you are lecturing to a larger class size this might not be the device for you.
The microphone headset is not wireless, so you have less of a range of motion than with a wireless device.
If you want to see this SHIDU gadget in action, check out this YouTube video!
Use it to:
to extend your voice, even when you whisper.
save your voice while talking all day.
Top Choice for: Teachers who need an amp for the hands free use.
5. SHIDU M800
Buying Options
Next up, we have the M800 from the industry giant SHIDU. Also quite an affordable option for those who do not want to spend a lot of money.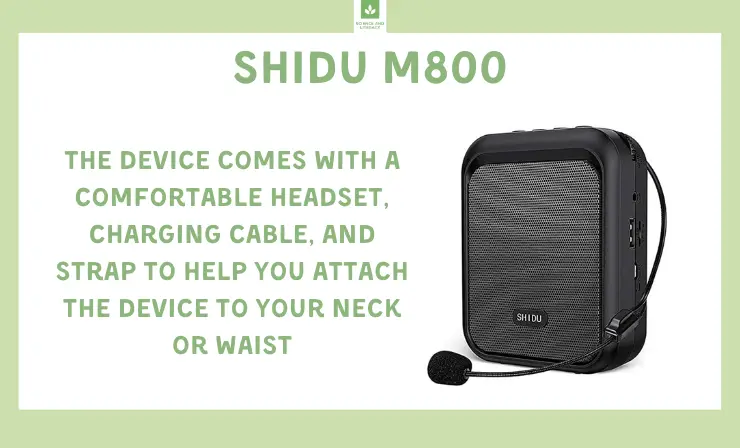 This SHIDU device comes with many great features, including 10 powerful watts of output that provide loud and clear voice amplification. It has Bluetooth functionality and doubles as a Bluetooth speaker, meaning you can use it to play music or other audio for your class when you aren't speaking.
Pros:
This amplifier has a longer power range than some of the others on our list, with the capability to function for up to 12 hours in mic mode.
This device is extremely easy-to-use. As long as it's charged up, even the technologically challenged shouldn't have problems turning it on!
You can stream your favorite music from any type of Bluetooth-enabled mobile device, up to 33 feet away.
Cons:
The headset that comes with this device isn't wireless, meaning you'll have to wear the amplifier around your neck or waist if you like to move around a lot.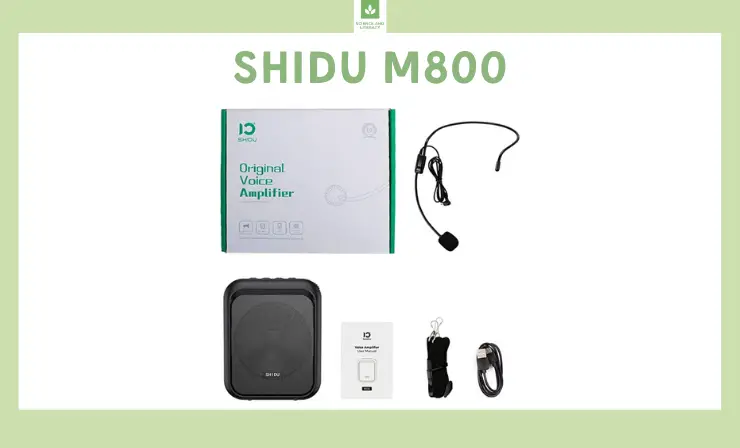 To see a video review and demonstration of this fantastic SHIDU amplifier, check out this video by Stevens Family Farms:
Use it to:
read aloud to your students.
to play music as a Bluetooth speaker.
communicate in a school trip or on a BUS journey.
Top Choice for: Teachers who need a plug-and-play device.
6. WinBridge S92 Pro
Buying Options
The WinBridge S92 pro PA system is another great model from a large company in the industry.
This is probably the most expensive model on my list, costing on average 4 times as much as the others. But it's absolutely worth it, and I'll tell you why.
This device boasts an impressive range of features, including a handheld Bluetooth microphone and a wireless headset microphone.
Pros:
The included microphone could be a great addition to the classroom and allow your students' voices to be amplified when they are speaking.
There are two portable microphones that you can place the unit stay in the center of the room and transmit some distance from the unit.
The speakers on this unit are quite impressive, with the sound emitted carrying up to 50 feet!

You can link both the handheld microphone and the headset micropone at the same time. This would work well for teaching that kind of venue, portable pa speaker can help so much for some of your quieter kids to have their voices throughout the whole group.
Cons:
While this amplifier has a great range of features, it is also more expensive than the average ones used for teaching and might not be in everyone's budget.
While the wireless microphone might work well, depending on your students it could also be a distraction in the classroom.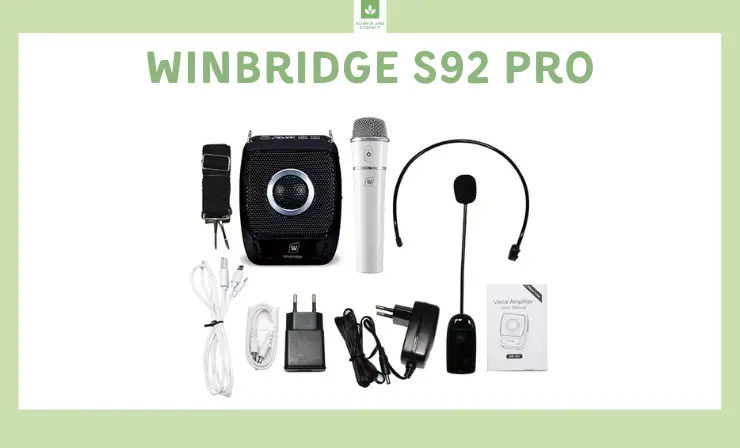 For a more in-depth review of this WinBridge product, check out this YouTube video from Tech Particle!
Use it to:
make a presentation to a group of 50-150 people and be heard clearly.

pass around the microphone and take turns speaking.

enhance focus for your students with learning disabilites.
Top Choice for: Teaching to lecture halls of 50 to 150 students
7. McCuinfinite
Buying Options
Next is the McCuinfinite portable microphone and speaker, a system with superior battery life.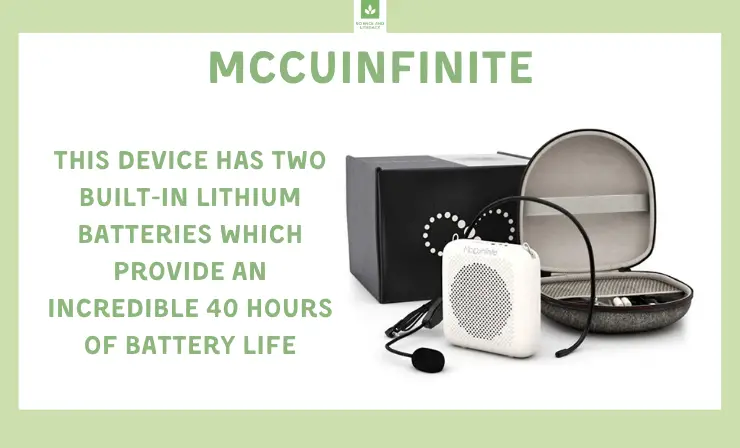 This device comes with many great features, including a 10W volume range for crystal clear sound in small and medium rooms. The package here includes a sleek carrying case, waistband, neck strap, charging cable, aux cord, and microphone with headset.
Pros:
The battery life on this device is incredible compared to other amplifiers on the market. It's perfect for those who teach long hours or don't want to charge as frequently.
The included carrying case makes this device very easy to transport.
Cons:
While this device has a great battery life and functionality, it is also much more limited in what it can do. Many other models have Bluetooth capabilities, but this one does not.
The max power is 10W, which is great for small and medium rooms but wouldn't work as well in a larger or outdoor space.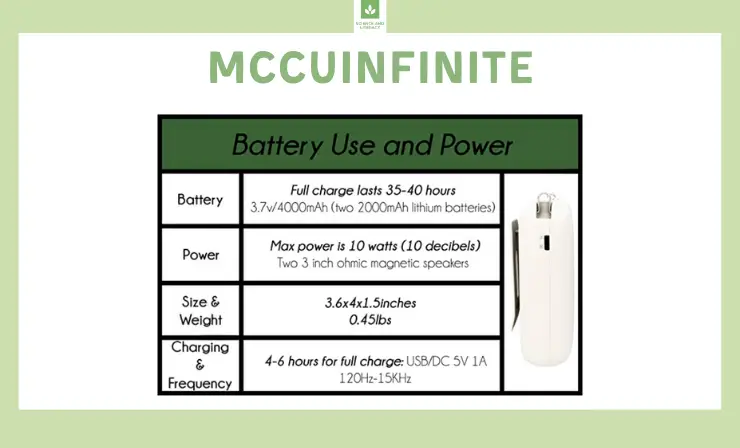 Use it to:
amplify voice and music simultaneously for efficient practice.
plug 2 children in at one time with a microphone splitter.
Top Choice for: Teaching in a socially distanced classroom.
8. Moukey Va-1
Buying Options
Next is the Moukey pick, a powerful unit with a very reasonable price.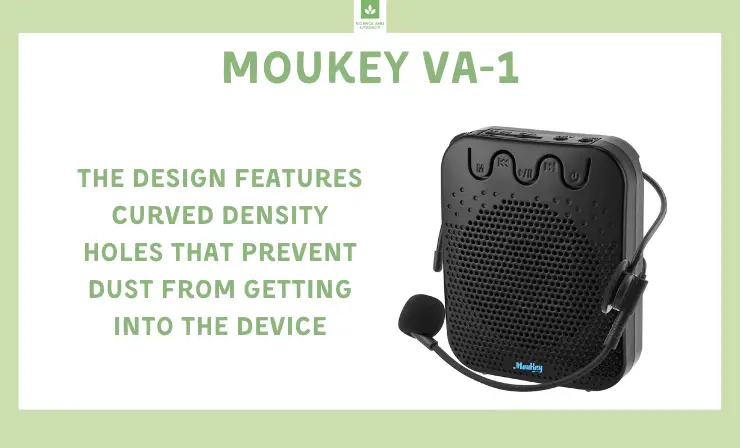 This one has many features such as a speaker with 10W of power capable of projecting to a room of 25 to 100 people. This device is multifunctional and can act as a music player through TF card or USB audio input.
Pros:
This device has an excellent price range for all the features it offers. It's great because this amplifier will fit with almost any budget. It costs only $20!!!
You'll surely enjoy the advanced microphone with superior sensitivity that will make you sound clear when you speak.
The option to have dual, simultaneous inputs is outstanding, so you can run sound effects in the background while speaking through the mic.
You can adjust volume with the wheel. So convenient!
Cons:
While this device has great capabilities and a fantastic price range, you might want to invest in a more heavy-duty amplifier if you're going to be using it full time.
This device might not be powerful enough for large lectures of more than 100 people or outdoor settings.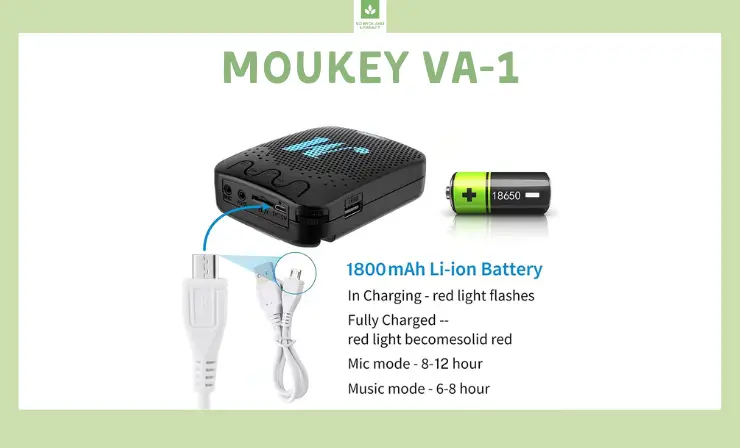 To see this Moukey in action and hear a review from a gadget enthusiast, check out this video on YouTube!
Use it to:
teach lessons on Zoom and still have a clear voice.
take public lectures.
Top Choice for: Teachers who need extremely clear sound.
9. Giecy G300
Buying Options
Next we have the Giecy portable model, a heavy-duty device with a lot of power. Also quite an affordable option.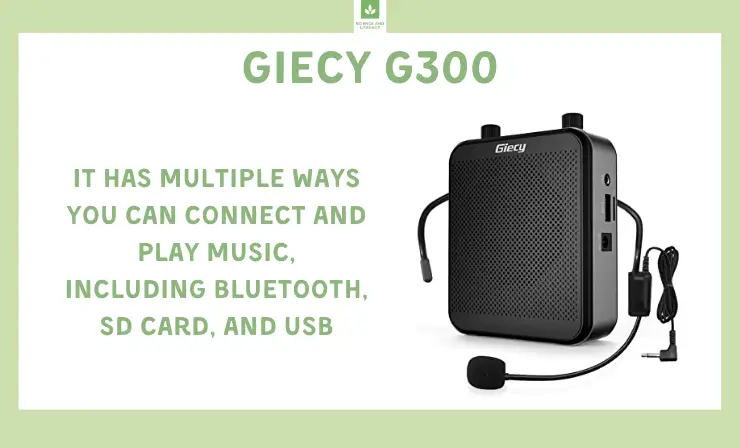 This Giecy brand device comes with a lot of fantastic features, including a whopping 30W of clear sound that can travel up to 10,000 square feet. This product comes with the voice amplifier itself, a battery charger, a waistband, and a microphone headset.
Pros:
This device lasts for an extremely long time when charged, 12-18 hours of amplify time when using the mic and up to 8 hours of music.
You may speak and play a recording from TB/USB flash drive, so you may use it to sing a song with the music, for example.
You can take it to multiple locations such as large classrooms, halls and outdoors. This speaker will help in speaking to 100+ members in your group.
Cons:
This device requires a AAA battery, which can be very inconvenient as opposed to a device with just a charging cable.
This device is designed to amplify sound in larger auditoriums and outdoors. If you are in a small classroom, it might be too loud!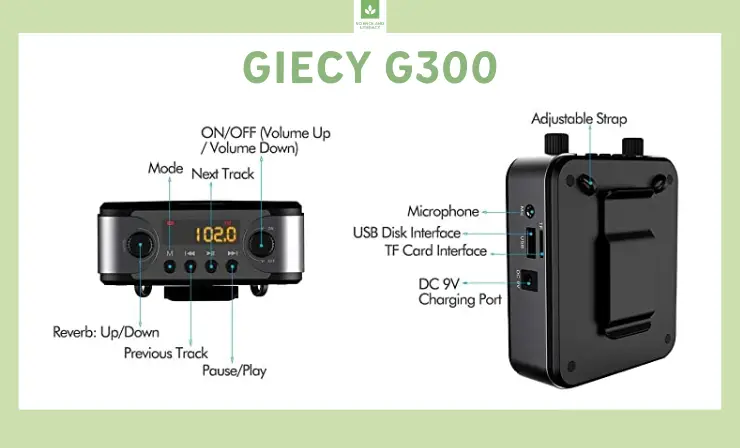 For an in-depth video showing the unboxing and review of this impressive Giecy device, check this out:
Use it to:
teach music classes as it allows to speak and play music simultaneously.
conduct field trips.
have outdoor lessons.
Top Choice for: Teaching in large class sizes and teaching outside.
You May Also Need
Yes, the amplifiers will do will take your lessons to a whole new level. But we have picked up something else that may be useful to you.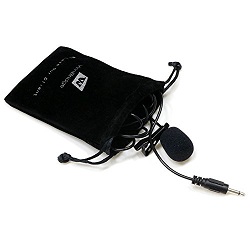 The WinBridge Collar Clip Microphone is a microphone that is compatible with all WinBridge voice amplifiers. If you have a WinBridge device, it might be good to keep an extra mic like this on hand in the classroom.
This microphone has a cable up to about 48 inches long, making it perfect for teachers. It is a comfortable choice that can easily clip onto your collar.
The microphone is also easy to use, making it a great choice for those who are not familiar with the technology.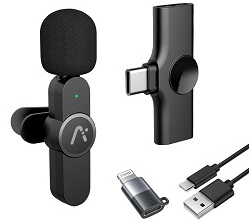 This lavalier microphone from Aisizon Wireless is perfect for teachers or anyone giving a presentation.
It has a built-in battery that provides up to 10 hours of use, and it also comes with a lightning and type-C USB connection port, so you can use it with a variety of devices.
Plus, the active noise reduction feature ensures clear sound quality.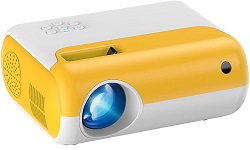 Another great classroom item is this Salange portable mini projector. This device would be great for lectures and PowerPoint presentations in the classroom, especially combined with a voice amplification setup. It's important to make sure your students can both see and hear the lesson materials.
It can also be used outdoors, as it is small and portable. Plus, it has HDMI, USB and AV interfaces, making it compatible with a range of devices.
Another great device you can use in the classroom to enrich your lessons is an interactive whiteboard. Check out this article to learn more about our picks for the interactive whiteboards!
If you're also looking for a device for recording lectures, check out this article for more information about cameras for recording lectures!
F.A.Q.
We have tried to answer frequently asked questions that you may have when choosing an amplifier.
What is the optimal power for an amplifier?
As a kindergarten teacher, you want to ensure that your students are able to clearly understand the material being taught. That's why our recommended amplifier has an output power of 5-10W – perfect for classes with 30-80 children! With this type of voice amplifier, kindergartens everywhere can benefit from its optimal sound quality and reach all their little learners effectively.
Our advice to primary and secondary school teachers? Invest in 10-18W voice amplifiers – the perfect choice for classrooms with 80-120 students! Not only does this power range match what's typically found in schools, but it also provides an effective amplification solution.
Teaching large classrooms? With just one of our 20W+ voice amplifiers, you can ensure every student in your 180-person class is hearing each lesson loud and clear. Make sure everyone gets the most out of lecture time with a powerful sound system!
What amplifier do you recommend for teaching outdoors?
For outdoor teaching, our most recommended is a fall-proof, waterproof, and dustproof voice amplifier.
How can I make my lessons interactive with a voice amp?
A voice amplifier allows teachers to seamlessly collaborate with students. Connect the device up to two wireless mics and leverage it for interactive lectures or Q&A sessions — fostering collaboration between teacher and student in an engaging way.
How to choose an amplifier if I need to wear a mask?
Yes, the Covid19 pandemic has created a new challenge for teachers teaching in classrooms — the use of masks to protect everyone's safety. In order to deliver instruction effectively, we recommend that these educators employ high-powered loudspeakers with an output power of at least 20W. Not only will this help ensure students can clearly hear their teacher from distances up to 1,000 square feet, but it also allows them to reach up to 180 people simultaneously.
Useful Resources
Wrapping it Up
To wrap things up, voice amplifiers can be a powerful tool in the classroom to get your students listening and engaged. There are so many different models out there, but the nine on our list are some of the best on the market right now. Hopefully, this ultimate guide was able to help you gain the information and confidence to select a device that's a good fit for your classroom!
Do you use a voice amplifier when conducting lessons?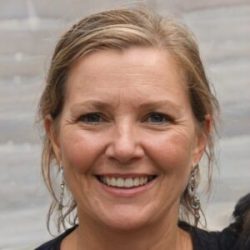 Latest posts by Simona Johnes
(see all)